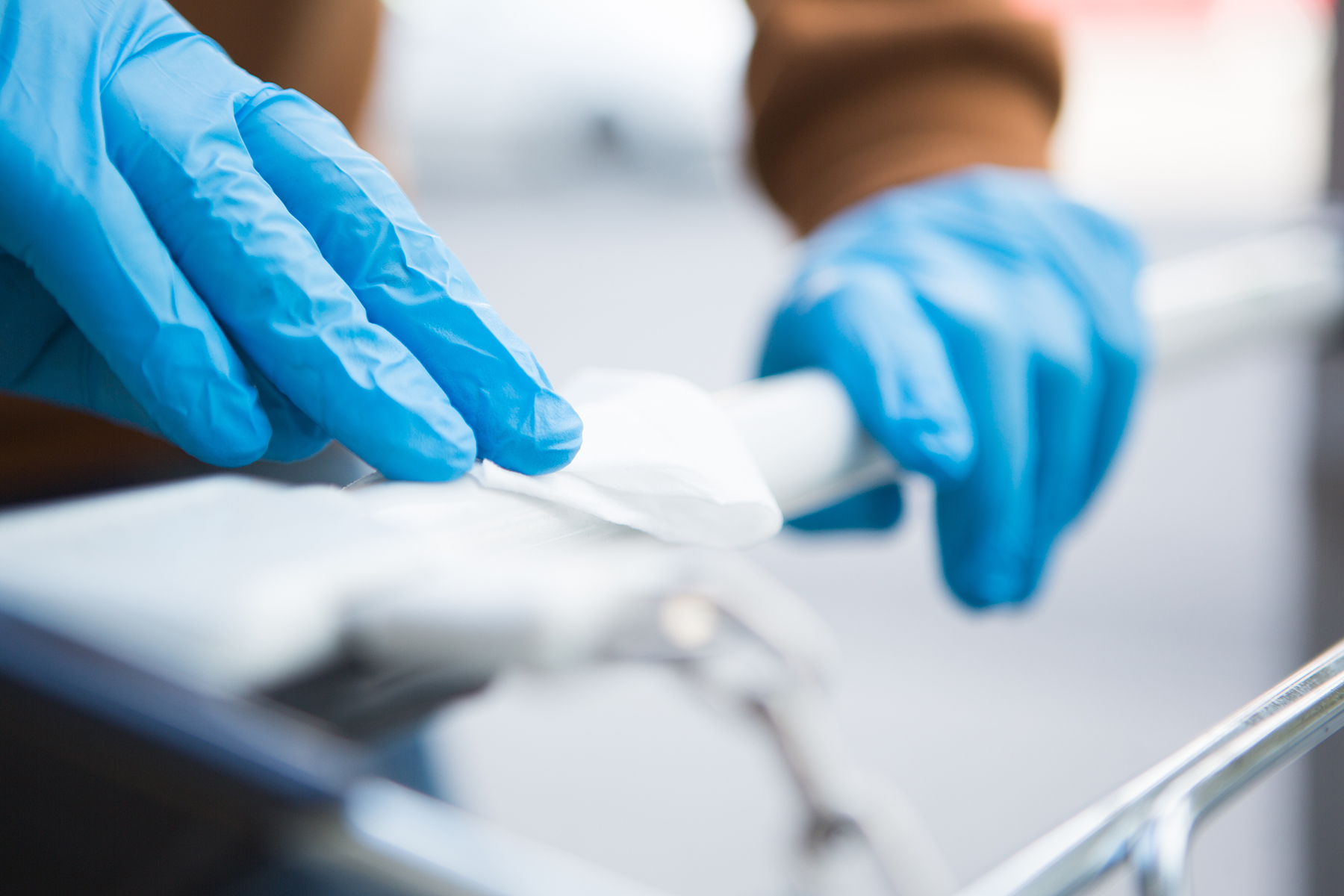 Pittsburgh, January 14, 2021 — Frequent cleaning and surface disinfection — already proven to help reduce the risk of hospital-acquired infections (HAIs) — has become even more critical due to the COVID-19 pandemic. Now, Covestro and Metrex are harnessing their complementary areas of healthcare industry expertise to investigate the influence of powerful disinfectants on polycarbonate-based materials.
Covestro materials are used to form numerous life-saving and life-enhancing medical devices, while Metrex's disinfectants are widely used throughout the healthcare industry. The two companies jointly tested a variety of materials and disinfectants to demonstrate the compatibility of Covestro polycarbonates with common disinfectants, including Metrex's CaviWipes 2.0. According to Metrex, this new product fully qualifies for the EPA's rigorous Emerging Viral Pathogen Claim i.
In all, six different polycarbonate materials were tested against three Metrex products: Wipe saturated with CaviCide, CaviWipes Bleach and CaviWipes 2.0. Two new materials — Makrolon® M6011 FR polycarbonate and Makroblend® M5005 FR PC+PBT — were developed specifically by Covestro to withstand powerful chemical disinfectants. These materials will launch in 2021 and are now available for sampling.
"As a leading supplier of polycarbonates to the healthcare industry, it's in our DNA to continually innovate to meet the most pressing challenges," said Paul Nowatzki, senior product expert – Healthcare at Covestro LLC. "We formulated these new plastics specifically to address the need for materials that are able to withstand strong disinfectants used to help prevent the spread of COVID-19 and other pathogens."
As is customary for rapidly assessing compatibility of plastics to disinfectants, test specimens were pre-strained and followed several wipe and dry cycles with Metrex disinfectants to simulate actual usage. They were then evaluated by how well they retained their tensile strength.
Covestro materials developed to withstand the use of strong disinfectants performed well and retained their tensile properties in testing — Makrolon® M6011 FR polycarbonate, Makroblend® M4000 FR and Makroblend® M5005 FR (both PC+PBT blends) are all flame-retardant housing materials with skin contact biocompatibility.
A summary of the complete test results is available from Covestro upon request.
"This collaboration exemplifies how we work alongside other organizations that share our passion for solving tough challenges," said Lauren Zetts, Americas market manager, Healthcare – Polycarbonates, Covestro LLC. "Doing so spurs innovation that is instrumental to our goal of making the world a brighter place."
"By leveraging our respective strengths and bringing together our collective expertise, everyone benefits: our companies, our customers, and most importantly, healthcare professionals and those they care for," agreed Dr. Yatao Liu, general manager, Metrex.
About Covestro LLC:
Covestro LLC is one of the leading producers of high-performance polymers in North America and is part of the global Covestro business, which is among the world's largest polymer companies with 2019 sales of EUR 12.4 billion. Business activities are focused on the manufacture of high-tech polymer materials and the development of innovative solutions for products used in many areas of daily life. The main segments served are the automotive, construction, wood processing and furniture, electrical and electronics and healthcare industries. Other sectors include sports and leisure, cosmetics and the chemical industry itself. Covestro has 30 production sites worldwide and employed approximately 17,200 people at the end of 2019.
Find more information at www.covestro.us or www.solutions.covestro.com/en/materials/plastics.
About Metrex Research LLC:
Metrex Research, LLC (Metrex) works to provide value-added infection prevention products and services in global healthcare environments. Metrex offers a complete line of high-quality enzymatic detergents, high-level disinfectants/ sterilants, surface disinfectants for use in hospitals, liquid medical waste disposal products, hand hygiene products, eye shields and many other infection prevention products. Metrex products are specifically designed for healthcare markets such as acute care, primary care, ambulatory surgery centers (ASC), EMS/Fire/Police, extended care, and the public sector. For more information, visit https://www.metrex.com/en-us or contact Denise Montenegro, Denise.Montenegro@metrex.com, +1-714-817-5430.
Makrolon® and Makroblend® are registered trademarks of Covestro Group.
i CaviWipes2.0 has an EPA's Emerging Viral Pathogen claim against enveloped, large and small non-enveloped viruses. https://www.epa.gov/pesticide-registration/emerging-viral-pathogen-guidance-antimicrobial-pesticides
Covestro Contact:
Bridget Bash, Phone: 412-627-9859
Bridget.Bash@covestro.com
# # #
This news release may contain forward-looking statements based on current assumptions and forecasts made by Covestro AG. Various known and unknown risks, uncertainties and other factors could lead to material differences between the actual future results, financial situation, development or performance of the company and the estimates given here. These factors include those discussed in Covestro's public reports which are available at www.covestro.com. The company assumes no liability whatsoever to update these forward-looking statements or to conform them to future events or developments.
Editor's Note: Follow news from Covestro on Twitter:
www.twitter.com/CovestroUS