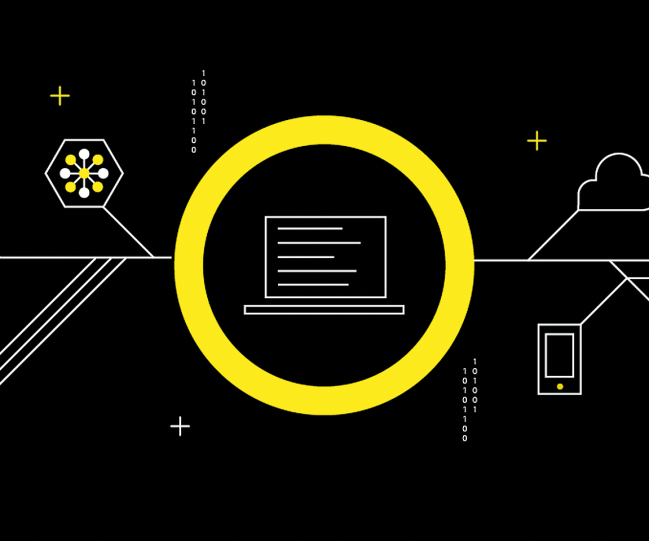 Balancing process efficiency and security. Why not?
Our Application Services Department
What would IT be without its applications? And what would a company and employer like Covestro be without active application management? Digitized structures give us the power to achieve our corporate goals. But that power can only reach its full potential with the right application. We believe information technology and digitalization can be drivers of many innovations – and even of new business models. That's why as part of the applications services team, we see ourselves as an innovative partner for the entire organization.
Staying up to date with the latest tech trends and supporting other departments in implementing complete system landscapes, from the Amazon WebCloud platform to ERP software: that's our job at Covestro. By becoming #1ofUs, you'll help advance our application management services and keep our business a step ahead.
Transforming digitization into business
In a nutshell, our core responsibilities revolve around developing and implementing global information technology solutions for everything from supply chain management to customer interaction management. As application services managers, we support numerous departments at Covestro. We not only make systems, platforms and software available, but we also make these technologies easily useable.
We act as analysts, examining requirements and technical specifications. And we also work on the ground, installing solutions and keeping applications running. At the end of the day, it's our job to implement the right digital solutions to ensure Covestro's production and logistics processes run smoothly.
Our style: analytically calm
But aren't IT jobs all the same? Far from it! The people in our department have three main qualities: an openness to new things, the willingness to learn new things, and – you guessed it – the ability to have fun with new things.
But seriously. In a field where thinking outside the box is the norm, we're searching for colleagues who face constant change with an analytical calmness. People who have a structured approach to problem solving and keep two priorities top of mind: efficiency and security.
If you have a solid set of application management skills under your belt – as well as an understanding of procedures and processes in the chemical industry – you'll be right at home here. Most IT jobs look for people who bring flexibility and a willingness to learn. But we take it a step further: change and agility are part of our day-to-day at work. And we provide the right support for this – from training courses on platforms like AWS Cloud to our Agile Days, a multi-day event focusing on agile working methods.
Shaping personal career paths
We offer our employees one thing above all else: the opportunity to shape their own careers. From innovative trainee programs to personal further training (e.g. in the SCRUM area), we're here to embrace your ideas and abilities as well as help grow your knowledge.
We are part of a global corporate network that manages to still feel like a family. Openness and trust are core elements in all of our employee relationships. Because we know working together is the only way to push boundaries in the chemical industry. This career path never gets boring because IT is constantly changing. You never stop learning. As digitization advances, IT is playing an increasingly important role in our company.

Explore our current open positions. Why not?
Want to contribute your own ideas and develop our application management services? Then become #1ofUs! You'll be involved in realizing global IT projects and advancing research, production, and sales systems.
To find out who we're currently looking for at our company, visit the Covestro job portal:
See available positions