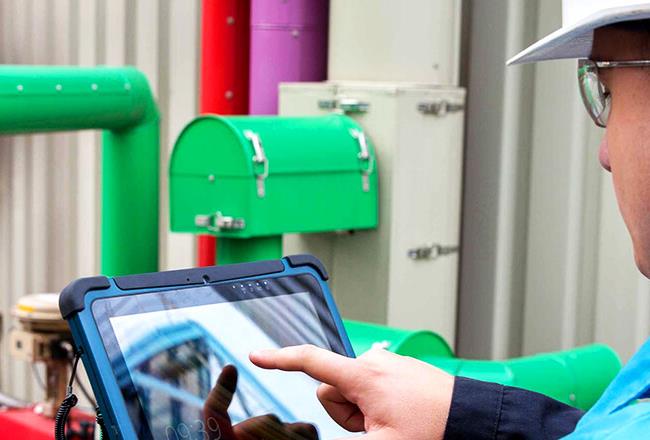 Driving Industry 4.0 forward
Mission: Digitalization
Digitalization opens up new opportunities for companies worldwide. Digital innovations have helped Covestro to set new standards in production for many years, and revolutionizing entire production processes. The German sites benefit from this as well.
Covestro recognized the potential of digitalization early on and took advantage of it for its own purposes. The company uses digital technologies on a large scale. Governance and support structures provide a framework for the application. They emphasize digital aspects in the planning, development, and implementation of new projects.
Digital technologies and processes enable production to be more sustainable than ten years ago. Comprehensive data analyses and simulations support Covestro in further increasing its efficiency. Data acquisition systems, for instance, can collect information on the entire life cycle of a product. In this way, the development materials cycles can be accelerated. This is accompanied by the development of new business models.
Digitalization at German sites
Digitization is also the basis for agile working. It not only enables greater flexibility at Covestro, but also faster response times and adaptability. At the same time, solutions that go hand in hand with advancing digitalization make working life easier for Covestro employees in many different ways today.
The company wants to use digital tools and methods to push the boundaries of the entire chemical industry, and help its customers achieve even greater success in their respective business areas. Covestro does this with its innovative, future-oriented material solutions, which are the product of decades of hands-on experience.
Covestro is shaping the progress of new digital technologies and is thus a frontrunner in the transformation towards Industry 4.0 and the Circular Economy. The company is focused on digitizing its core business, which includes leveraging all new sources of income through digital business models. Digital, autonomous end-to-end supply chains are an important prerequisite for sustainable growth.
Digitalization is already highly advanced at Covestro in production. Digital technologies and processes increase the efficiency of the plants, while unleashing new synergy effects. This yields positive effects on the sustainability balance and the competitiveness of the individual sites. In Germany, digital tools support employees to perform predictive maintenance. As a result, plants no longer need to be serviced periodically, as used to be the case with cars after 10,000 kilometers.
Mobile maintenance in Krefeld-Uerdingen
Covestro has been collecting and analyzing production data for many years. As part of its digitalization strategy, the company has now managed to achieve its next goal and rolled out digitalization in its operational business as well. This primarily affects the areas of system planning, operations and maintenance. The use of digital tools is being tested in Krefeld-Uerdingen, among other sites. Covestro is expanding "Mobile Maintenance" – system maintenance using mobile devices – there.
Not only does this step allow the company to reduce work steps at the site, but it also enables the further streamlining of processes in its production facilities. This saves time and money. Anything that would have previously been recorded in writing is now handled digitally. After a successful test phase, the new process will also be expanded later on to the other Covestro sites in Leverkusen and Dormagen.
Digital chlorine factory in Leverkusen
New technologies mean entirely new opportunities: Covestro is paving the way towards a bright digital future – also in Germany. The company is continuing to digitize its chemical production at six sites. In Leverkusen, for instance, chlorine production recently received a new, state-of-the-art cell voltage measurement device using fiber optic technology.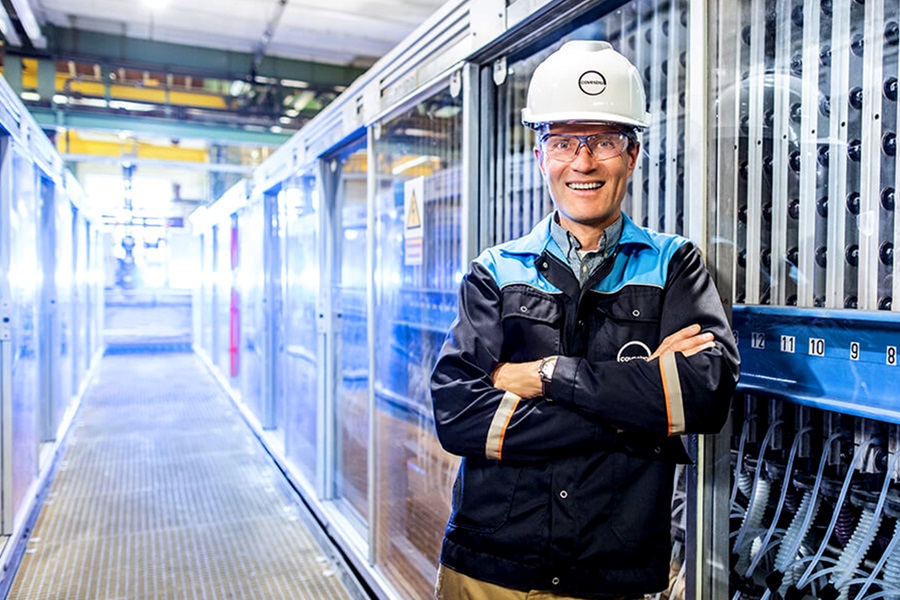 Covestro deploys 3,000 electrolysis elements to produce around 360,000 tons of chlorine each year at the site, along with caustic soda and hydrogen as by-products. Now, MODA boxes have been installed to ensure production can run smoothly around the clock. They are connected to each of the 3,000 elements. This ensures even the smallest deviations from specified values can be tracked. MODA boxes transmit signals to the computer via the powerful fiber optic cables. Special software then evaluates the electrical impulses within milliseconds. The upgrade will be carried out at the sites in Dormagen and Krefeld-Uerdingen as well.
However, implementing its own digitalization strategy is only one side of the coin. Covestro is also involved in many different digitalization projects in Germany with other corporate partners. The focus of these cooperations is always on developing new solutions. They not only lead the way to improve production processes, but also to drive forward society as a whole. Learn more about Covestro's collaborations with industry and science partners:
Full speed ahead into the digital future
Digitalization has reached an entirely new level with the introduction of 5G networks. The fifth generation of the wireless standard is another key milestone for Germany as a leader in the world of science and industry. However, the right infrastructure is needed to ensure that this revolutionary technology can actually penetrate every corner of our everyday lives. 5G transmits on a special wavelength, which must be stable and constantly available; otherwise, applications such as autonomous driving will not be possible.
To have reliable access to 5G in Germany, it is estimated that between 500,000 and 800,000 new antennas will have to be installed. This calls for new materials, new designs and new cooperations to ensure that the appearance of cities are not negatively impacted. Covestro, Deutsche Telekom and the Swedish Umeå Institute of Design (UID) are cooperating for 5G.
The three partners are testing new designs for 5G antennas in a pilot project. The innovative housing solutions are used, for example, to set up small mobile communications cells ("smart cells"). They increase data throughput in places where many customers are on the move or surfing the Internet. 5G antennas need to blend in seamlessly with the urban environment - for instance, as a colorful bird sitting on a traffic light, or shaped like a clock hanging at a bus stop. Innovative, high-performance plastics from Covestro are perfect for manufacturing 5G antenna housings: they are permeable for 5G signals, weather-resistant and offer creative design capabilities. They are also easy to recycle.
Computerized simulation of test series
Digital research and development (R&D) is the basis for bringing innovations to market even faster in the future. Covestro has therefore launched a cooperation with RWTH Aachen University and companies from the IT sector. The goal is to consistently promote the expansion of high performance computing..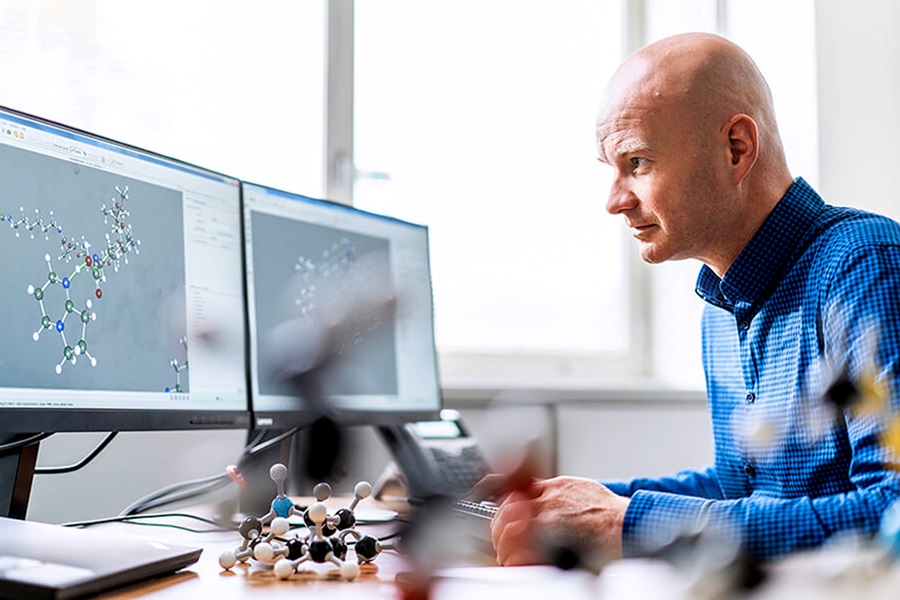 This yields numerous advantages: complex research and development processes can be concluded much more quickly, and more extensive test series can be simulated on a computer. This has a positive impact on the environment, significantly reducing energy and material consumption for R&D.
And customers benefit as well: Covestro can develop products with special properties in a targeted and efficient manner thanks to computerized simulation of test series. This enables the company to meet requests for customized products even better.