Board of Management
Committed to value creation
The Board of Management of Covestro AG runs the company on its own responsibility with the goal of sustainably increasing the company's enterprise value and pursuing its corporate objectives. It defines the company's portfolio, allocates resources, and decides on the financial steering and reporting of the Covestro Group.
The Board of Management defines the long-term goals and strategies for the company and sets forth the principles and directives for the resulting corporate policies. It coordinates and monitors the most important activities, defines the company's portfolio, develops and deploys managerial staff, allocates resources and decides on the financial steering and reporting of the Covestro Group.
The members of the Board of Management bear joint responsibility for running the business as a whole. However, the individual members manage the areas assigned to them on their own responsibility within the framework of the decisions made by the full Board. The full Board of Management makes decisions on all matters of fundamental importance and in cases where a decision of me full Board is prescribed by law or otherwise mandatory.
The Members of the Covestro Board of Management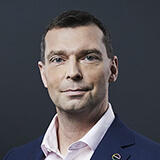 Dr. Markus Steilemann
Chief Executive Officer
Year of Birth: 1970
Nationality: German
Biography
Dr. Markus Steilemann has been the company's Chief Executive Officer (CEO) since June 2018. His area of responsibility includes the central functions Strategy, Sustainability & Public Affairs and Group Innovation, as well as Corporate Audit, Human Resources and Communications.
Born in 1970 in Geilenkirchen, Germany, Steilemann studied chemistry at RWTH Aachen University and at ETH Zurich. He graduated from Aachen with a doctorate, where he also obtained a diploma in business administration.
In 1999, Steilemann started his professional career with the Bayer Group. From 2008, he held senior management positions in the polycarbonates division of Bayer MaterialScience, the predecessor organization of Covestro. From 2013 to 2015, he headed the entire segment with headquarters in China, where he lived for several years.
Back in Germany, in 2015, Steilemann became a member of the board of Covestro with responsibility for innovation. In the following year, he was appointed head of the Polyurethanes division. In 2017, as Chief Commercial Officer (CCO), he assumed responsibility for all three segments of the company, including innovation, marketing and sales.
Steilemann is active in numerous associations and organizations. For example, he is a member of the Board of the European Chemical Industry Council (Cefic) and of the Executive Committee of the ICCA, the World Association of Chemical Associations. From 2020 to 2022, he held the presidency of PlasticsEurope, the Association of Plastics Manufacturers in Europe. In May 2022, Steilemann became a member of the Supervisory Board of Fuchs Petrolub SE, a global supplier of innovative lubrication solutions. Since September 2022 Markus Steilemann is president of the German Chemical Industry Association (VCI).
Initial appointment: Sept 1, 2015
Current contract: June 1, 2018 - May 31, 2023, early extension until May 31, 2028.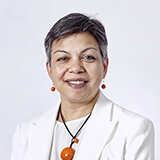 Sucheta Govil
Chief Commercial Officer
Year of Birth: 1963
Nationality: British citizen of Indian origin
Biography
Sucheta Govil has been a member of Covestro's Management Board since August 2019. As Covestro's Chief Commercial Officer (CCO) she is in charge of the seven business entities, including all business-related processes and areas of production, procurement, application technology to sales. She is also responsible for the three regional Supply Chain & Logistics entities that handle internal and external supply chains worldwide
Being British citizen of Indian origin born in 1963 , Govil studied at the University of Delhi and at the Indian Institute of Management in Calcutta, where she graduated with a post-graduate degree in Business Management. During her professional career, she held various management positions in marketing and innovation worldwide, among others at GlaxoSmithKline, PepsiCo, AkzoNobel and DSM.
Initial appointment: Aug 1, 2019
Current contract: Aug 1, 2022 - Jul 31, 2025
Dr. Klaus Schäfer
Chief Technology Officer
Year of Birth: 1962
Nationality: German
Biography
Dr. Klaus Schäfer has been member of the Board of Management since September 2015. He is the company's Chief Technology Officer (CTO). He is responsible in that role for the central functions Process Technology, Engineering, Group Health, Safety & Environment (Group HSE) and Group Procurement. He also coordinates the rollout of and compliance with global processes, standards and initiatives in Covestro's production network.
Born in Bruehl, Germany, in 1962, Schäfer studied physics at the city's university. After obtaining his PhD, he worked for Erdölchemie and BP before joining the Bayer Group in 2001.
In the course of his career, Schäfer was head of Production and Technology in the Polyurethanes segment of Covestro, was the Country Representative in China for predecessor company Bayer MaterialScience, and Managing Director of German site operator Currenta, which provides services to Covestro at the Dormagen, Krefeld-Uerdingen and Leverkusen sites.
Since Jun 2019, Schäfer is a member of the supervisory board of TÜV Rheinland AG.
Initial appointment: Sep 1, 2015
Current contract: Jan 1, 2023 - Jun 30, 2023
Dr. Thomas Toepfer
Chief Financial Officer / Labor Director
Year of Birth: 1972
Nationality: German
Biography
Dr. Thomas Toepfer has been Covestro's Chief Financial Officer (CFO) since April 2018 and additionally holds the position of Labor Director since January 2019. He is responsible for the central functions Accounting, Controlling, Finance & Insurance, Taxes, Investor Relations and Law, Intellectual Property & Compliance, Information Technology & Digitalization and Portfolio Development. Dr. Toepfer is also responsible for country-specific topics in the United States and China.
Born in Hamburg, Germany, in 1972, Toepfer holds a PhD in Business Administration from Otto Beisheim Graduate School of Management (WHU), Koblenz. He worked as a consultant with McKinsey & Company, Inc. and in leading management positions for STILL GmbH, Karstadt Warenhaus GmbH amongst others. Before joining Covestro he was a member of the Executive Board, Chief Financial Officer and Labor Director of KION GROUP AG. Since January 2022, Toepfer has been a member of the Shareholder Committee as well as the Supervisory Board of CLAAS KGaA mbH, a leading global manufacturer of agricultural machinery.
Initial appointment: Apr 1, 2018
Current contract: Apr 1, 2021 - Mar 31, 2026
Cooperation in a spirit of trust
In all its actions, the Board takes account of the interests of stockholders, employees and other stakeholders. It performs its tasks according to the law, the Articles of Incorporation and the Board of Management's rules of procedure, and the recommendations of the German Corporate Governance Code as stated in the declaration of conformity. lt ensures compliance with the law and internal company directives, and works with the company's other governance bodies in a spirit of trust.
According to the Board of Management's rules of procedure and schedule of duties, the Chair bears particular responsibility for coordinating all Board of Management areas. The Chair represents the Board of Management and Covestro AG and the Group in dealings with the public and other third parties.
Find more information on the Board of Management, including details of the compensation for its members, in the description of the compensation system and in the Covestro Covestro Annual Report.