Carbon dioxide partly replaces petroleum in plastics and synthetics
CO₂ as a new raw material – becoming a jack of all trades
Carbon dioxide shows an unfamiliar side: The gas, which is known as being problematic for the climate, can now be reused as a valuable material source in plastic production. For example, for more sustainable production of mattresses and sports floors. The novel CO₂ technology is also used in the automotive industry. And even clothing and building insulation could be manufactured this way in the future. Securely bound in plastic or synthetic materials, carbon dioxide will find its way into many products used in our daily lives.
This groundbreaking use of CO₂ is the result of the award-winning process we have developed with our partner RWTH Aachen. It is more than just technical innovation in plastics and synthetic production: This process conserves fossil fuels, such as crude oil, and reduces the amount of atmospheric carbon dioxide because the carbon from CO₂ is essentially being recycled. It's an innovative contribution to resource conservation. And it also promotes the circular economy, which we are committed to as part of our Group-wide strategy.

"We want to make broad use of carbon dioxide as an alternative raw material in the chemical industry. In this way, we will conserve fossil resources and drive forward the circular economy."
Sports floors and cars
The next milestones in the use of carbon dioxide
It all started with soft foam for mattresses. But the next step has been taken from lab to market: The CO₂ technology developed by Covestro is now being applied to producing a binder for sports floors and is used in the production of foams for the automotive industry.
These sustainable foams are produced with a CO₂-based precursor called cardyon®, laminated with a textile and then used in vehicle interiors. Characterized by a longer service life and material resistance, this new foam is particularly used for headliners but also in door panels and armrests as well as in car seat linings.
Completely new possibilities are also being offered by a customer's hot foam process, which now enables car seats to be produced with CO₂ technology.
More Information
Press release on driving with CO₂ Technology
Find out more about automobile solutions
The new CO₂-based precursor cardyon® is manufactured at our site in Dormagen before it is sent for further use to the Swiss company FoamPartner, which will market its new flexible foam product range under the name OBoNature™ in the future.
Another new application is on a promising path: Our CO₂ technology can also be used to produce rigid foam for insulation material. After the breakthrough in the lab, the first prototypes have already been produced by our project partner puren GmbH. These panels are intended to insulate buildings against heat and cold.
CO₂ as a valuable raw material
Cardyon®: transforming carbon dioxide into an alternative raw material. Find out more:
"For us, environmental protection, energy savings and resource conservation have always been very important. We are proud to be a raw material partner for Covestro in this important, forward-looking project."
Meanwhile, at RWTH Aachen University, work is being conducted on the production of synthetic fibers with help of the innovative CO₂ technology. The topic is on the threshold of market maturity: Together with colleagues from the Technical University of Berlin and our experts, the researchers in Aachen have succeeded in producing high-performance fibers on a larger scale and processing their first garments.
Further ongoing research projects include examining the production of surfactants based on CO₂ technology and how they can be used to produce sustainable detergents and other products. Recent studies have shown that the washing performance of these innovative surfactants is comparable with conventional petroleum-based surfactants.
More Information
Press release on sports floors with CO₂
Press release on fibers with CO₂

"Mattresses, sports floors, car parts – carbon dioxide is making its way into everyday life as a sustainable raw material. I am confident we will see further applications in the future."
Moving away from oil
Intelligent use of carbon dioxide gaining momentum
We are not only driving forward our own developments for more sustainability and climate protection, but also supporting others in implementing their ideas to solve environmental challenges and greenhouse gas emissions. For example, we sponsored the new innovation prize "Best CO₂ Utilization 2020," which was awarded by the renowned nova-Institut.
At the award ceremony, three young companies from the USA and Germany were honored. They can, for example, produce vodka from carbon dioxide, have developed CO₂-based energy storage solutions and created filters to extract the gas directly from the air. The award also illustrates how the conversion of CO₂ has become an asset and how crucial it is for people and the environment.
Berlin summit sees good prospects
Finding alternatives to oil and other fossil fuels is not a challenge for the chemical industry alone. Politics, science and the wider society are also beginning to recognize promising potential. This was made evident at the Raw Materials Summit 2019 in Berlin. We were proud to co-organize the event with the Technical University of Berlin and the DECHEMA Society for Chemical Engineering and Biotechnology to help demonstrate how the materials industry is pushing ahead with sustainable production. Themed "Carbon in the circular economy," the event brought together representatives from across the value chain to explore the potential of sustainable raw materials from waste, plants and CO₂ as an alternative to crude oil. The importance of a vibrant start-up scene in realizing of sustainable processes and products was emphasized at the event. As part of this focus, the "Resource Innovator" prize was awarded to the young company Ineratec from Southern Germany.
The next Raw Materials Summit is currently planned for 2021 in the Rhineland.
Catalyzing carbon dioxide Change
The innovative CO₂ Technology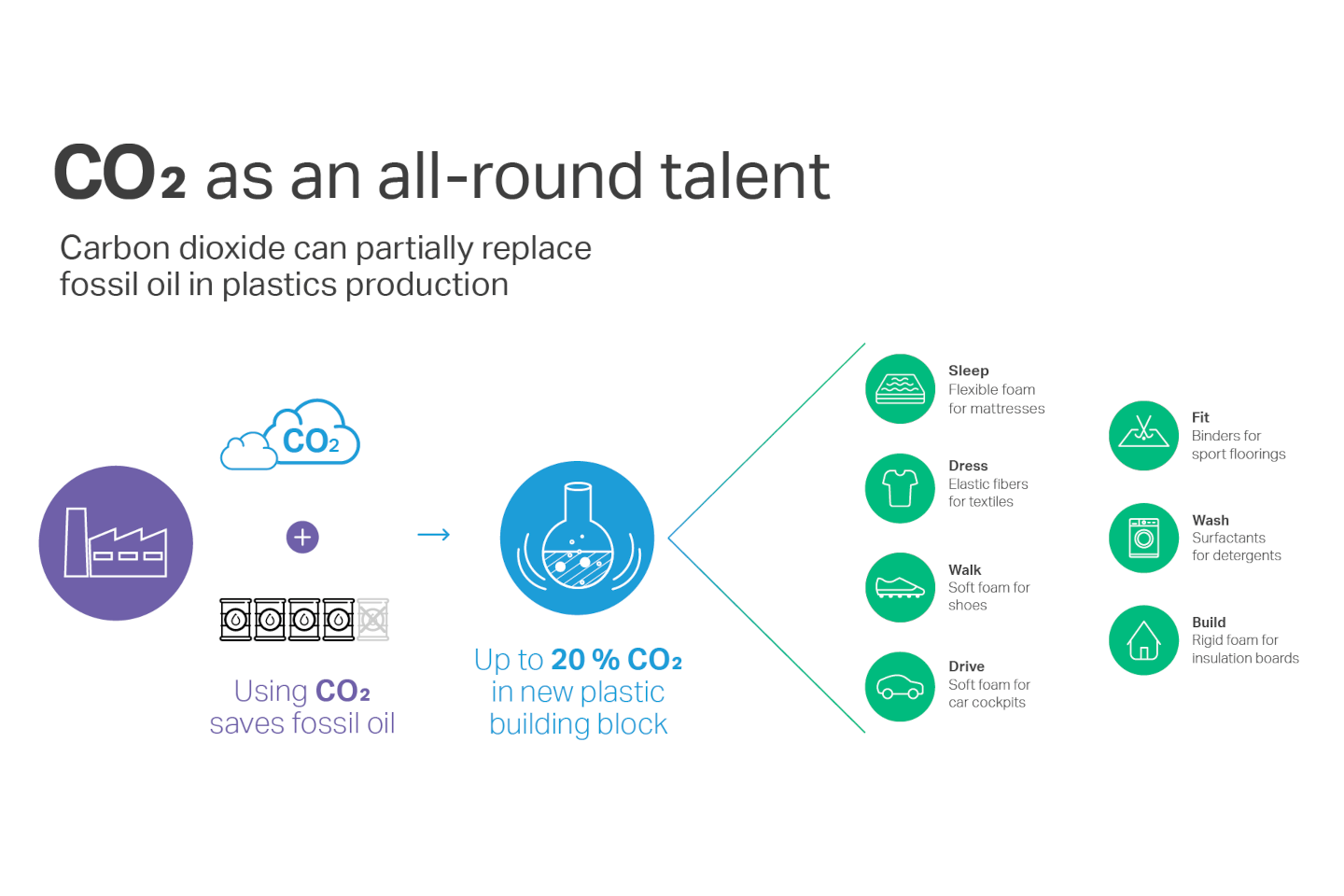 Inert carbon dioxide does not exactly make things easy for chemists. In order to set molecules in motion, a great deal of energy normally has to be supplied, which makes no ecological or economic sense. But this has begun to change in recent years, thanks to an innovative catalyst that we developed together with RWTH Aachen University and the CAT Catalytic Center.
This innovation is a scientific breakthrough: With the help of the catalyst, carbon dioxide can finally be sensibly used for the production of plastics and synthetics. We operate a production facility at our site in Dormagen especially for this purpose. Our patented CO₂ technology is used here to produce polyol, a key precursor for polyurethane plastics such as foams or binders.
Up to 20 percent carbon dioxide can be chemically converted into the polyol which is marketed under the brand name cardyon®. The CO₂ remains chemically bound in the product and later in the application and is not released again into the atmosphere. The carbon dioxide comes from the exhaust gas stream of a neighboring chemical plant in Dormagen. With a production capacity of 5000 metric tons per year, our own plant offers the opportunity to explore the market and further develop the process.
In the future, we hope to increase the production of CO₂-based polyols. After all, not only do we want to help avoid CO₂ emissions, we also want to use as much carbon dioxide and thus contribute to a circular economy.