Oxygen depolarized cathode
Energy-saving chlorine production
Around two thirds of all chemical products use chlorine in their manufacturing process – including plastics. This has its price because the production of these important base chemicals is one of the most energy-intensive processes in the chemical industry. Covestro is helping to change that: we have developed a process that reduces the required amount of electricity by up to 30 percent.
Thanks to the oxygen depolarized cathode, we can save up to one third of energy when manufacturing chlorine.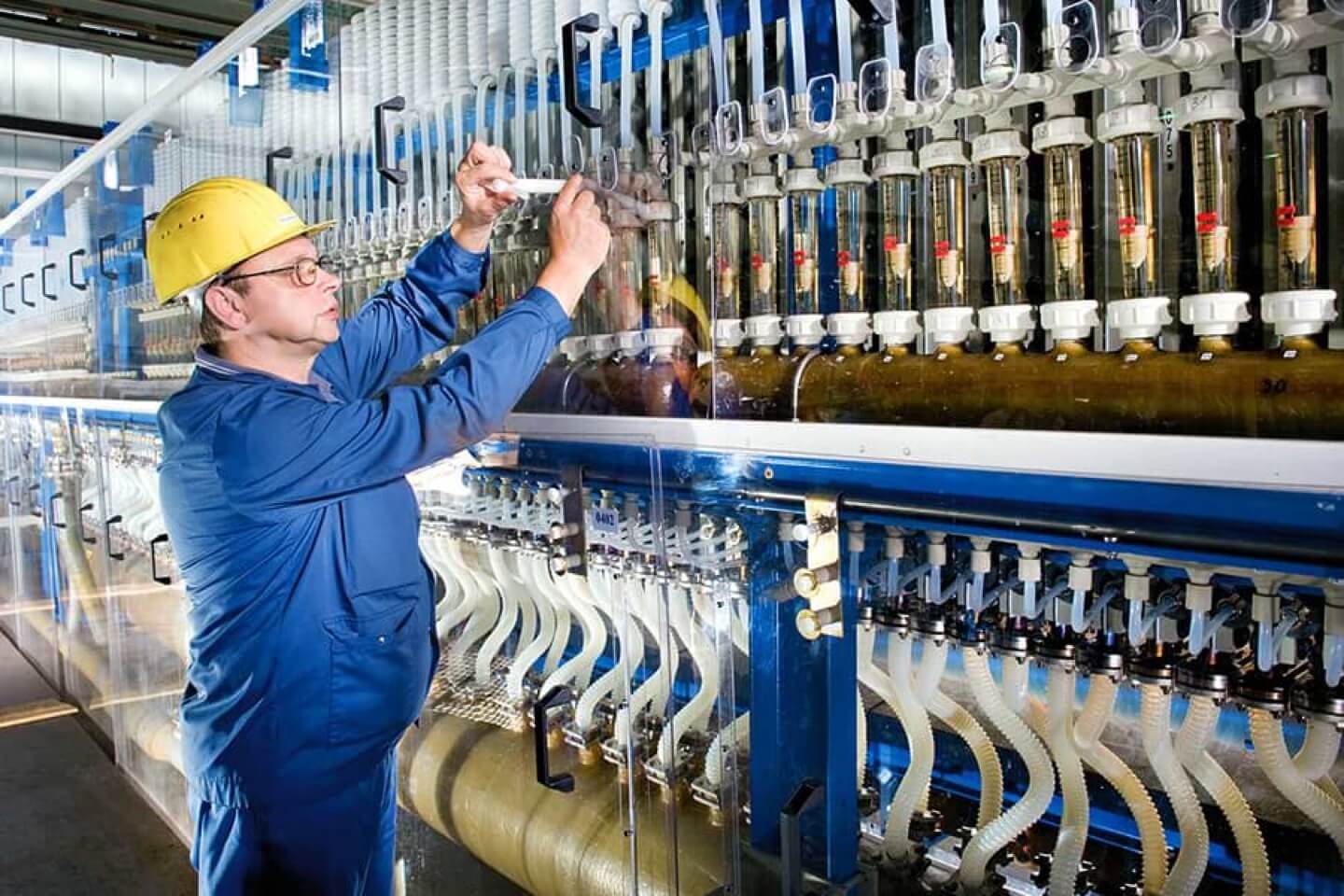 Deriving chlorine normally costs an enormous amount of energy because the highly reactive element forms bonds with practically every other element and therefore needs to be isolated using laborious methods. For this reason, Covestro helped shape the development of a new technology: thanks to the oxygen depolarized cathode (ODC), up to 30 percent less energy is consumed than in a conventional process.
Membrane process
The new method is based on the membrane process for chlorine-alkaline electrolysis, which has become the standard method for manufacturing chlorine. In this process, chlorine, sodium hydroxide and hydrogen are derived from cooking salt and water.
The new feature of the ODC process: the hydrogen-producing electrodes that are normally used in the membrane process are replaced by an oxygen depolarizing cathode. Supplying the cathode – the negative pole – with oxygen prevents the formation of hydrogen, leading only to the production of chlorine and sodium hydroxide. This process requires a voltage of just two volts instead of three – a third less.
It might sound small, but it has a huge impact: if all German chlorine manufacturers introduced this process across the board, it would reduce the energy consumption of the entire country by one percent – which corresponds to roughly the annual energy needs of the major city of Cologne.
The oxygen depolarized cathode might not just play an important role in the German energy revolution: thanks to its economic benefits, it can also secure German technology a successful position on the global market. After the process was successfully introduced on an industrial scale at Covestro in Krefeld-Uerdingen in 2011, it has already been rolled out internationally since 2013. The oxygen depolarized cathode therefore makes a decisive contribution to ensuring that global chlorine production is more environmentally-friendly and cost-effective.
Weitere Informationen
Contact: odc-info@covestro.com