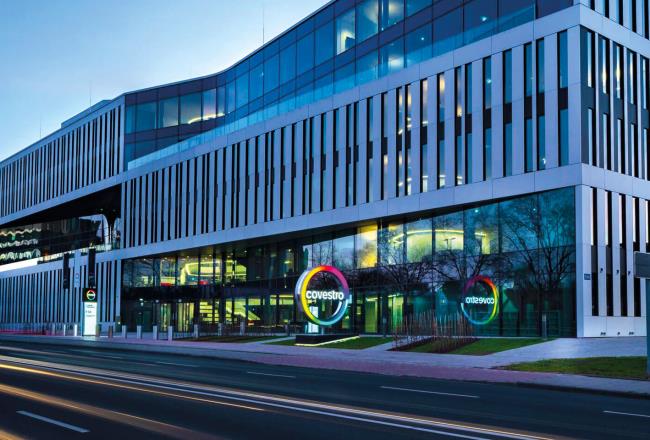 A hotbed of innovation
Home base in Leverkusen
The heart of Covestro beats in Leverkusen: it is where the company's headquarters are located and where it conducts research and handles production. Covestro's success story kicked off in 1937 with the discovery of the plastic polyurethane. Today, the company operates worldwide but maintains its home base in Leverkusen.
Nearly 3,850 employees work for Covestro in Leverkusen in administration, research and production. They ensure safe, environmentally friendly and highly efficient operation with outstanding commitment and broad expertise. New technologies and processes are used in the large production facilities at the site. These help make processes even more efficient.
At the same time, Covestro's innovations set new standards for sustainability – even beyond the company's own boundaries. Since 2015, Covestro has invested around 910 million euros in its plants in order to further ensure that Leverkusen remains a successful production site long-term.
Alongside the other two NRW sites in Dormagen and Krefeld-Uerdingen, the plant in Leverkusen represents around 30 percent of global production capacity of Covestro. The three locations have formed a site network since 2010. They are all located within 70 kilometers of one another and organize maintenance, infrastructure, logistics, warehousing and services. This results in more streamlined processes, more efficient production and better cost-competitiveness.
Certification for high sustainability standards
Since 2022, the Leverkusen site has also held the internationally recognized ISCC Plus mass balance certification. As a result, the company can supply its customers with large product volumes made from renewable attributed raw materials. The selected polycarbonates, components for polyurethane (PU) coatings and adhesive raw materials are characterized by equally good quality and properties as their fossil-based counterparts.
Thanks to the ISCC Plus mass balance certification, Covestro is once again moving a step closer to its ambitious goals: to become climate neutral by 2035 and achieve net zero emissions for Scope 1 and Scope 2. Mass-balanced products enable full transparency of the sustainable supply chain and additionally reduce greenhouse gas emissions through the use of bio-based and recycled raw materials.
Birthplace of high-tech plastics
Leverkusen is also home to research laboratories and an upscaling plant. Everything started with one outstanding innovation. In 1937, chemist Otto Bayer discovered the plastic polyurethane in Leverkusen, a material that is now essential in many everyday applications.
We use it everyday as a soft foam, in the form of mattresses, soft furniture and vehicle seats. As a rigid foam, it is used in home insulation to keep heat outdoors in the summer and indoors in the winter. It ensures that the food in our refrigerators stays fresh. Polyurethane also serves as the basis for the coatings, adhesives, and sealants required in many different sectors such as the automotive industry and the construction sector.
Leverkusen, a hotbed of innovation, focuses on generating new ideas just like Covestro does as a whole. There, products and processes are continuously improved, developed, and tested under real-life conditions in collaboration with external partners and customers. The examples of our collaborative ventures, such as bio-based anilines, are manifold.
Aniline is a true all-around performer in the chemical industry and an important raw material used in medications, dyes and plastics. Normally, it is produced from crude oil. However, working with an external partner, Covestro has now succeeded in manufacturing aniline entirely from renewable raw materials. If further testing is successful, one day this material could be used as an important component in manufacturing rigid polyurethane foam in a manner that is both climate and environmentally friendly.
For Covestro, plastic waste is a valuable raw material. That is why the company makes innovative recycling a priority. Covestro is continuously developing new processes under the name "Evocycle® CQ". The first initiative is called Evocycle® CQ Mattress: Together with partners, Covestro has developed an innovative technology for the chemical recycling of flexible polyurethane (PU) foam from used mattresses.
It is currently tested in a pilot plant at the company's site in Leverkusen. The aim is to validate laboratory results, optimize the process and develop products and applications on a small industrial scale. The innovation enables Covestro to recover both main components: the polyol and the toluene diamine (TDA) – a precursor of toluene diisocyanate (TDI). In this way, the used mattresses are recirculated and given a second life through chemical recycling.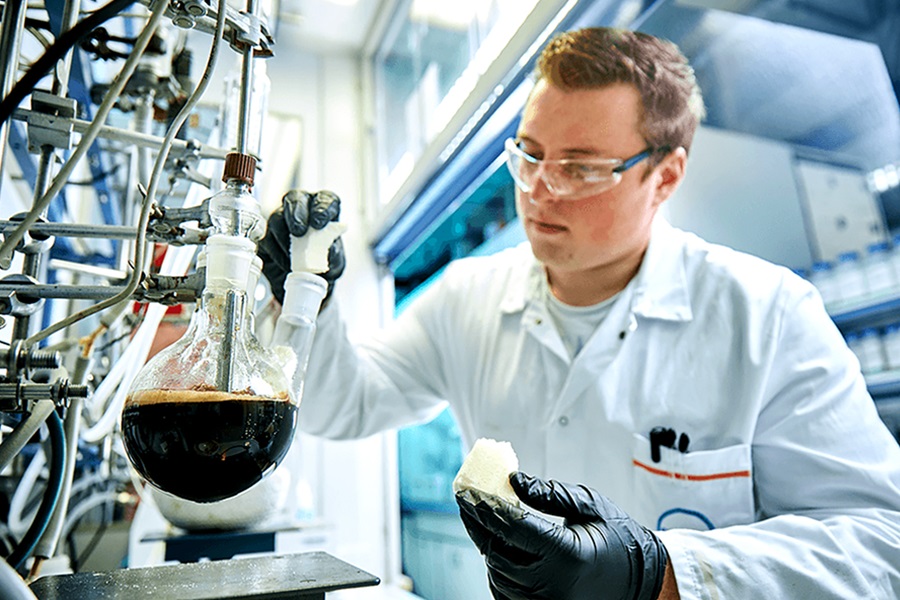 With chemical recycling, plastics are broken down chemically into their original molecular forms so that they can be processed into entirely new plastic materials. It is the only way to recycle certain plastics in relevant quantities. There is an increasing demand for new developments in this area - and this is where Covestro can apply its core chemical expertise.
It is an important step towards a closed recycling loop. This not only opens up new business areas, but also makes a significant contribution to more sustainable waste management and to protecting the climate and the Environment..
On the path to operational climate neutrality in 2035, Covestro plans to switch its production entirely to electricity from renewable sources. This will also make the energy-intensive production of basic raw materials more climate-friendly. The company has already taken a first step: Covestro is now cooperating with LANXESS in the production of chlorine, caustic soda and hydrogen at its three NRW sites.
In the future, Covestro will provide the specialty chemicals company with these basic raw materials from Leverkusen, Dormagen and Krefeld-Uerdingen. Around one-third of the total volume will be produced using energy from hydropower on the basis of certificates of origin. Thanks to the cooperation, indirect emissions can be reduced by around 120,000 metric tons of CO₂ equivalents per year.
Chlorine, caustic soda and hydrogen are the basis for many products in the chemical and plastics industries. LANXESS utilizes them, for example, for products used in the food industry or agriculture.
A breath of fresh air for the energy transition: At its new wind technology center in Leverkusen, Covestro is developing innovative polyurethane resins (PUR) for use in wind turbine rotor blades. The company is thus contributing to the global expansion of alternative energies and providing important impetus for a climate-neutral future.
One goal of the Wind Technology Center is to make the production of rotor blades more efficient in order to drive forward the expansion of renewables. To this end, Covestro wants to launch new robust materials that combine the properties important for rotor blades, such as strength, stiffness and temperature resistance. To this end, existing products are continuously optimized and completely new formulations are developed and tested.
The Wind Technology Center has a decisive advantage: it enables application technology development in close cooperation with customers. Covestro can simulate manufacturing processes in the center, which is equipped with high-quality technology. This enables the company to show its customers how the innovative PUR resins can improve the final product.
Digitalization is an important driver of innovation in the chemical industry. Industry 4.0 marks the start of a new era for companies in the sector. Covestro is actively seizing the opportunities offered by digitization. In Leverkusen, the company is using digital technologies in many of its production facilities to unlock new efficiency potential.
Covestro has just installed state-of-the-art cell voltage measurement devices using fiber optic technology in its chlorine production – a real upgrade for the 3,000 electrolysis elements. They produce around 360,000 metric tons of chlorine annually. New MODA boxes now further increase the efficiency. The boxes are attached to the electrolyzers and connected to each of the 3,000 elements. Nothing remains hidden, not even the smallest deviations from the specified values.
They transmit signals to the computer via high-performance fiber optic cables. Software specially developed for this process then checks the electrical pulses within milliseconds and evaluates them. This is how the digital future looks like at the Covestro site in Leverkusen. Dormagen and Krefeld-Uerdingen are also to receive the "digital upgrade" soon.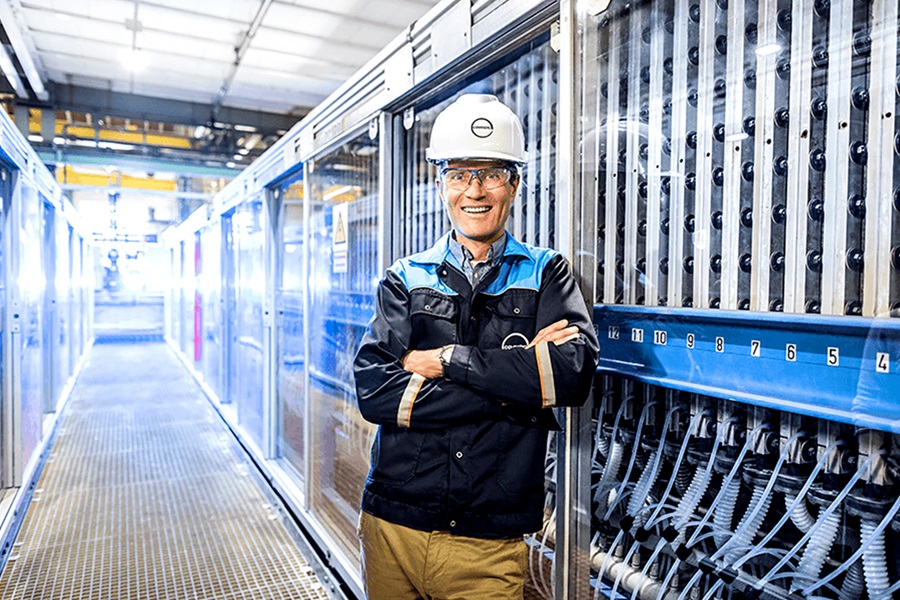 The headquarters completed in the fall of 2020 demonstrates the importance of the Leverkusen site for Covestro. The building offers space for around 700 employees and allows them to work in excellent conditions.
Covestro – A good neighbor
Living together in harmony is very important to Covestro. This is why the company actively seeks out dialog and maintains close contacts with neighbors at its production sites. At Covestro, safety comes first. The company is dedicated to reducing risks for our employees and neighbors and to ensuring safe production processes. Additional information is available on the Chempark Leverkusen website.