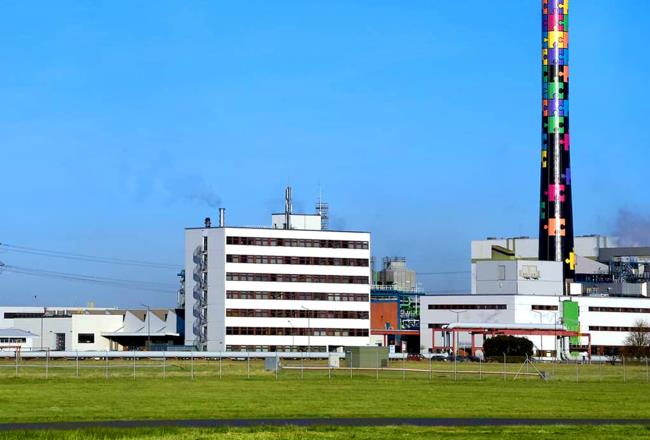 State-of-the-art industrial site in Brunsbüttel
Versatile industrial park operator
Strong winds and plain, vast landscapes: the far north of Germany has its own distinctive character. It also is a special place for Covestro. Not only does the company produce at its site in Brunsbüttel, it also operates the Covestro Brunsbüttel Industrial Park.
The state-of-the-art industrial site at the intersection of the Kiel Canal and the Elbe River offers an excellent infrastructure and a wide range of services. And with immediate access by road, rail, and ship to Hamburg, a gateway to the world market. The future in the north is bright for Covestro!
With nearly 700 employees, Covestro is one of the largest employers in the region. The rigid foam component methylene diphenyl diisocyanate (MDI) is produced at the site. This is an important precursor for polyurethane foam, which is used, among other things, as an efficient insulating material for insulating buildings and refrigeration equipment. Global demand for MDI is on the rise, which is why Covestro started up a new MDI plant in Brunsbüttel in early 2020.
This plant is setting new standards with regard to energy efficiency, environmental compatibility, and productivity. Since it has been put into operation, the MDI capacity on site has doubled to around 400,000 metric tons per year. This makes Brunsbüttel one of the three largest production sites for the foam component in Europe and ensures MDI supplies for all of its customers worldwide.
650
employees
(FTE)
115
young professionals
200.000
metric tons of MDI production/year
With its pilot plant for MDI production in Brunsbüttel, Covestro is once again reaffirming its innovation leadership position. This is based on the novel AdiP (adiabatic isothermal phosgenation) technology, which was developed across different sites and commissioned in November 2020. The AdiP technology, realized for the first time on an industrial scale, is being optimized in Brunsbüttel for future use in the global production network.
Reaction control in the process flow runs more efficiently with AdiP and does not require any external supply of heat. What makes it special is that in an MDI plant, for example, up to 40 percent water steam and 25 percent electricity can be saved in energy input per ton of MDI produced. And it also reduces CO₂ emissions by up to 35 percent - a true milestone in terms of increased resource efficiency and climate protection! No wonder that the AdiP technology was nominated for the "Innovation Award Climate and Environment" of the Federal Ministry of Economics and Climate Protection in 2022.
Another advantage of the innovative process: production capacity increases by 50 percent compared to the technology that is currently being deployed. This will allow MDI production plants based on AdiP technology to be dimensioned smaller than before in the future. This technological innovation is helping Covestro to embed the circular economy in all parts of the company – because climate-neutral production is an important goal for Covestro.
Another advantage of the innovative process: production capacity increases by 50 percent compared to the technology that is currently being deployed. This will allow MDI production plants based on AdiP technology to be dimensioned smaller than before in the future. This technological innovation is helping Covestro to embed the circular economy in all parts of the company – climate-neutral production is Covestro's long-term goal.
Floating LNG terminal
In addition, Covestro is helping to stabilize Germany's energy supply as much as possible. Because after the Russian war of aggression in Ukraine starting in February 2022, it was clear: Germany and Europe must quickly end their one-sided dependence on Russian natural gas. To this end, the infrastructure for a floating LNG terminal (Floating Storage and Regasification Unit, FSRU for short) was built in Brunsbüttel in a record-breaking ten months. Since February 2023, gas has been fed into the German natural gas grid from the Elbe port of Brunsbüttel - an important building block for diversifying and stabilizing the energy supply.
The FSRU, a special vessel, stores liquefied natural gas and can convert it back into gaseous form. Usually, the FSRU uses the surrounding water to regasify LNG. On the Elbe, this is not technically possible due to the water temperatures being too low in the winter months. Covestro supplies the required heat in the form of previously unused process water from its production facilities via a new connecting pipeline to the FSRU's heat exchanger.
Covestro has already supported the project partners in the construction of the new connecting pipeline from the Elbe jetty to the gas network: the three-kilometer-long pipeline runs right across the industrial park site. In preparation for the construction work, Covestro employees laid a construction road, upgraded pipe bridges, and ensured the supply of megawatts of electricity.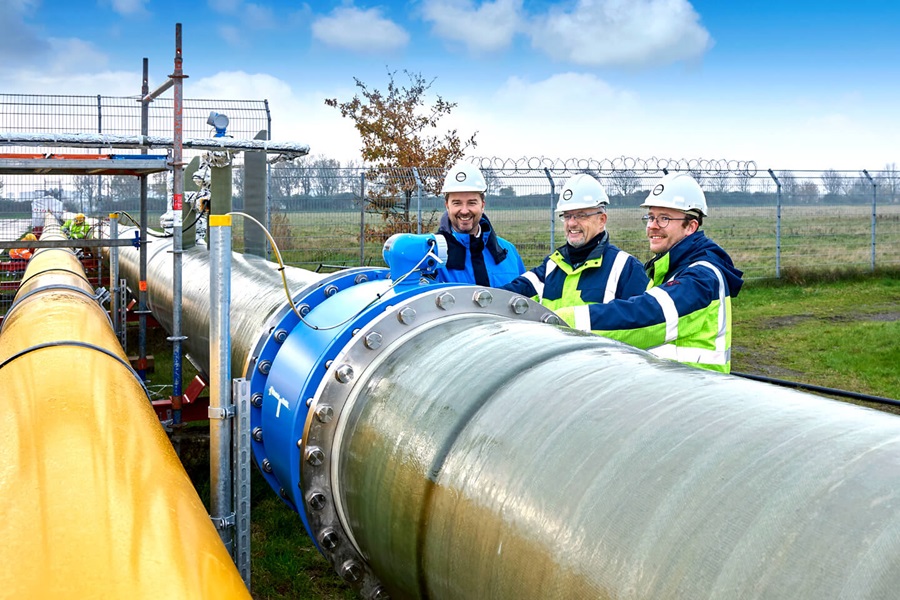 Focus on education and training
And the site also has its sights set on the future in another area: Brunsbüttel is the only Covestro site with its own training and development department. Since the start of production in the far north of Germany in 1977, the training department has continued to develop. The central workshop was first expanded to include a workshop for electrical engineering and then, in 1990, a technical center. In front of the training center is a colorfully designed rail car that was painted in 2017 by seven Covestro trainees with graffiti artist Martin Heuwold. The Covestro corporate values "curious, courageous, colorful" served as the leitmotif.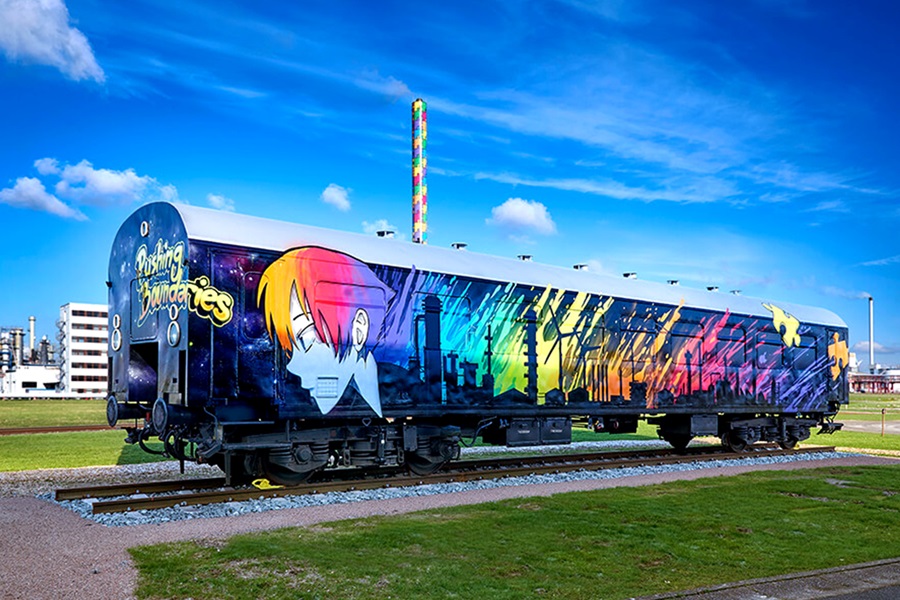 In addition, Covestro offers training courses at the Brunsbüttel site, some of which are also open to participants outside the industrial park. A variety of basic and refresher training courses are offered on topics such as first aid, security guards, respiratory protection, fire protection, and transportation.
Colorful industrial artwork
Covestro is already showing its colors from afar. A 132-meter-high smokestack in the Covestro Industrial Park, painted with over a hundred giant, colorful puzzle pieces, protrudes from the flat coastal landscape. This symbolizes the cohesion and unity of Covestro's employees. This project was also realized by Martin Heuwold, who subsequently designed the colorful high-bay warehouse with a "building block" look for Covestro in Dormagen.
The industrial work of art in Brunsbüttel has already become a true landmark for the entire region. All employees at the industrial park take great pride in it. The colorful smokestack is not only an eye-catcher, but also shows that Covestro is taking a bold step forward there. Covestro not only aims to strengthen the production site, but also to steadily develop the industrial park. Because the Covestro Brunsbüttel Industrial Park has a lot to offer.
Excellent transportation connections
Covestro has been the operator of the Brunsbüttel Industrial Park since 2005 and is continuously developing the site. A total of about 1,200 people are employed on the 420-hectare premises. Besides Covestro, many other companies from the chemical and logistics sectors also make use of the infrastructure services that the industrial park offers. They all benefit from its strategically favorable site and good transportation connections.
This is because the Covestro Brunsbüttel Industrial Park offers direct access to two ports: the port of Ostermoor on the Kiel Canal, the world's busiest man-made waterway, and the port of the Elbe River at the mouth of the river into the North Sea. And it is only a few nautical miles from Europe's second largest seaport after Hamburg. Good connections to road, rail, and air transport round off a logistics offering that modern industrial companies are looking for today.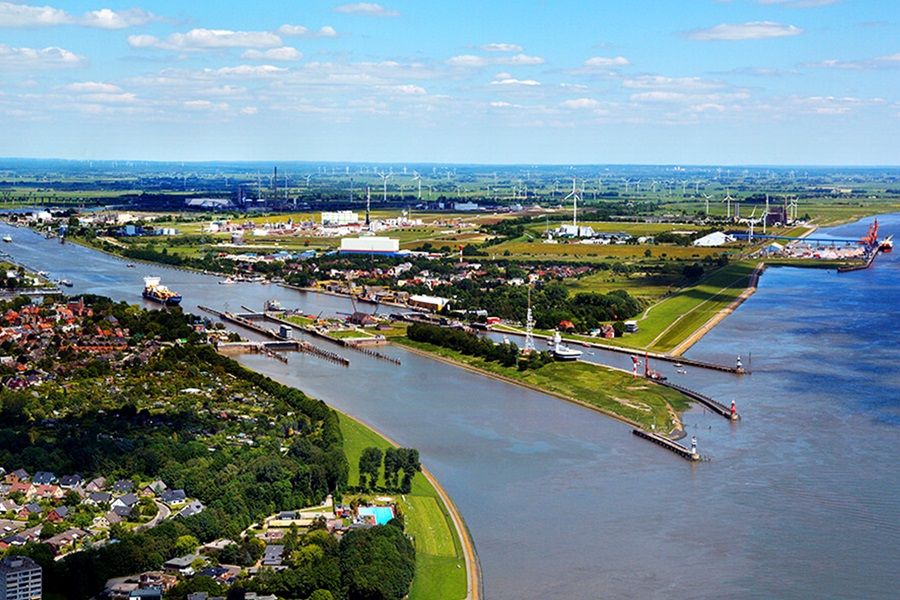 Covestro also applies the same principle to production at the Brunsbüttel site: plant safety, the well-being of employees and residents, and environmental protection are priorities at the Covestro Brunsbüttel Industrial Park.
Numerous plant and fire protection personnel, medical personnel, and safety experts are on standby at all times to ensure this. In addition, there is a clear safety concept with regard to technical equipment: Every system, every work step, and every process is systematically analyzed for potential hazards. For this purpose, employees undergo intensive training in regular exercises.
The industrial park fire department, which is specially equipped and trained to handle chemicals, plays an important role in the safety concept. More than 50 men and women work there in shifts 24 hours a day, 365 days a year. Their main task is preventive fire protection. Beyond that, the experts play a role in the planning of new buildings and train employees on how to act in emergency situations.
In the event of an incident, the industrial park's alarm and hazard prevention plan takes effect. The plant's own fire protection experts then take immediate action and – if necessary – inform the authorities. But to make sure it doesn't get that far, all the safety experts at Covestro Brunsbüttel Industrial Park work towards one common goal: making the plants and processes even safer.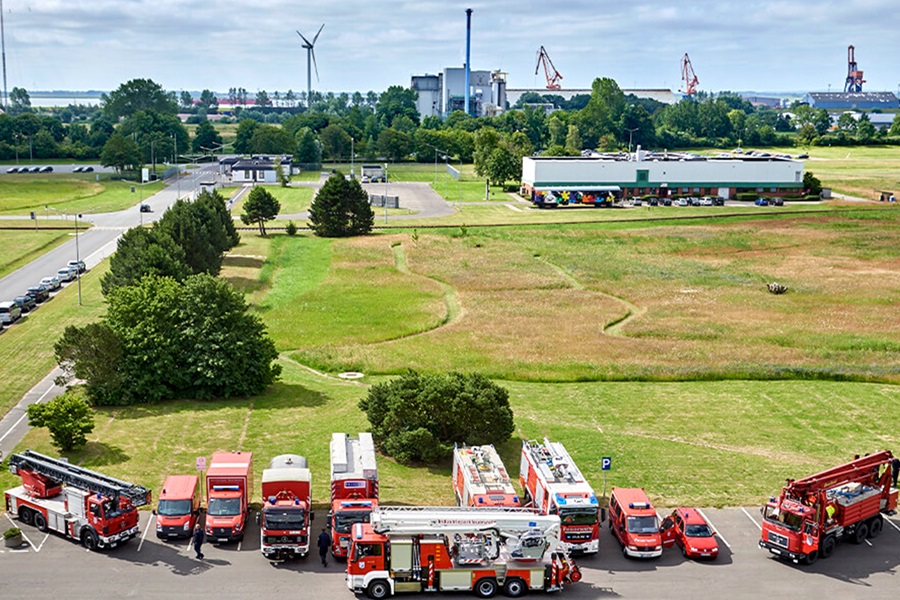 Since 2017, Covestro has been involved in a sustainable project to protect nature at the Covestro Industrial Park Brunsbüttel. Over the past few years, the company has started to create a flower meadow with fruit trees on a 4.5 hectare area. And it is worth it: Many native animals, such as insects, amphibians, and birds use the area as a new habitat. The sustainability concept also includes extensive grazing of other open areas by cows and sheep.
The employees on site also benefit from the nature project. A small path with benches was created for them in the flowering meadows so that they can relax there during their breaks - during harvest time, they can even enjoy small snacks, including apples and cherries freshly picked from the trees.
Covestro was awarded the "Business Environmental Prize 2021" for laying out the flower meadow in November 2021. By pushing the project, Covestro is proving that industrial sites and nature can co-exist in harmony. The company supports the preservation of biodiversity in Schleswig-Holstein actively. The renowned prize, which is one of the oldest of its kind in Germany, has been awarded by Studien- und Fördergesellschaft der Schleswig-Holsteinischen Wirtschaft e.V. since 1984.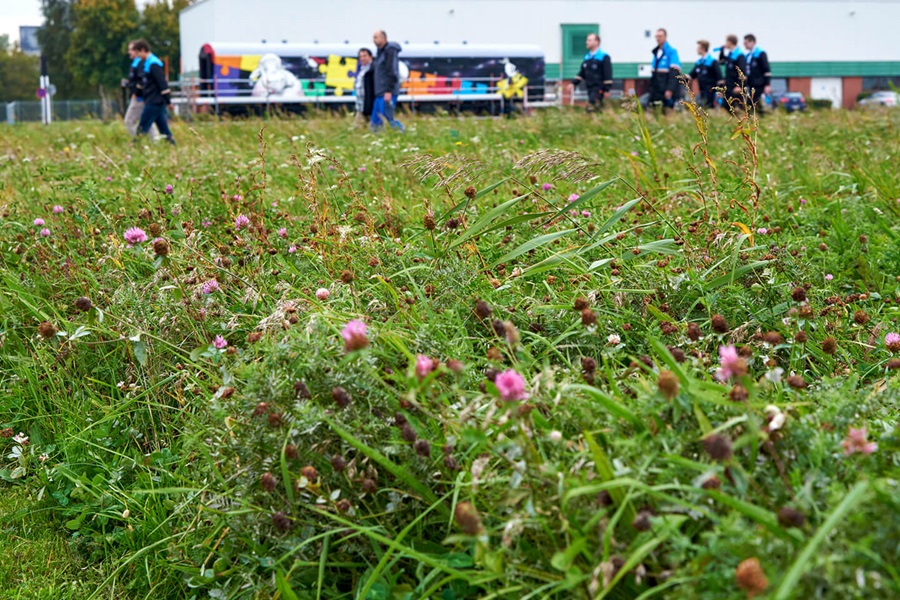 Partner in the ChemCoast network
Covestro Brunsbüttel Industrial Park is one of six partners involved in the ChemCoast network. ChemCoast Park Brunsbüttel is the largest industrial area in the state of Schleswig-Holstein. Companies from the chemical and petroleum industries as well as energy producers and logistics companies have operated here for more than 40 years on an area of around 2,000 hectares. The ChemCoastPark partners cooperate closely in the use of resources and services, but especially in logistics, hazardous waste disposal, and energy generation.
The companies in the Covestro Brunsbüttel Industrial Park also benefit from these advantages. Some 240 hectares of predominantly fully developed open land are available for the establishment of further companies from the chemical industry. This provides for outstanding opportunities for investors to make use of the excellent conditions of the site for the development of their own companies.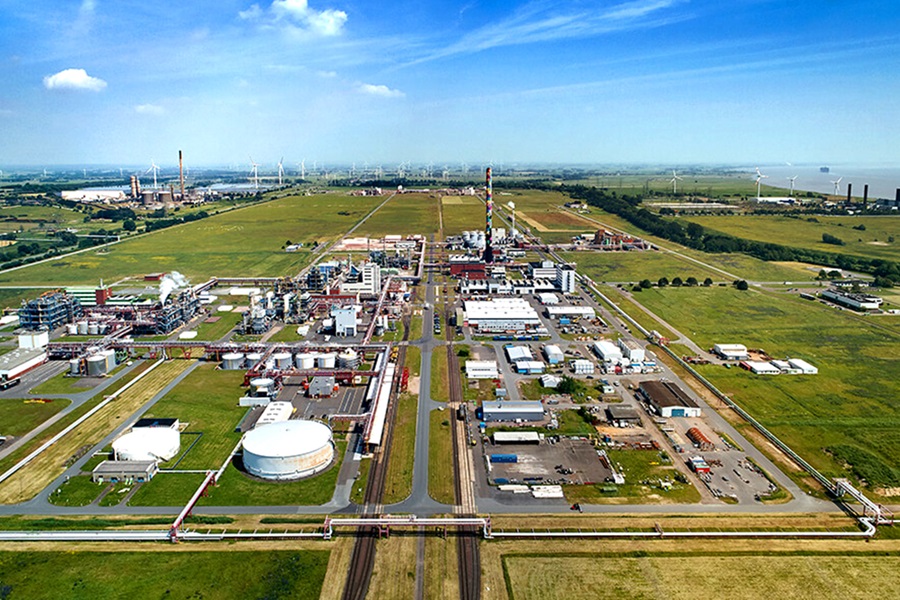 Safe and efficient supply and disposal
The raw materials and energy system at Covestro Industrial Park Brunsbüttel provides companies with everything they need for production. With its own generation plants, it provides steam, refrigeration, compressed air and nitrogen on site. The range of supplies is rounded off by cooling, process and drinking water. Covestro Brunsbüttel Energie GmbH, a wholly owned subsidiary of Covestro, obtains electricity and natural gas from the public grid and supplies the companies at market prices.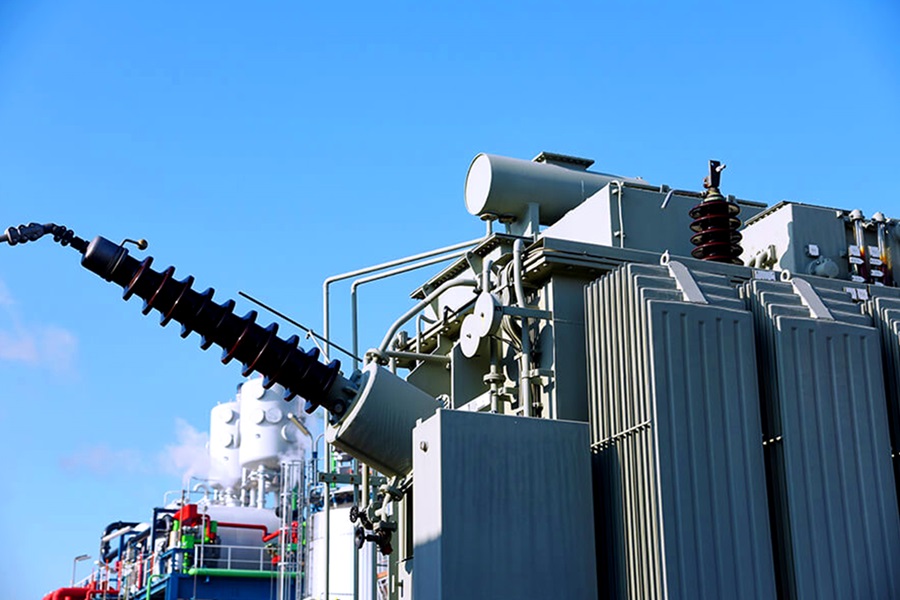 Wastewater disposal in the industrial park is also sustainably regulated. A special wastewater treatment plant ensures that organically contaminated wastewater from the production plants is treated biologically. Up to 3,840 cubic meters of wastewater can be treated there per day. This corresponds to approximately 3.8 million liters of wastewater or more than 25,000 bathtubs filled to the brim.
In addition, production wastewater in the industrial park is treated in a gas phase oxidation (GPO) plant. High-calorific liquid waste can thus be recycled directly. Sustainability in all supply and disposal phases is a hallmark of the Covestro Brunsbüttel Industrial Park.
The many facets, which, just like the colorful landmark, merge to form a large, coherent picture: Covestro Brunsbüttel Industrial Park is a highly modern and appealing industrial site. It has sufficient capacity for companies to establish themselves and offers the ideal starting conditions for their production.
1.250
employees
in the industrial park
420
hectares of total area
80
partner companies
Covestro – A good neighbor
Living together in harmony is very important to Covestro. That is why the company actively seeks dialog with its neighbors at the production sites and maintains close contact with them. Safety is also highly important to Covestro: for its employees, in production, and for the entire area around its sites.
Information about the Covestro Brunsbüttel Industrial Park
Last on-site visit
Covestro: 12/13/2021
Lanxess: 04/27/2022
Security phone number
+49 (0) 4852 81 4455