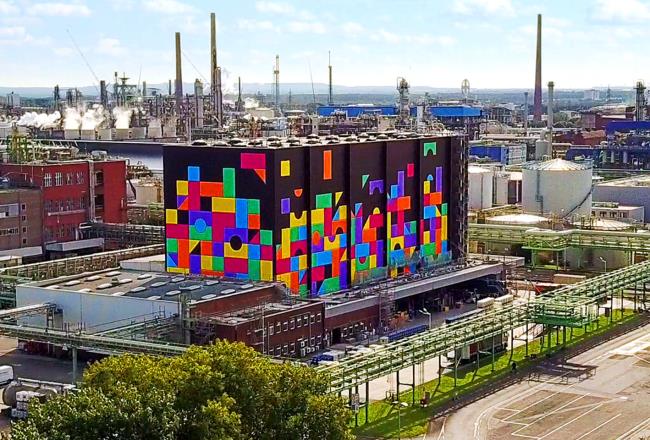 The largest NRW production site
Technology leaders from Dormagen
Dormagen is the largest and one of the most modern Covestro sites in Germany. Research, development and production go hand in hand here. This pays off: With the help of innovative technologies and processes, many raw materials for the production of everyday objects can be manufactured at the site in a particularly resource-efficient and environmentally friendly way.
Dormagen is the headquarters of the Managing Director of Covestro's facilities in North Rhine-Westphalia (NRW). With 60 acres, it is Covestro's largest production site in North Rhine-Westphalia. Nearly 1,900 committed and experienced employees work at the site. They manufacturing precursor chemicals used in many everyday applications, such as furniture, sporting goods, car parts and personal ID cards.
With climate-friendly and resource-efficient technologies and processes, Covestro continues to set new standards in sustainability here. In 2022, the site received the internationally recognized ISCC Plus mass balance certification. As a result, Covestro can now offer its customers products manufactured with alternative raw materials - for example, components for rigid and flexible polyurethane (PU) foams, coatings, adhesive raw materials and thermoplastic polyurethanes (TPU).
The material properties and quality of the mass-balanced products are in equal measure to their fossil counterparts. For Covestro, ISCC Plus mass balance certification is therefore an important step toward a circular economy. The company aims to become carbon neutral by 2035 and achieve net zero emissions for Scope 1 and Scope 2.
The German sites account for around 30 percent of global production capacity – a significant proportion of which comes from NRW. Dormagen, Leverkusen and Krefeld-Uerdingen from a site network, meaning that they jointly organize maintenance, infrastructure, logistics, warehousing and services. This results in more streamlined processes, more efficient production and better cost-competitiveness.
A colorful landmark for Dormagen
The Covestro plant facility in Dormagen is located directly along the Rhine. It is easy to find, partially due to the colorful piece of industrial art that looks like it's made of toy building blocks. It was painted in high-visibility Covestro colors in 2017. The unique thing about the artwork is that it has a practical purpose, as it is also a 35-meter-high and 69-meter-long high-bay warehouse.
Every day, forklifts drive into and out of the warehouse, loading and organizing goods and products. Just like building blocks, all of the individual steps performed here join to create one harmonious overall picture. The factory building, designed by graffiti artist Martin Heuwold, symbolizes one thing above all: Covestro has the courage to implement new ideas. Raising the curtain on Covestro's largest production site in NRW.
In the Specialty Films area, Covestro's employees manufacture polycarbonate films to be used in applications such as automotive interiors and medical technology. In addition, the products play a key role in ID documents like driver's licenses or personal ID cards. Innovative specialty films from Covestro allow the integration of new safety features that make such documents even more resistant to forgery. Dormagen has developed into a competence center for specialty films. Production facilities, an upscaling plant for film processing, a showroom, and research laboratories are all in close proximity.
Another focus of production at the site in Dormagen is the raw material toluene diisocyanate (TDI). Together with polyols, it forms the basis for polyurethane soft foam. TDI has been produced in Dormagen since 1964, meaning the material has a long tradition at the site. The production capacity for TDI operations in Dormagen is sufficient to produce 200,000 mattresses every day. Additionally, manufacturers of vehicle seats, shoulder pads, and bra cups also use the liquid raw material TDI to produce soft foams.
A modern, large-scale TDI facility capable of producing 300,000 tons of per year has been in operation in Dormagen since 2015. Thanks to gas phase technology developed by Covestro, it reduces energy-use by up to 60 percent and requires up to 80 percent less solvents in production, making it both efficient and environmentally friendly.
The next milestone followed in 2022. Since then, Covestro has been offering its customers renewable* TDI at the site, which significantly reduces the carbon footprint from the cradle to the factory gate** - while maintaining consistently good product quality. The basis for this is the use of mass-balanced renewable raw materials. Thanks to them, Covestro can make an important contribution to reducing indirect emissions in the supply chain and offering its own products with a reduced carbon footprint.
---
* Renewable TDI is produced using the mass balance approach using renewable raw materials - from virgin biomass as well as biowaste and residues - which are allocated to the product by calculation.
** According to an internal assessment of a partial product life cycle from raw material extraction (cradle) to factory gate (by Covestro), also known as cradle-to-gate assessment. The methodology of our LCA is based on ISO standards 14040 and 14044, and the calculation takes into account the biological origin of carbon based on preliminary data from the supply chain. No compensation measures were applied.
Chlorine, caustic soda and hydrogen are important components for many key products in downstream sectors - for example in the food industry and agriculture. Production of these basic raw materials is, however, very energy-intensive.
In Leverkusen, Dormagen and Krefeld-Uerdingen, Covestro is now making the process significantly more climate-friendly. To this end, the company is cooperating with LANXESS. With immediate effect, Covestro is producing around one-third of the volume of chlorine, caustic soda and hydrogen supplied to the specialty chemicals company using energy from hydropower on the basis of certificates of origin. This will reduce reported emissions by up to 120,000 metric tons of CO₂ per year.
Covestro aims to be operationally climate-neutral by 2035. As part of this, the company plans to switch its production entirely to electricity from renewable sources. A focus here is on the energy-intensive production of basic raw materials.
The FREITAG company is a real recycling king. The Swiss company produces trendy bags and accessories from used materials – especially from discarded truck tarps. But why not think one step further? FREITAG thought so too and set the next innovation in motion. Together with Covestro and other partners, the company is developing a truck tarp that can be reprocessed as often as desired into new products, even after a long life as a bag. Thus, it is to become part of a new endless cycle. One advantage is that the carbon footprint is significantly lower than when the bags were previously disposed of at the end of their useful life.
Covestro, together with tarp manufacturer Heytex, is supplying the suitable raw materials for the ambitious project. At its site in Dormagen, the materials manufacturer is developing a material solution based on thermoplastic polyurethane (TPU). The product meets the high requirements: after all, the materials used for truck tarps must be fully recyclable, meaning that they can not only be recycled but also used again and again in new products.
When used as truck tarps, the first step is to withstand the challenging conditions of transit routes in Europe. To do this, it has to be water- and dirt-repellent. After that, the tarp is to be used in high-quality and durable FREITAG bags, and finally it must be possible to chemically break it down again into its components, which then serve as the basis for new products.
Covestro produces raw materials for high-quality coatings at its own LPD operation (Lack Polyisocyanate Dormagen). These serve as the basis for coatings that offer not only great-looking color, but are also hard and elastic at the same time. This protects the surfaces of buildings and steel structures against corrosion. Such coatings can extend the lifespan of bridges, airplanes and wind turbines.
In addition, Covestro is transitioning to solvent-free water-based coatings in Dormagen. Coating hardeners from Covestro are made of up to 70 percent biomass. These are highly efficient and high-performing, while remaining environmentally friendly as they save fossil-based resources.
All of this proves that Dormagen is an innovative production and research location that stands out for its enormous diversity. Covestro's innovative technologies and processes continue to set new standards for sustainability. By doing so, the company is making a key contribution to global climate and environmental protection. It is also fulfilling its mission and purpose: to make the world a brighter place.
Covestro – A good neighbor
Living together in harmony is very important to Covestro. This is why the company actively seeks out dialog and maintains close contacts with neighbors at its production sites. At Covestro, safety comes first. The company is dedicated to reducing risks for our employees and neighbors and to ensuring safe production processes. Additional information is available on the Chempark Dormagen website.