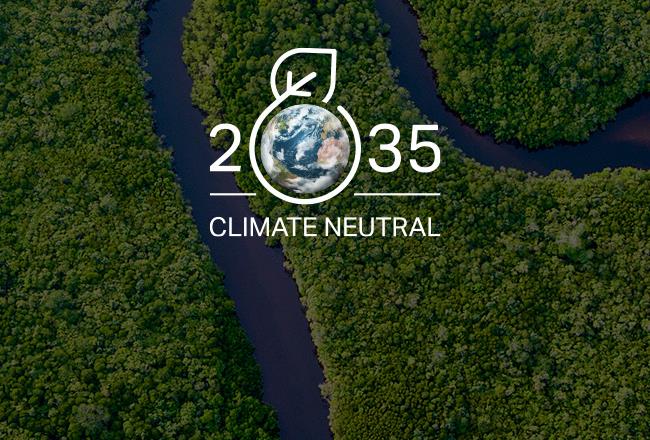 We don't say it's easy. But possible. #fullycircular
To put it simply: We aim for climate neutrality by 2035 for our own emissions (scope 1) as well as external energy sources (scope 2). But the path for achieving this target is not simple at all. It will be a challenge. In tackling the crises of climate change, we are part of the solution and a forerunner.
Our ambition to become climate neutral and fully circular.
Climate neutrality in just about a dozen years' time? That really does sound like a more than an ambitious goal. And sure, there is no time to waste – it is going to be a route that will need the right framework conditions and political support, particularly regarding an expansion of renewable energies, for example.
For us, it is also a route that you can't shy away from – you have to tackle it with commitment and conviction. Which means: We want to foster sustainability and make our plastics manufacturing fully circular. Already now, based on Covestro's previous specific greenhouse gas reduction targets, major milestones have been reached: the Group met its goal to reduce the specific greenhouse gas emissions by 50% per ton produced by 2025 earlier than expected.
Thanks to successful implemented operational excellence in all its major production sites, Covestro has cut specific emissions by minus 54% already in 2021, compared to base year 2005.
Consequently, we commit to a new bold target for becoming climate neutral. Based on greenhouse gas emissions of 5.6 million metric tons in 2020, we want to reduce the absolute emissions year by year and aim to reach a reduction of 60% (to 2.2. million metric tons) by 2030.
We aim to be the first company in our industry to achieve operational climate neutrality.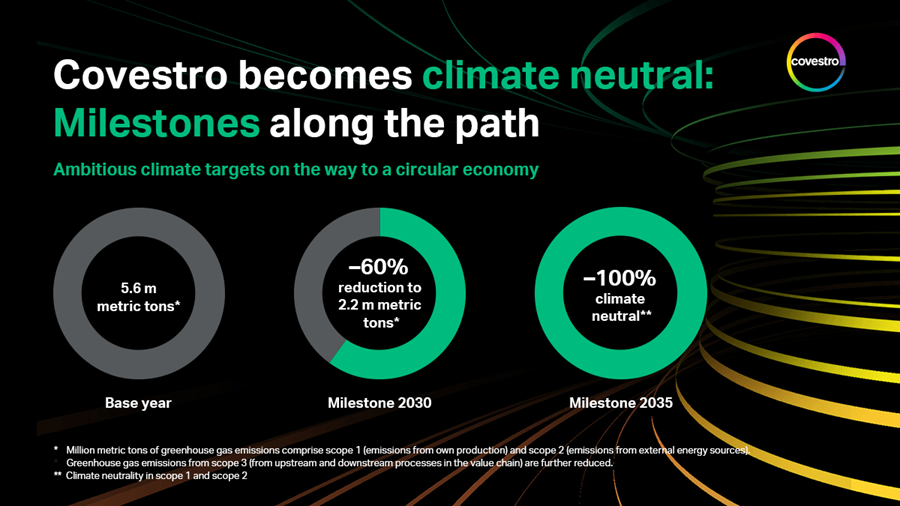 It's not about the 'If'. It's about 'How'.
On our way to becoming fully circular we have identified ways and processes for an industrial development and a more sustainable growth. In our opinion, advancing circularity should definitely become a guiding principle for economy and society globally. But on top of the general need for more sustainable solutions in our industry, we decided for ourselves to push for a more sustained way of growing – by addressing sustainability in a profitable way while at the same time becoming the best of who we are.
One concrete measure on this path is climate neutrality. In 2021, Covestro cut greenhouse specific greenhouse gas, those generated per metric ton of product produced, emissions by 54 percent compared to 2005 and overachieved a climate target set for 2025.
In the long run, we aim for 100% renewable energy sources and 100% alternative raw materials. To exploit the full potential in this groundbreaking industry shift, we are undergoing a huge internal transformation to have an optimal set-up and processes. This will be supported by an advanced digitalization strategy and our unique company culture.
A strategy for a more sustainable chemical industry.
Our roadmap sees realistic milestones for becoming climate neutral and cutting both the direct emissions from own operations and the indirect emissions from purchased energy down to net zero. In addition, indirect greenhouse gas emissions from upstream and downstream processes in the value chain (scope 3) will be further reduced. A reduction target will be announced in 2023. Besides external effects, we will intensify our manufacturing excellence as well as make massive use of green power and green steam. This means in detail:
To reach so-called net zero scope 1 and scope 2 emissions, we will intensify our operational excellence and foster energy efficiency to enhance our sustainable production. A strong focus will be on deploying an innovative catalyst technology in our isocyanate production chain to reduce greenhouse gases, for example.
To switch to power from renewable sources and transform our production sites worldwide, we will particularly rely on groundbreaking cooperation models with power suppliers and will realize more such agreements to reach net zero and get closer to climate neutrality. This happens with regard to scope 2 emissions.
To serve our customers growing need for sustainable products and to reduce waste, Covestro intensively expands its portfolio of climate neutral material versions. Fundamental macro-economic challenges are addressed by enabling sustainable and unique solutions in key markets, such as mobility, construction, renewable energy, nutrition and digitalization to address global challenges and meet UN Sustainable Development Goals.
The high demand for sustainable solutions is additionally growing due to global trends. Urbanization, for example, increases the focus on constructing new energy-efficient buildings and renovating old ones. Large quantities of MDI are used worldwide as a raw material for making rigid polyurethane (PU) foam, for example. Now Covestro has added a climate neutral¹ MDI to the product portfolio.
With the increasing trend of electromobility and the regulatory push for electric vehicles (EV), charging systems need to grow continuously, too. Using the climate neutral polycarbonate for EV charger could enable savings up to 450 kilotons carbon dioxide equivalent by 2030. Covestro's climate neutral polycarbonate is being shipped to customers since 2021.
---
¹ Climate neutrality is the result of an internal assessment of a partial product life cycle from resource extraction (cradle) to the factory gate, also termed a cradle-to-gate assessment. The methodology for determining our ecological footprint is based on the standards ISO 14040/ISO 14044. Biogenic carbon sequestration is taken in to account in calculating it on the basis of provisional data from the supply chain. No compensation measures were used.
To further push the circular economy and go easy on resources, we are, amongst others, shaping the markets for non-fossil, circular raw materials such as biomass, waste, carbon dioxide and hydrogen with groundbreaking innovations and pioneering partnerships. These solutions and projects will be part of our investments in major innovative levers over the next years.
Our goal until 2035: changing a whole industry.
Linking our ambitions to the Paris Agreement to limit global warming to 1.5 degrees Celsius, we are a forerunner of our industry. Our sector is committed to make its contribution to reach climate neutrality and build a truly sustainable, climate neutral economy.
We have begun with shaping the transition of the whole plastics industry, an industry which is still heavily fossil-based with significant greenhouse gas intensity. And we hope for others to join us, to follow our example.
In a circular economy, we can protect the climate, nature and resources and achieve sustainable growth that respects planetary boundaries. Covestro and the chemical industry are part of the solution.
Determined for shaping a truly sustainable world.
Being on our way to become the leading expert in sustainable materials for a climate-neutral world, our vision accelerates the and incorporates a mindset based on positivity.
For the first time, to provide greater transparency on how we manage climate-related opportunities and risks and contribute to the global transition to net zero within our business, we publish a TCFD (Task Force on Climate-related Financial Disclosures) report. This report is an extension of our comprehensive non-financial reporting.