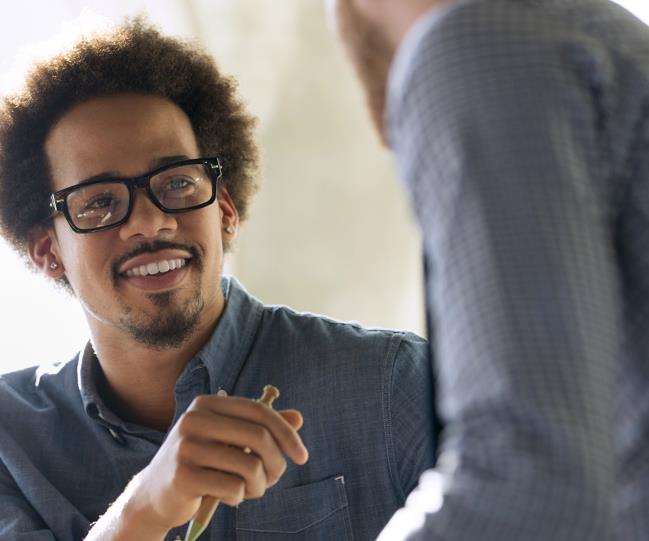 Your student internship at Covestro Germany.
Get real-world experience with fresh theories.

A simple and practical way to gain experience

Regardless of whether you wish to get to know Covestro better during an internship or whether you would like to write your thesis with us: At all of Covestro`s German sites we offer students the opportunity to gain valuable experience and to discover the colorful world of Covestro firsthand.
Entry opportunities for students and graduates at Covestro
Internship options for students
Our various internship programs are perfectly tailored to your prior knowledge and needs, enabling you to put your theoretical knowledge into practice and discover our diverse range of roles and entry/development opportunities:
Voluntary internship – minimum of three months, maximum of six months
Mandatory internship / work placement semester – depends on the exam regulations, ideally three to six months
Thesis – duration depends on the exam regulations
Gap year internship – between bachelor's / master's or master's / PhD, usually three to six months
Doctoral candidates – write your dissertation in cooperation with Covestro, duration of three years
Legal traineeship – between three and six months
Journalistic trainee (Volontariat)– over a period of 18 to 24 months
What you offer
Most of all, we are looking for people with initiative, team spirit, and excellent communication skills. People applying from abroad should also possess a strong command of English. In some divisions, it is useful if you speak German in addition.
Internships and theses at Covestro: put your theory into our practice!
Your thesis at Covestro
New and exciting questions arise all the time in our many different areas of activity. We are therefore happy to offer you the opportunity to write your bachelor's or master's thesis in sciences, engineering, or business studies at Covestro. Feel free to include a suggested topic or area of focus in your cover letter.
Taking the next step
We recommend that you provide us the following documents so that we can process your application quickly and plan your assignment:
Detailed cover letter indicating the desired dates of your Placement
A concise Curriculum Vitae (CV)
Certificates (high school certificate, intermediate diploma, performance record)
Certificate of enrollment
Internship guidelines of your institution
Gaining international practical experience
We offer student internships at many of our international locations. You can view all internships abroad in the various business areas via the job search.
What we offer
Community, competence, and culture – there are many great reasons to start your career at Covestro. We are especially proud of the following two:
Community – interns sharing experiences
It is practically a tradition that all the interns go to lunch together at Kasino (the works restaurant) at Chempark Leverkusen every Tuesday. Since the start of the coronavirus pandemic, there has been a substitute meetup on MS Teams – voluntary, of course! As such, all interns at our German sites have the opportunity to get to know each other and share their experiences.
Culture – a working environment of recognized fairness
Handelsblatt and Institut für Beschäftigung und Employability have once again named us a fair company. This means, among other things, that we fulfill the expectations and values of entry-level candidates and young professionals such as interns and trainees in a special way.
We attach particular importance to exciting entry opportunities and a spirit of collaboration and fairness, which we bring to the forefront with attractive working conditions and areas of focus:
Work–life Balance
Diversity and equal opportunities
Sustainability and corporate social responsibility
Leadership, work organization, and corporate culture
Career paths, compensation, and employee development