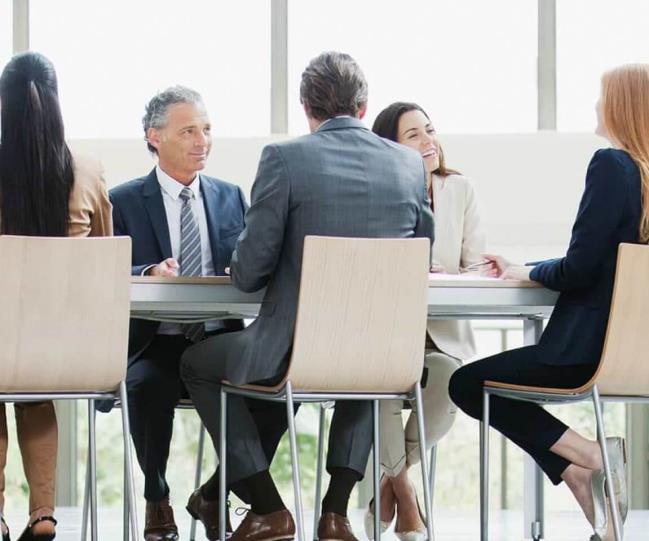 Sustainability in the corporate strategy
Sustainability as key pillar
Covestro aims to help protect the environment, conserve limited resources, advance society, and create value, all by firmly integrating sustainability into our Group strategy and management.
Covestro is fully committed to sustainability, as shown in our purpose "to make the world a brighter place." This is underscored by our vision, "We will be fully circular," as well as by the Group's Sustainable Future strategy, which has "Drive Sustainable Growth" and "Become Fully Circular" as strategic chapters. We set sustainability targets as early as in fiscal 2016 and continually adapt these targets in line with our strategy and vision.
We announced in the year 2022 that we would reach net-zero emissions* by the year 2035 in our own production and in the provision and use of energy produced outside the company at all environmentally relevant sites. Moreover, a sustainability component, measured against selected ESG criteria, was laid down in the management system in the reporting year.
We integrate sustainability into our business activities, while at the same time ensuring that we deal with related topics and issues of greatest relevance to us and our stakeholders. In addition to our responsibility for the environment, we also want to fulfill our social responsibility within society in accordance with our purpose. This is why we strive to add value at the social, environmental, and economic levels.
Our decisions and our actions take into account the three dimensions of sustainability: people, planet, and profit (PPP). This is to ensure that every decision, every action we take, and the resulting consequences are considered holistically, that is, throughout the entire value cycle.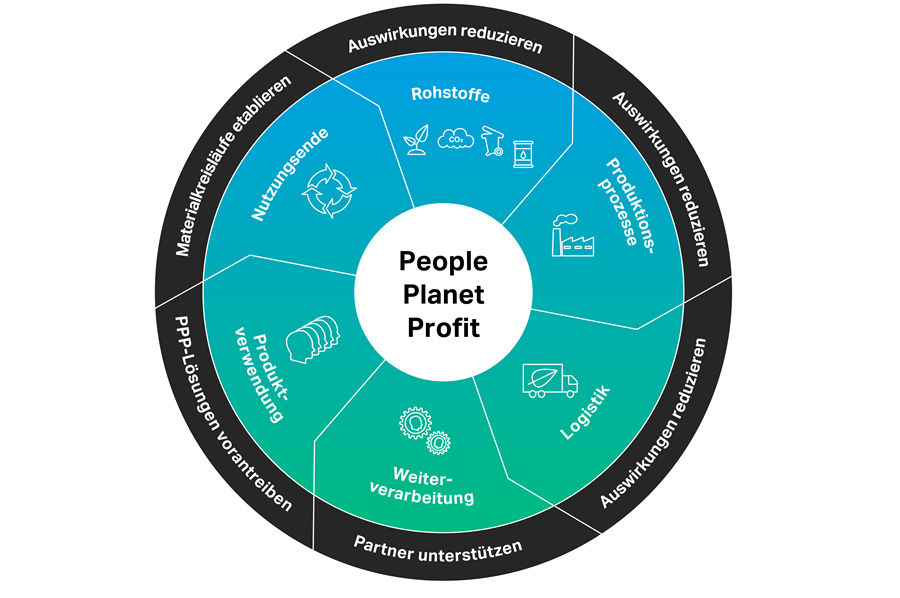 Further information on our sustainability topics, targets and measures can be found in our latest Annual Report.
In addition to our vision, mission and values, we have developed six policies that outline our basic principles and are the basis on which we can fulfill our vision and mission. These six principles are: value creation, sustainability, innovation "How we can create performance and culture from values" ("People"), "Health, safety, environmental protection and energy, quality (HSEQ)" and compliance. Sustainability is therefore firmly anchored in our corporate principles.
As part of our sustainability policy, we are committed to ensuring benefits for our customers, society and the environment. We aim at sustained economic growth without damaging our planet or exploiting its resources.
As a clear indication that we are committed to sustainability and continuous improvement in terms of HSEQ, we have signed both the 10 principles of the UN Global Compact and also the chemical industry's Responsible Care charter.
We are also committed to other issues such as responsible interaction with water, human rights and responsible lobbying as publicly indicated by our Covestro Corporate Commitments.
Our policies and Corporate Commitments contain parameters for action and outline responsibilities for management processes relevant to sustainability. These are accessible to all employees via the Covestro intranet. These so-called directives and operating procedures are obligatory for all organizational divisions and staff members. Adherence to rules and processes is regularly reviewed, for example through internal and external audits, and the findings from these are incorporated into the continuous management evaluations.
Furthermore, Covestro has introduced an integrated HSEQ management system. It defines the worldwide minimum requirements in accordance with renowned and globally-recognized standards in the fields of occupational safety, health protection, environmental, energy and quality management.
Thanks to global collaboration with independent certifiers and auditors, it has been proven that Covestro meets the requirements of important international standards. The company has been awarded quality, environmental and occupational safety/health protection certificates as well as special certificates such as ISO 9001 (quality management), ISO 14001 (environmental management) and ISO 50001 (energy management). Each year, we analyze and evaluate the effects of our activities on the environment. This is embedded in our HSEQ guideline. From our environmental performance assessment, we derive measures to reduce and minimize environmental impacts. Globally applicable process and workflow descriptions help us implement these throughout the Group.
If you would like to see which location is certified to which standard at a glance, then simply click here.
Clear guidelines for action and responsibilities in terms of management processes relevant to sustainability are also outlined in the policy booklet and in various directives, including with regard to product responsibility, environmental and energy management as well as safety. These rules are obligatory for all organizational divisions. Adherence to rules and processes is regularly reviewed, for example through internal and external audits, and the findings from these are incorporated into the continuous management evaluations.
With its "Code of Conduct for Responsible Lobbying", Covestro has drawn up clear and binding rules for engaging in the world of politics.
The intensive dialog with the capital market is also of high priority for Covestro. This comprises analysts, investors, lenders and rating agencies, and forms the basis of comprehensive and timely exchange of information between Covestro and financial market participants. With this exchange of information, we want to contribute to an appropriate evaluation of our shares and achieve an appropriate credit rating. The focus here is on the comprehensive, consistent and timely exchange of information between the company and financial market participants.