Sustainability in the corporate strategy
Sustainability as key pillar
Preserving the environment, saving limited resources, driving society and creating value – Covestro wants to contribute to all of this by firmly integrating sustainability into corporate strategy.
Climate change along with increasing mobility and urban growth are global challenges of our time. Covestro has made it a goal to contribute to meeting these challenges with high quality materials and application solutions. Sustainability therefore is an integral part of the Group´s strategy and governance. We want to help advance society (people) and preserve the environment (planet), while at the same time creating economic value (profit). These three pillars of sustainable development – people, planet, profit – are the foundation of our entrepreneurial decisions and activities as well as our relationship with our stakeholders.
In order to underline our self-conception as a sustainably operating company, we have, ever since our beginnings, been a part of the "UN Global Compact" and its internationally accepted principles, and regularly report on our progress. Moreover, we are committed to the industry initiative "Responsible Care" and actively engage in global sustainability forums, such as the World Business Council for Sustainable Development (WBCSD).
As a company, Covestro is part of society and feels that it has a responsibility to tackle current challenges such as climate change, shortage of resources, health protection and poverty. Those sustainability issues upon which we can have a significant impact have been incorporated into the corporate strategy and thus underpin many of our activities. This applies both to our products and processes as well as our conduct toward stakeholders.
We view our stakeholders as partners with whom we work closely. After all, not only do they evaluate the company in terms of our compliance with legal aspects, but also whether we act in a sustainable and ethical manner. In order to identify fundamental sustainability issues, we continuously analyze the interests, expectations and requirements of our main stakeholders, and these are integrated into our actions and goals.
Since 2016, Covestro has been following its own sustainability program for the entire Group which defines ambitious goals to be achieved by 2025 and is consistent with the Group's own sustainability agenda and the corporate values. The individual goals address key matters from different areas ranging from procurement through production and marketing to innovation.
Binding principles – the German Corporate Governance Code
Ensuring fairness, increasing transparency, creating trust and increasing understanding – these are the fundamental goals of the so-called German Corporate Governance Code (DCGK for short) introduced on May 5, 2015. This is a legal framework that regulates the management and monitoring of companies listed on the stock exchange. Open corporate management, transparent communication, internal company control mechanisms, long-term risk management and promotion of gender diversity at top management levels – these are just some of the principles that are enshrined in this code.
In both 2016 and 2017, Covestro met all of the recommendations published in the official section of the Federal Gazette by the Federal Ministry of Justice and Consumer Protection, and we will continue to meet these again in future. We do so thanks to our positions and policies or through our own sustainability report that is drawn up in accordance with the standards of the Global Reporting Initiative, GRI.
Policies, Corporate Commitments and Management System – the implementation of sustainability in our structures and processes
In addition to our vision, mission and values, we have developed six policies that outline our basic principles and are the basis on which we can fulfill our vision and mission. These six principles are: value creation, sustainability, innovation "How we can create performance and culture from values" ("People"), "Health, safety, environmental protection and energy, quality (HSEQ)" and compliance. Sustainability is therefore firmly anchored in our corporate principles.
As part of our sustainability policy, we are committed to ensuring benefits for our customers, society and the environment. We aim at sustained economic growth without damaging our planet or exploiting its resources.
As a clear indication that we are committed to sustainability and continuous improvement in terms of HSEQ, we have signed both the 10 principles of the UN Global Compact and also the chemical industry's Responsible Care charter.
We are also committed to other issues such as responsible interaction with water, human rights and responsible lobbying as publicly indicated by our Covestro Corporate Commitments.
Our policies and Corporate Commitments contain parameters for action and outline responsibilities for management processes relevant to sustainability. These are accessible to all employees via the Covestro intranet. These so-called directives and operating procedures are obligatory for all organizational divisions and staff members. Adherence to rules and processes is regularly reviewed, for example through internal and external audits, and the findings from these are incorporated into the continuous management evaluations.
Furthermore, Covestro has introduced an integrated HSEQ management system. It defines the worldwide minimum requirements in accordance with renowned and globally-recognized standards in the fields of occupational safety, health protection, environmental, energy and quality management.
Thanks to global collaboration with independent certifiers and auditors, it has been proven that Covestro meets the requirements of important international standards. The company has been awarded quality, environmental and occupational safety/health protection certificates as well as special certificates such as ISO 9001 (quality management), ISO 14001 (environmental management) and ISO 50001 (energy management). Each year, we analyze and evaluate the effects of our activities on the environment. This is embedded in our HSEQ guideline. From our environmental performance assessment, we derive measures to reduce and minimize environmental impacts. Globally applicable process and workflow descriptions help us implement these throughout the Group.
If you would like to see which location is certified to which standard at a glance, then simply click here.
GRI – reporting in accordance with internationally recognized guidelines
In addition to the annual report, we provide additional sustainability information every year in our "GRI Report" in compliance with the "core" option of the G4 guidelines for the Global Reporting Initiative (GRI).
We follow international guidelines and recommendations, for example regarding the definition and selection of non-financial indicators or when recording greenhouse gas emissions in accordance with the guidelines laid down in the Greenhouse Gas Protocol (GHG Protocol).
In doing so, Covestro also shows how environmental and societal factors fit in with the long-term business success of the company. As part of the GRI Report, we also publish sustainability information that complements and consolidates the information provided in the annual report.
Honest and open dialog
Exchanging ideas on an equal footing with our stakeholders is of the highest priority for us, both those in our direct vicinity as well as on a regional, national and global level. Key players include business partners, employees, associations, and scientific institutions, as well as financial market participants, regulators and societal stakeholders. Their involvement has a crucial influence on the way Covestro acts, makes decisions and undertakes risk management.
Standing shoulder to shoulder with our stakeholders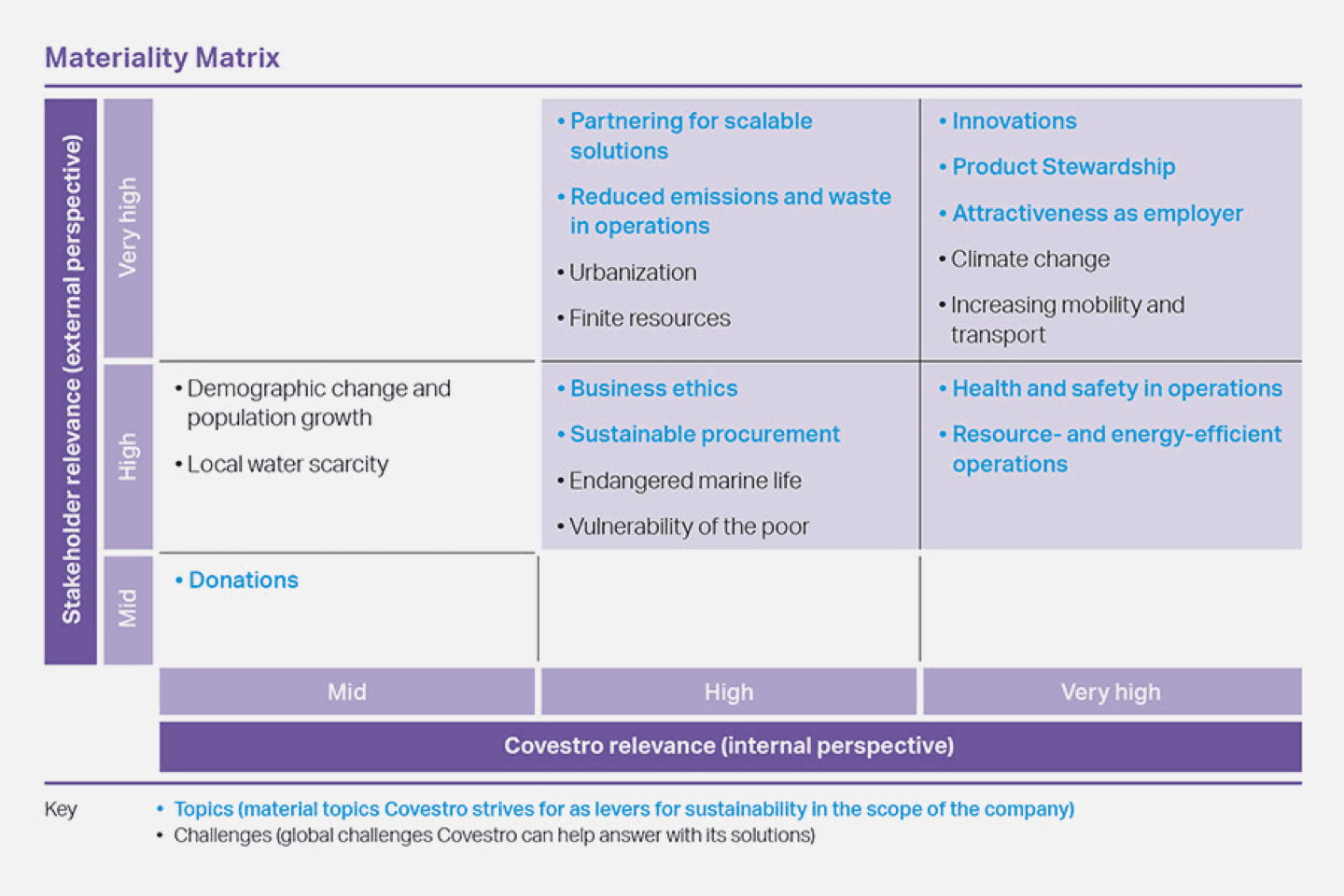 Materiality analysis – acting in the interests of our stakeholders
Each year, we analyze the interests, expectations and requirements of our stakeholders as part of a so-called materiality analysis and combine them with key sustainability issues. These so-called "material issues" give us important impetus when it comes to our economic orientation, for setting targets and our strategy development.
To this end, we precede in four steps:
Strategic review of the basic global trends and the challenges these pose for Covestro and the industry in general.
Interviews with external stakeholders such as competitors, customers, investors, scientific institutions and associations.
Internal validation with our own specialists from various divisions of the company.
Approval of updated matrix by Chief Sustainability Officer (CSO).
This results in the identification of the most important global challenges and sustainability issues for Covestro. Compared to 2016, this year, new topics such as "Circular economy solutions for a resource-efficient economy" and "Innovative solutions as a contribution to reaching the UN Sustainable Development Goals" have been added which we will work on to gradually integrate them into our day-to-day activities. Going forward, the topics with high or very high relevance for Covestro and the stakeholders overall will become more important and be more heavily integrated into our strategic and commercial business focus. These sustainability topics are also important as the foundation for selecting the main aspects and indicators as required for the GRI core reporting.
Our success in business is based on the knowledge and commitment of our employees. This is why Covestro regularly informs its employees about current developments in the company and industry and incorporates them into the business by means of active dialog. Furthermore, Covestro uses presentations and circulars on specific occasions as well as the company intranet and social media to publish current information.
Clear guidelines for action and responsibilities in terms of management processes relevant to sustainability are also outlined in the policy booklet and in various directives, including with regard to product responsibility, environmental and energy management as well as safety. These rules are obligatory for all organizational divisions. Adherence to rules and processes is regularly reviewed, for example through internal and external audits, and the findings from these are incorporated into the continuous management evaluations.
Collaboration with partners and customer satisfaction are the prerequisites for long-term economic success. With regular customer surveys, specialist forums and conferences, we ensure intensive exchange with our customers and evaluate their satisfaction levels on an ongoing basis.
We also commission branding and market studies at irregular intervals that survey existing or potential customers from all the industries relevant to us. The findings from these studies are used to establish a customer-oriented market positioning and improve customer relations. This is important to us because close exchanges with customers along the value creation chain also creates impetus for innovation.
In order to guarantee seamless production processes and implement our own sustainability requirements in a consistent manner, we work closely with our suppliers and exchange views with them, for example on our supplier days. We have developed a Code of Conduct that all suppliers must comply with. This applies regardless of where they are headquartered, where they do business, or the scope or size of their respective services. Furthermore our involvement in the initiative "Together for Sustainability" (TfS) also brings us into regular contact with our suppliers and allows us to evaluate them in terms of the sustainability aspects relevant to us. Covestro is a founding member of Together for Sustainability (TfS). The goal of this initiative is to standardize supplier assessments and audits worldwide, while applying high international standards.
Regulators and financial market participants
We focus on honest and active dialog with regulators and financial market participants.
We foster regular dialog with authorities, ministries, politicians and important opinion leaders in regulatory affairs, for example through specialist workshops, association activities, targeted discussions and public contributions. For example in 2017, our focus was on the fields of chemicals and energy policy, a low carbon economy, circular value creation, and transport as well as the environment and climate protection.
With its "Code of Conduct for Responsible Lobbying", Covestro has drawn up clear and binding rules for engaging in the world of politics.
The intensive dialog with the capital market is also of high priority for Covestro. This comprises analysts, investors, lenders and rating agencies, and forms the basis of comprehensive and timely exchange of information between Covestro and financial market participants. With this exchange of information, we want to contribute to an appropriate evaluation of our shares and achieve an appropriate credit rating. The focus here is on the comprehensive, consistent and timely exchange of information between the company and financial market participants.
As a global enterprise, we are aware of our social responsibility. We demonstrate responsibility for our decisions and our actions, for our products and services, toward our customers and investors, and toward the environment and the society in which we live. We are committed to compliance with all applicable tax laws. Furthermore, we feel committed to the principle that, in each case, our tax payments in all of the countries where we operate are in line with the value we create there. We also want to increase access to education, technology and a better life. In doing so, we are using our social commitment as a catalyst to contribute to the UN Sustainable Development Goals (SDGs), which are aimed at creating a world with greater justice, resilience and well-being for humans and the planet by 2030.
We would like to use our position to work with different organizations in numerous regions in the world to advance projects for protecting the environment, improving the welfare of society, and stimulating the economy. To achieve this, a central unit in the company supports Group-wide efforts to plan and implement cooperative efforts with partners and award donations. Donations are allocated on the basis of an annual forecast which is approved by the Board of Management and implemented in accordance with a Group directive.
In addition, active, open and honest dialog with the public, neighbors, non-governmental organizations and the media plays an important role for us. Thanks to exchanges via digital media, press conferences and press releases, as well as dialog regarding local issues via neighborhood offices, Covestro ensures that decisions and corporate actions are comprehensible, transparent, honest and can be communicated and discussed in a fair manner.
In the USA, for example, Covestro informs so-called CAPs ("Community Advisory Panels") in regular meetings about current issues such as upcoming investment projects. In the German locations of Krefeld-Uerdingen and Leverkusen, special neighborhood offices have been erected in the Chempark to promote regular dialog.
Thanks to our membership of numerous national and international associations, as well as through cooperation with universities and public research institutions, further important partners are consulted. This is dialog that leads to greater sustainability and innovation on all levels.