Covestro x Team Sonnenwagen
Europe's fastest solar car
As Team Sonnenwagen's main sponsor, Covestro shares the team's passion for developing future mobility concepts and using renewable energy. Innovative, lightweight and more sustainable materials developed by Covestro are used in the vehicles built by the students.
Global challenges such as climate change and increasing resource consumption require new concepts for future mobility. Covestro has been developing material solutions for electromobility for some time but is also focusing on the increased use of renewable energies such as solar and wind power. Together with the use of alternative raw materials and the development of innovative recycling concepts, they are part of a comprehensive program Covestro is implementing to fully align itself with the Circular Economy. To achieve this, the company cooperates with many partners along the value chain as well as with universities and institutes.
Since the foundation of Team Sonnenwagen e.V. in 2015, students at RWTH and Aachen University of Applied Sciences have been working on the development of solar-powered electric vehicles. With lightweight components made of polycarbonate, among other materials, Covestro supports the goal of sustainable innovations in the electromobility sector. Switching from fossil fuels to renewable energy is what drives Team Sonnenwagen. The students spend a large part of their free time on the project and work on developing solar cars on top of their studies.
The creativity and commitment with which these young people approach such high-tech vehicles in order to harness the power of the sun to enable a more sustainable mobility never cease to amaze me. These are electric vehicles that work without charging stations or fuel pumps.
In recent years, Team Sonnenwagen has successfully completed various solar car races with its vehicles – the Covestro Photon and the Covestro Sonnenwagen. In the summer of 2022, the team became European champion with the Covestro Photon at the European Solar Challenge (iESC), a 24-hour race on the former Formula 1 track in Zolder, Belgium. Shortly afterwards, Team Sonnenwagen followed up its success by winning the Italian Solar Challenge 2022 in Imola, Italy, with the three-wheel Photon catamaran.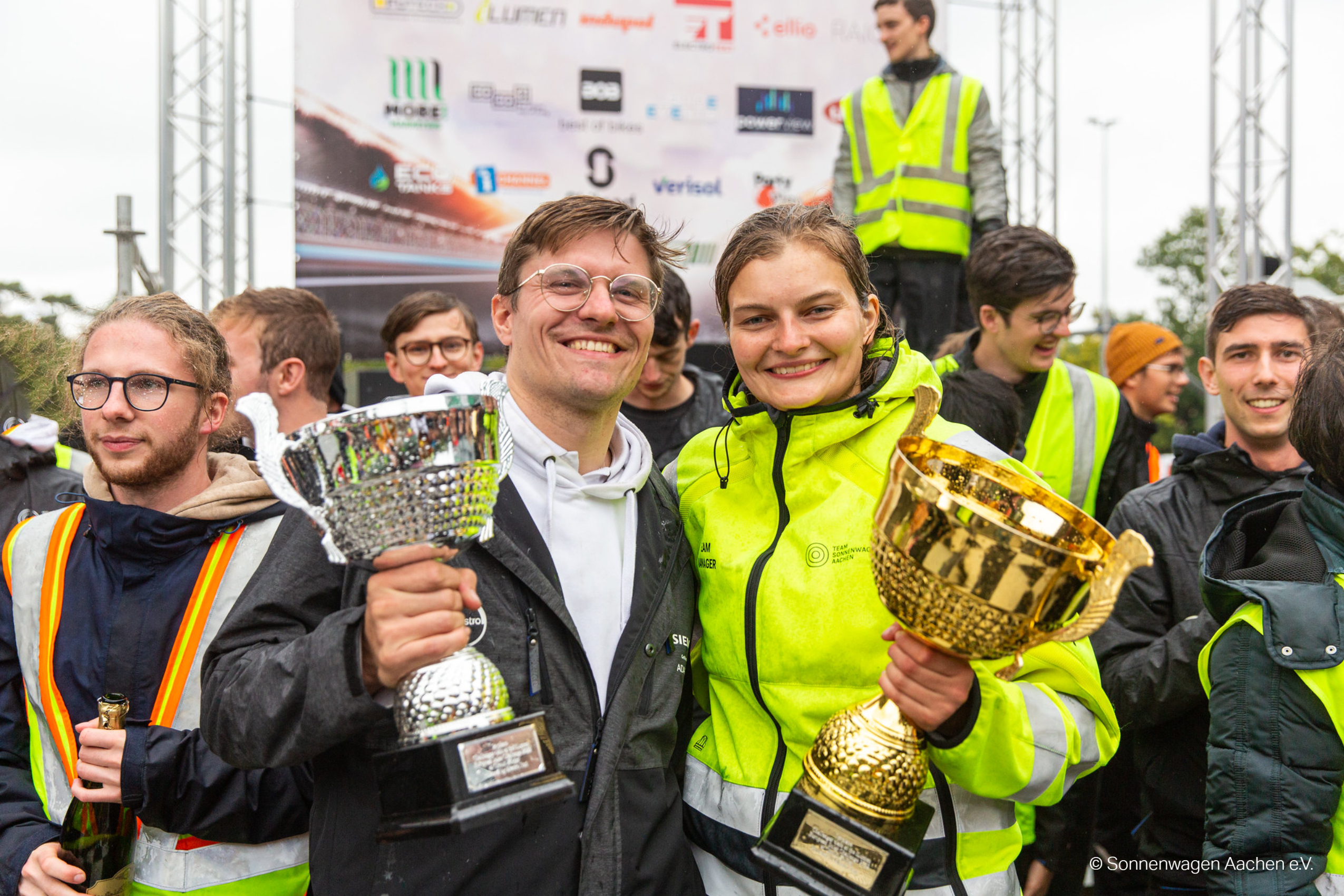 However, the team has no intention of sitting back and relaxing. In a workshop in Aachen's industrial park, the students are currently working on the new model, which will compete in the Bridgestone World Solar Challenge in Australia in the fall of 2023. It will be presented to the public at a ceremony on the 5th of June.
Team Sonnenwagen's statistics are impressive: 53 students have been recruited from 25 degree programs at two universities in Aachen. They are split up into groups according to seven key disciplines - aerodynamics, electrical engineering, driving strategy, chassis, structure, marketing and sponsoring, all of which being directly intertwined in order to jointly develop, optimize, design, promote and ultimately drive the new vehicle for the Sonnenwagen project, the Sonnenwagen 4.
Enter Covestro, addressing the team's many questions about the use of materials. Indeed, materials are an important factor in the battle for victory at arguably the world's toughest solar race through the Australian outback. In terms of the components, it is not only about lightweight materials, durability and aerodynamics, but also about resisting strong mechanical vibrations and extreme climatic conditions such as heat, humidity and high UV radiation levels. Covestro is sending some raw materials into the race, which are found in polyurethane foam blocks and in the battery casing, among other places.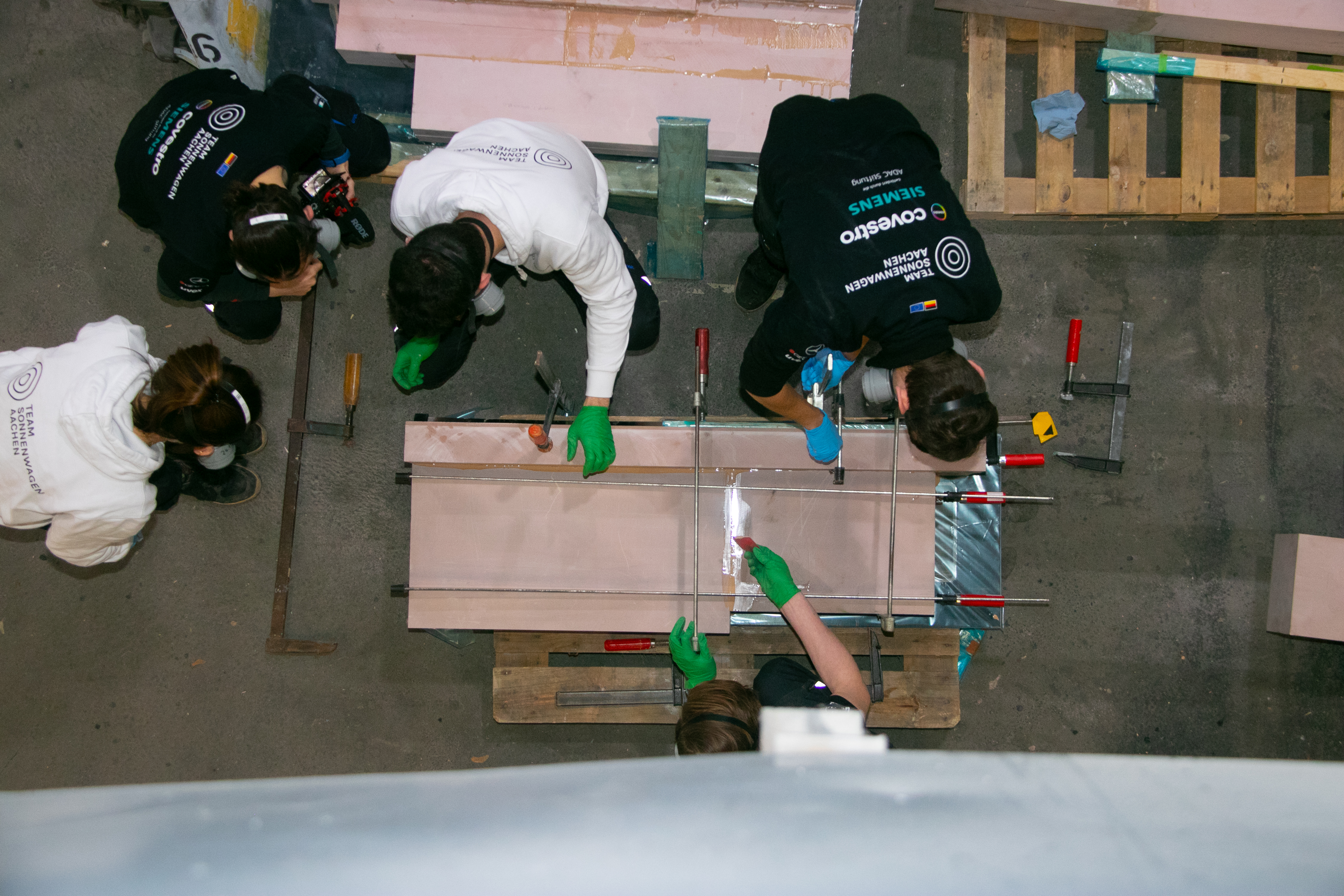 In the same way that the students prove that their vehicle concept of the future can already be implemented today, we want to demonstrate that our innovative and sustainable products can be used in cutting-edge technologies.
After several thousand hours of work and comprehensive test runs in Germany and Australia, the goal of Team Sonnenwagen is successful participation in the Bridgestone Solar World Challenge from October 22 to 29, 2023. In the race, 50 teams from world-renowned international universities will compete against one another with their solar cars on the 3,022-kilometer route from Darwin to Adelaide. Victory will not be decided only by speed – Team Sonnenwagen's vehicles travel up to 100 km/h – but also by how efficiently the available solar energy is used. In any case, the project is a valuable experience for the team and a spectacular demonstration of its commitment to developing future mobility concepts.
Our aim is to attract young people from top universities who share our passion for more sustainable mobility and the use of renewable energy. We want to encourage them to use their talents to develop modern materials and technologies for us and with us.