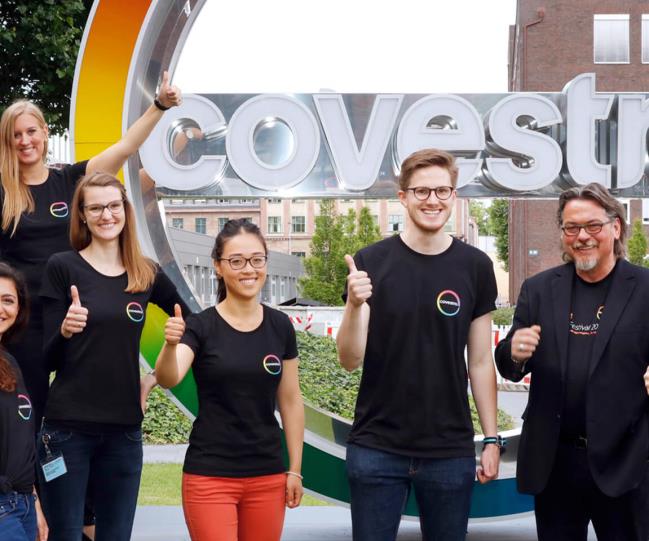 What's important to us: Our values and benefits

How fairness leads to progress at our company

Curious, courageous, colorful – we are, of course, committed to the global corporate values of Covestro, which we bring to life at our German sites every single day. However, the local spirit of collaboration goes above and beyond these three key pillars.
More than just business and chemistry
Our collaboration is characterized by a unique sense of shared purpose. Open-mindedness meets benefits that start with the promotion of young talents and that also include aspects such as flextime. Shared values help us to improve processes and solutions every single day. Open, equal communication and equally open, responsible cooperation in the teams and departments help us to achieve this goal. We will be happy to explain the values on which our collaboration in Germany is based.
What exactly is a "fair working environment"? According to the Fair Company Initiative, it is an environment in which young people especially – trainees, interns, apprentices – are offered optimum working conditions. This refers to working conditions in which young professionals not only feel comfortable, but can also develop well in the long term.
The initiative, which was launched by Handelsblatt in 2004, honors companies who succeed in creating such a working environment on a long-term basis – and we are happy to be named again this year.
It should come as no surprise that a company operating in the chemicals sector is closely focused on the topic of STEM. In Germany, Covestro does this by providing specialized support in this area to young talents and experienced professionals alike. And that's why we also got awarded as a "MINT Minded Company."
We are more than proud of this award, which was given to us by our target group itself. Moreover it is not only an acknowledgment that talented STEM employees receive special support, but also that we are extremely successful in delivering this support.
Globally, Covestro works on all kinds of different approaches, products, and solutions as part of countless partnerships, projects, and initiatives. One partnership is so exhilarating that we are happy to use it as an example of our innovative spirit: the Sonnenwagen, a solar race car developed by RWTH Aachen University. We have supported and sponsored its development process – both financially and with our materials – right from the start.
This solar-powered vehicle was completed in 2019 and, since then, it has been showcased to the public at various races and challenges. And even though it earned a place on the podium in 2021, it is the team spirit that makes this community project such a rewarding experience for us. For more information, please visit https://www.sonnenwagen.org
Balanced collaboration
It is the diversity of mindsets, perspectives, and ideas that makes Covestro Germany so strong. This is what enables us to generate innovative and inspirational solutions. That's why we support Diversity Equity and Inclusion (DEI). Because these guiding principles help us to make the world a brighter place.
We are committed to equality between women and men – and we want all genders to enjoy the same opportunities and conditions. Especially as we operate in an industry that people might not immediately associate with this kind of parity. In 2020, for instance, we signed up to "komm, mach MINT" – a Germany-wide alliance for women in STEM careers.
With our involvement in this network, we want to encourage girls to pursue a degree in a STEM subject or a STEM career. In the long term, we pave the way for equal career opportunities for all.
Our network exists since the foundation of Covestro in 2015. UNITE is a global network of LGBTQ+ employees, supporters and allies. We bring together employees not only from different departments but also from countries, areas and locations. As a network, we primarily focus on exchange and networking among each other.
Additionally, we organize various actions to raise awareness about the LGBTQ+ community and their needs within all employees and adapt processes in the company accordingly. We are committed to an inclusive working atmosphere in which all employees feel welcomed to express themselves freely, regardless of their sexual orientation and gender identity, and thus to promote an inclusive and discrimination-free working environment.
Recognition through benefits
Being treated fairly and transparently is the feeling we want to convey to our employees. At Covestro Germany, this means financial security, a healthy work–life balance, and attractive social benefits. Regardless of the site at which you are based, we offer you benefits such as:
We want you to feel comfortable from day one! Therefore you will enjoy a tailored onboarding so you can settle in as quickly as possible and make an impact in your new company fresh from the start.
You will attend a number of events and training sessions from day one to help you understand our company and culture, as well as your team's function and your role within it. We will also provide you a mentor, if necessary, who you can turn to at any time. In addition, your supervisor is always available to discuss your goals with you and introduce you to key people so that you can build a helpful Covestro network. In addition, your supervisor will also provide you with regular feedback during the onboarding phase and support you in selecting useful training courses.
It's all about being an "enabler." Here, the buzzword happens to fit, as we see ourselves not only as an employer. Indeed, we want to enable our employees to find the balance that's right for them. Together, we develop working conditions that are flexible and agreeable. They are characterized by respect and appreciation, but also allow flexibility for the employee's private life.
For us, a continuous learning and growth process is simply part of the job. Our employees can develop with us, whether personally or professionally. We train the skills and knowledge that will help you to climb the career ladder.
One of our tools is Coversity, a learning and development program that not only trains employees, but that also produces the leaders of tomorrow.
At Covestro, the health of our employees is right at the forefront. Alongside sports programs, we also offer regular medical checkups and even medical treatment at work. Why? Because we want everyone to feel that we are fully supportive of their health.
And more than that: promoting the compatibility of family and career is also part of a healthy working environment. As such, you can expect innovative workplace concepts that boost your physical and mental well-being.
Last but not least: at Covestro, recognized experts and game changers work together cooperatively. Therefore we are convinced that you will find the expertise that almost everyone can learn from.
The sharing of knowledge – combined with trust and respect – is something that we value above all else in terms of our spirit of collaboration. That's what enables us to keep developing innovations. That takes us forward. And that takes you forward. Our employees have made Covestro a successful company – and an attractive employer where people will continue to work passionately on the future, in the future.
We live a culture where it is important for us to recognize the work we have done and celebrate successes together. In many departments, the following occasions are used to come together, share ideas and look back on what we have achieved:
Christmas parties
summer parties
department celebrations
regulars' tables
sport events
Flexible working has become an integral part of the modern working world. In recent years, it has become clear that many activities can be done remotely with the same high quality. As a result, employees in Germany have the opportunity to work remotely up to 80 percent per month. The prerequisite for this is that the activities can be carried out from home
The bottom line: People count at Covestro
It is vital to us that we continue to develop innovative processes and solutions in the future – and that we do so in a collaborative and sustainable way with the very best young talents and experts. Can you see yourself working in this kind of environment? If so, we look forward to meeting you! 
Discover career opportunities