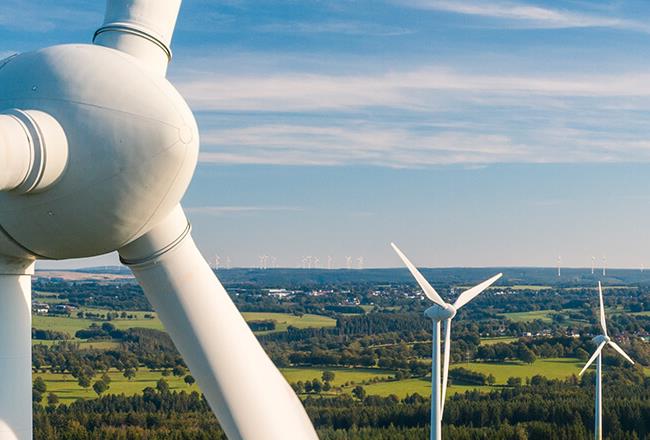 Renewable Energy – Pillar of the Circular Economy
A truly Circular Economy demands a comprehensive approach to resource efficiency. One that not only addresses the use of raw materials, but also energy sources. Today, renewables like solar and wind power are becoming increasingly viable alternatives to fossil fuels. To pave the way to a sustainable future, Covestro strives to continually improve its production processes and energy supply.
As a manufacturer in an energy-intensive industry, Covestro sees the transition to clean energy as key to driving the circular economy and achieving the goals of the Paris Climate Agreement. Our strategy ranges from purchasing sustainable energy to investing in our infrastructure to operate our plants with the lowest possible impact on the environment. By switching to green steam and power, provided by renewable energy recourses such as solar energy or hydropower, we aim to bring greenhouse gas emissions from purchased energy to net zero by 2035. We are also aiming for climate neutrality in our own manufacturing processes by then.
Renewable Energy directly from the source
Covestro makes huge investments to convert its production sites to renewable energies step by step. In doing so, we rely in particular on direct, long-term supply contracts for wind and solar power with large energy suppliers.
In Germany, we signed what was then the world's largest supply contract for offshore wind energy with Ørsted in 2019. From 2025, the Danish energy provider will deliver green electricity for ten years, which will be generated in a newly built wind farm in the North Sea. The capacity is one hundred megawatts - enough to cover the electricity needs of 300,000 people.
In Belgium, we have concluded a similar agreement with the local utility ENGIE for the supply of green electricity from four newly constructed onshore wind farms. From 2021, our Antwerp site will thus cover 45% of its electricity requirements.
We have also concluded direct agreements for solar power. In Germany, our sites in Dormagen and Krefeld-Uerdingen have been supplied with solar power from the energy provider EnBW since 2022. It comes from the largest German solar park "Weesow-Wilmersdorf" in the eastern part of the country. Our Chinese site in Shanghai also receives solar power from the utility Datang Wuzhong New Energy since 2022. This enables the plant to cover around 10% of its annual electricity requirements.
These agreements substantiate our comprehensive global sustainability strategy and pave the way toward more environmentally conscious production for our customers and across the value chain.
Making Production Energy Efficient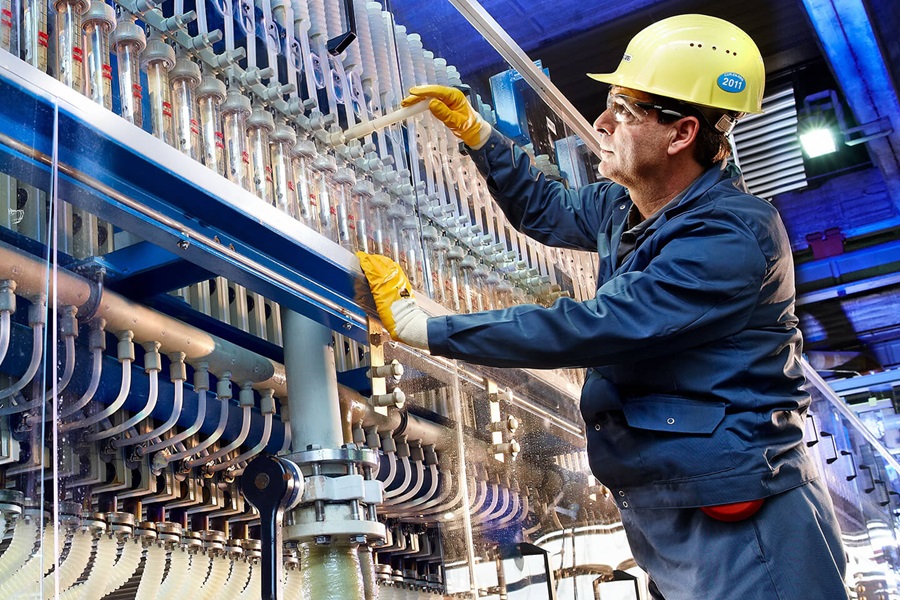 To optimize manufacturing processes, improve efficiency, and play our part in the energy revolution, we're adopting the latest developments in technology, production, and artificial intelligence.
For example, when it comes to manufacturing, we rely on an innovative energy management system that can be used to optimize our production facilities' energy usage. Another example of technological breakthrough is our electrolysis technology that reduces the amount of electricity needed to manufacture the basic chemical chlorine by 25%. This innovative technology will be deployed for the first time on an industrial scale at our site in Tarragona, Spain.
We also see potential for improvement in reducing greenhouse gas emissions from our production in the manufacture of isocyanate, one of our central components for polyurethane foam. The laughing gas emissions generated in this process can be further reduced by means of an innovative catalytic technology.
Transforming the Energy System
Society is increasingly calling for industrial production to become more sustainable, and this demand is now yielding results at a political level. For example, the EU aims to tackle the climate change and become climate-neutral by 2050. One of the first steps to achieving this goal is defossilizing energy by expanding wind and solar power. Therefore it is crucial to intelligently match the increasingly volatile supply of renewable energy with consumer behavior.
This transition to more environmental friendly energy recourses need to be accompanied by definite plans for infrastructure – from power generation to power grids to energy sources and stores. Fundamental changes in industrial, commercial, and residential infrastructure are also needed, in an economic way. This will enable consumers to benefit from climate efforts and access an increasing amount of renewable energy.
Successfully combating climate change needs a shift to renewables. Therefore, determined political action, technological progress, and increased societal acceptance of climate-friendly measures are required. At Covestro, we are committed to working with governments across the world to develop strategies that accelerate the transition to renewable resources.