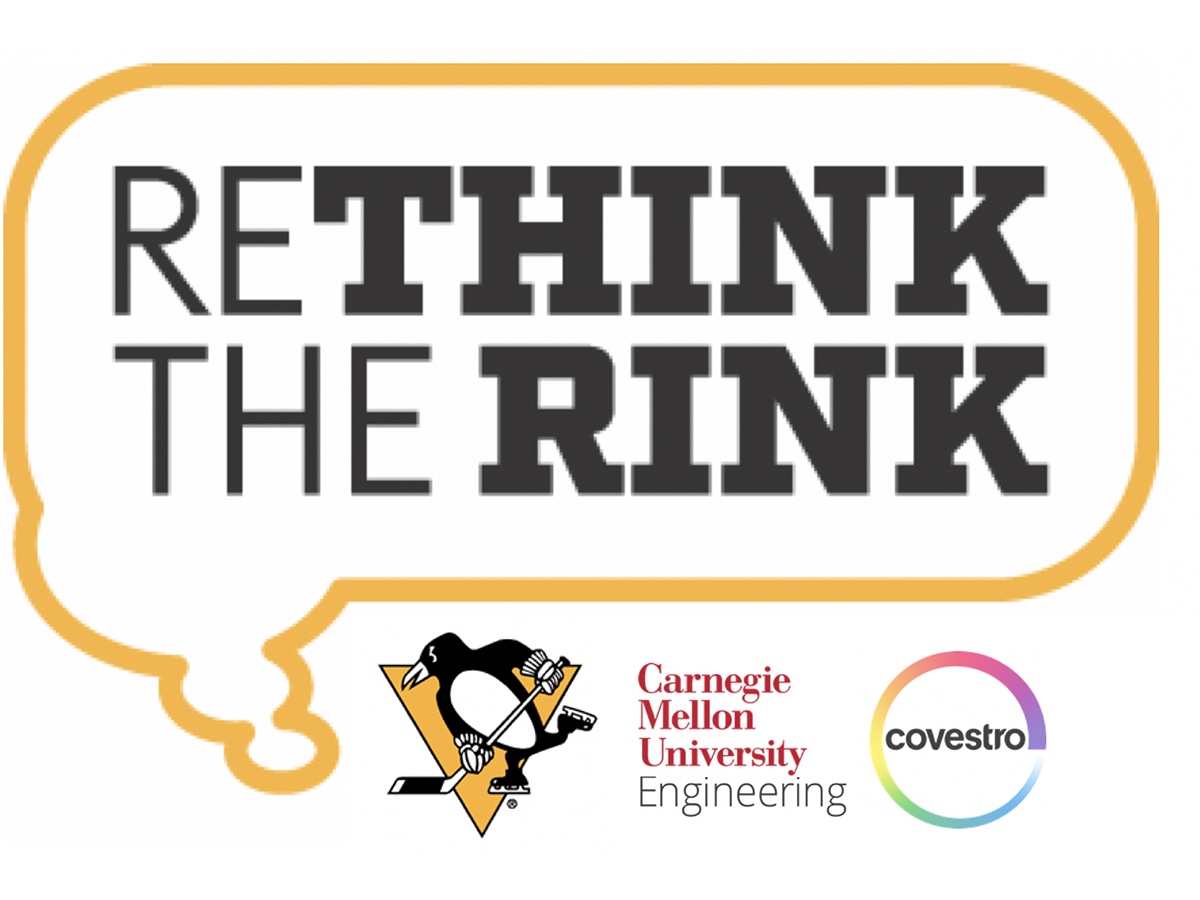 'Make-a-thon' week is unique collaboration exploring new ways to make hockey safer

Pittsburgh, May 18, 2021 — The Pittsburgh Penguins are teaming up again with giants of science and technology — Carnegie Mellon University (CMU) and Covestro — for "Rethink the Rink," a continuing innovation partnership to make hockey safer at every level, from youth hockey to the NHL.
Rethink the Rink is the world's first hockey "make-a-thon," an event born four years ago when the Penguins and Covestro imagined a unique partnership to pair technology innovation with hockey to advance safety. The event challenges students to develop material solutions that enhance safety without compromising performance.
Make-a-thon 2021 takes place from May 17-21. Multidisciplinary teams will work together at TechSpark, a high tech facility for building and making at CMU.
The 'hat trick' collaboration among these organizations pushes the limits of design and development in a week–long "make-a-thon" collaboration whereby CMU students are working in teams alongside experts from Covestro to develop potential materials and technology solutions to better hockey equipment. If successful, the prototypes will be submitted to experts at the NHL and USA Hockey for their feedback. Testing could then be conducted by amateur players at the Covestro Innovation Rink at the UPMC Lemieux Sports Complex in Cranberry Township, PA.
"Our students enjoy a challenge, and a chance to be innovative, inquisitive and bring fresh ideas to hands-on learning projects," said Bill Sanders, dean of the College of Engineering at CMU.
As students apply their creativity and academic strength to the challenge, they have access to experts and materials technologies from Covestro, a high-tech polymers producer and "Official Innovation Partner of the Pittsburgh Penguins." Covestro professionals interact with the students about possible materials for use such as polyurethane foams in shoulder and elbow pads and 3D printing of polycarbonates and thermoplastic polyurethanes.
In its first year, 2018, the Make-a-thon focused on rink dasher board design. Segments of the new board system have been installed at the Covestro Innovation Rink at the Pens practice facility at the UPMC Lemieux Sports Complex. Years 2019 and 2020 innovations focused on player protective equipment, specifically goalie helmets and shoulder and elbow pads. This year, the focus is on player helmets.
David Morehouse, president and CEO of the Penguins, said, "The collaboration with Covestro and Carnegie Mellon is an exciting attempt to use advances in material science to improve the safety of the players. Combined with insight from the Penguins and the NHL, Rethink the Rink is an exceptional way to explore making an inherently physical sport safer. This is a meaningful research project that could help make a long-term impact on the game."
"This project combines our passion for problem-solving with the focus on increasing safety without impacting the dynamic of the sport," said Haakan Jonsson, Chairman and President of Covestro. "The partnership between the Pens, Covestro and CMU has yielded great possibilities when it comes to improving safety. We are just scratching the surface. We believe in the long-term potential of this partnership."
About Covestro LLC:
Covestro LLC is one of the leading producers of high-performance polymers in North America and is part of the global Covestro business, which is among the world's largest polymer companies with 2020 sales of EUR 10.7 billion. Business activities are focused on the manufacture of high-tech polymer materials and the development of innovative solutions for products used in many areas of daily life. The main segments served are the automotive, construction, wood processing and furniture, electrical and electronics and healthcare industries. Other sectors include sports and leisure, cosmetics and the chemical industry itself. Covestro has 33 production sites worldwide and employed approximately 16,500 people at the end of 2020. Find more information at www.covestro.us/rethink-the-rink.
About Carnegie Mellon University:
Carnegie Mellon (www.cmu.edu) is a private, internationally ranked university with programs in areas ranging from science, technology and business to public policy, the humanities and the arts. More than 13,000 students in the university's seven schools and colleges benefit from a small faculty-to-student ratio and an education characterized by its focus on creating and implementing solutions for real world problems, interdisciplinary collaboration and innovation.
Media Contacts:
Pittsburgh Penguins: Jennifer Bullano Ridgley, 412-255-1777,
jbullano@pittsburghpenguins.com
Covestro: Bob Walker, 412-413-2369,
bob.walker@covestro.com
Carnegie Mellon Engineering: Lisa Kulick, 412-268-5444,
lkulick@andrew.cmu.edu
# # #
This news release may contain forward-looking statements based on current assumptions and forecasts made by Covestro AG. Various known and unknown risks, uncertainties and other factors could lead to material differences between the actual future results, financial situation, development or performance of the company and the estimates given here. These factors include those discussed in Covestro's public reports which are available at www.covestro.com. The company assumes no liability whatsoever to update these forward-looking statements or to conform them to future events or developments.
Editor's Note: Follow news from Covestro on Twitter:
www.twitter.com/CovestroUS