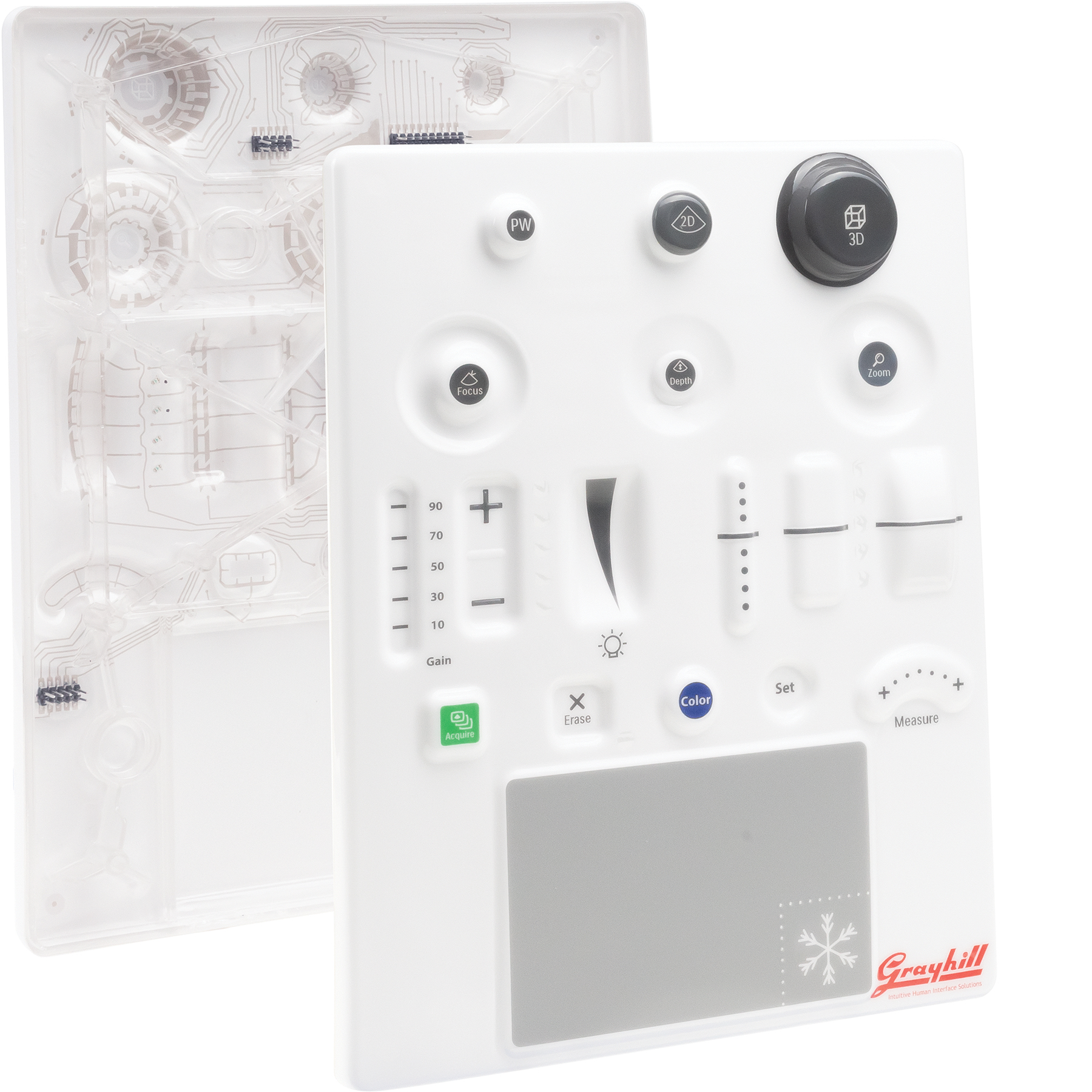 Pittsburgh, June 3, 2019 — Many consumer and industrial products experience repeated use and handling, which creates the need for surfaces that are durable, scratch resistant and retain good aesthetics. With this in mind, Covestro is introducing a formable, textured polycarbonate film that fills this need.
Makrofol® SR906 7-2 polycarbonate film is capped with an acrylic layer, combining the strengths of acrylic, such as high scratch and chemical resistance, with the processing advantages of polycarbonate. Other benefits include:
A unique acrylic velvet matte textured UV resistant surface
A very fine matte polycarbonate back surface for enhanced printability
The ability to hide sink marks
An enhanced user experience, as fingers can smoothly slide across the surface without sticking, as would be typical with a glossy surface

"This new grade of Makrofol® film is an excellent addition to our polycarbonate film portfolio," said Chris Cooper, Specialty Films market development manager, Covestro LLC. "We formulated Makrofol® SR 906 7-2 film specifically to meet an unmet need in the market. This textured film offers excellent graphics capabilities and is versatile enough for a variety of appliance, automotive, consumer, and industrial applications."
In its first commercial application, industrial electronics company Grayhill Inc. is using the film to create in-mold electronics for industrial controls. DuraTech Industries, a full-service manufacturer of custom graphics, overlays, appliques and pressure-sensitive products, worked closely with Grayhill to produce the interface. The company converts the film, prints the decorative and functional conductive silver inks, project manages the forming and injection molding, then ships the parts to Grayhill, which incorporates the component into its industrial products.
DuraTech had been using a different material, but turned to Covestro to find a better material solution. "We were experiencing surface appearance issues with our first customer-driven in-mold electronics project," explained Rob King, project manager, DuraTech Industries. "A quick call to Covestro provided us with sample material that moved the project forward again."
"In studies, we asked users to rank surfaces by the feel of the textured matte surface. Makrofol® SR906 7-2 film performed favorably compared to other surfaces typically seen in user interfaces," said Woodie Polk, design engineer, Grayhill.
Using this grade of Makrofol® polycarbonate film in the in-mold process offers several advantages over traditional circuit board production, including:
the ability to mold in electronic buttons, switches, slides and LEDs, resulting in significant weight and space reduction
use of less energy and less pressure than thermoforming, translating into reduced costs
elimination of secondary coating operations — saving valuable time and expense

Makrofol® SR906 7-2 polycarbonate film can accept an impressive in-mold decoration draw depth of 1 inch without compromising the material. It also supports the use of LEDs and sealed rectangle male connectors in the construction of an in-mold electronics 3D formed part — critical in part design.
For more information about Makrofol® SR906 7-2 polycarbonate film and the company's extensive polycarbonate portfolio for diverse industries and applications, please visit www.films.covestro.com.
About Covestro LLC:
Covestro LLC is one of the leading producers of high-performance polymers in North America and is part of the global Covestro business, which is among the world's largest polymer companies with 2018 sales of EUR 14.6 billion. Business activities are focused on the manufacture of high-tech polymer materials and the development of innovative solutions for products used in many areas of daily life. The main segments served are the automotive, construction, wood processing and furniture, electrical and electronics, and healthcare industries. Other sectors include sports and leisure, cosmetics and the chemical industry itself. Covestro has 30 production sites worldwide and employed approximately 16,800 people at the end of 2018.
Find more information at www.films.covestro.com and www.covestro.us.
Covestro Contact:
Olivia Saccameno, Phone: +1 412 413 2203
Olivia.Saccameno@covestro.com
Makrofol® is a registered trademark of Covestro Group.
# # #
This news release may contain forward-looking statements based on current assumptions and forecasts made by Covestro AG. Various known and unknown risks, uncertainties and other factors could lead to material differences between the actual future results, financial situation, development or performance of the company and the estimates given here. These factors include those discussed in Covestro's public reports which are available at www.covestro.com. The company assumes no liability whatsoever to update these forward-looking statements or to conform them to future events or developments.
Editor's Note: Follow news from Covestro on Twitter:
www.twitter.com/CovestroUS