Mattress Recycling Council, circular economy, Covestro LLC
Covestro teams up with Mattress Recycling Council to advance circular economy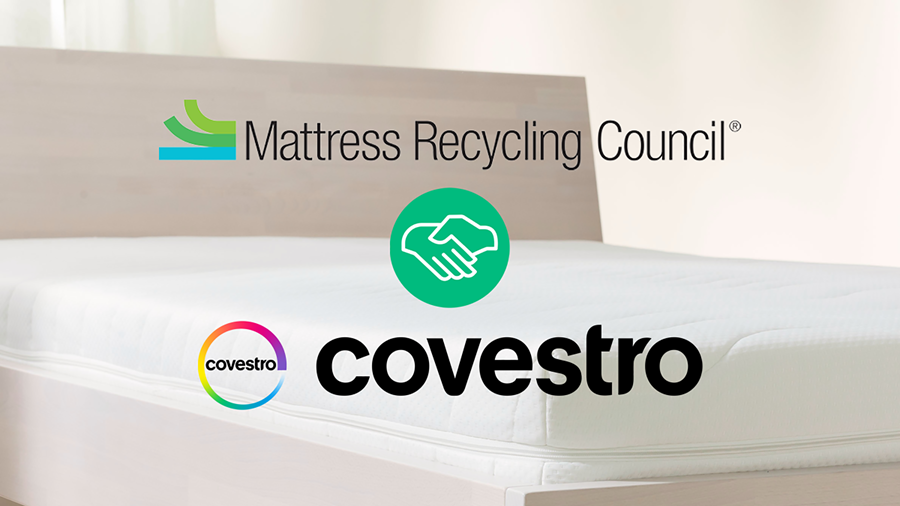 Pittsburgh, December 17, 2019 — Covestro LLC has announced a long-term research partnership with the Mattress Recycling Council California, LLC (MRC) aiming to improve and expand mattress recycling in the United States. In line with the company's strategic plan to promote a more circular economy, this collaboration will foster innovation around mattress recycling and end-of-life processes – particularly in regards to polyurethane foam.
As the inventor of polyurethane, Covestro has a rich history of research, development, design and production of polyurethane materials found in mattresses. Covestro plans to leverage this expertise in its work with MRC.
"We look forward to combining our polyurethanes knowledge with MRC's mattress recycling expertise," said Christine Bryant, senior vice president of the Polyurethanes business in North America. "Together, we will attempt to develop new business models to manage the full life cycle of flexible polyurethane foam products."
MRC develops and implements mattress recycling programs and works to create accessible, efficient mattress collection and recycling networks via subsidiaries in California, Connecticut and Rhode Island. The collaboration with Covestro is part of MRC's overall research initiative to improve the ways discarded mattresses are recycled and identify new markets for reclaimed mattress materials.
Today, there are several applications that make use of polyurethane foam recycled from mattresses, including carpet backing and sports-related surfaces. "Our partnership with MRC directly supports our global commitment to further the United Nations Sustainable Development Goals while working toward a more sustainable, circular economy," said Richard Skorpenske, who leads advocacy and sustainability efforts for the Polyurethanes business at Covestro. "We are excited to get started on collaboration projects in hopes of uncovering further solutions for end-of-life mattress applications."
About Covestro LLC:
Covestro LLC is one of the leading producers of high-performance polymers in North America and is part of the global Covestro business, which is among the world's largest polymer companies with 2018 sales of EUR 14.6 billion. Business activities are focused on the manufacture of high-tech polymer materials and the development of innovative solutions for products used in many areas of daily life. The main segments served are the automotive, construction, wood processing and furniture, electrical and electronics, and healthcare industries. Other sectors include sports and leisure, cosmetics and the chemical industry itself. Covestro has 30 production sites worldwide and employed approximately 16,800 people at the end of 2018.
Find more information at www.covestro.us.
About the Mattress Recycling Council:
The Mattress Recycling Council (MRC) is a non-profit organization formed by the mattress industry to operate recycling programs in states that have enacted mattress recycling laws – California, Connecticut and Rhode Island. MRC recycles more than 1.5 million mattresses a year, diverting 52 million pounds of useful material from the waste stream.
For more information about the MRC, visit www.mattressrecyclingcouncil.org.
Covestro Contact:
Tara Majdalani, Phone: 412 413 5456
Tara.Majdalani@covestro.com
# # #
This news release may contain forward-looking statements based on current assumptions and forecasts made by Covestro AG. Various known and unknown risks, uncertainties and other factors could lead to material differences between the actual future results, financial situation, development or performance of the company and the estimates given here. These factors include those discussed in Covestro's public reports which are available at www.covestro.com. The company assumes no liability whatsoever to update these forward-looking statements or to conform them to future events or developments.
Editor's Note: Follow news from Covestro on Twitter:
www.twitter.com/CovestroUS