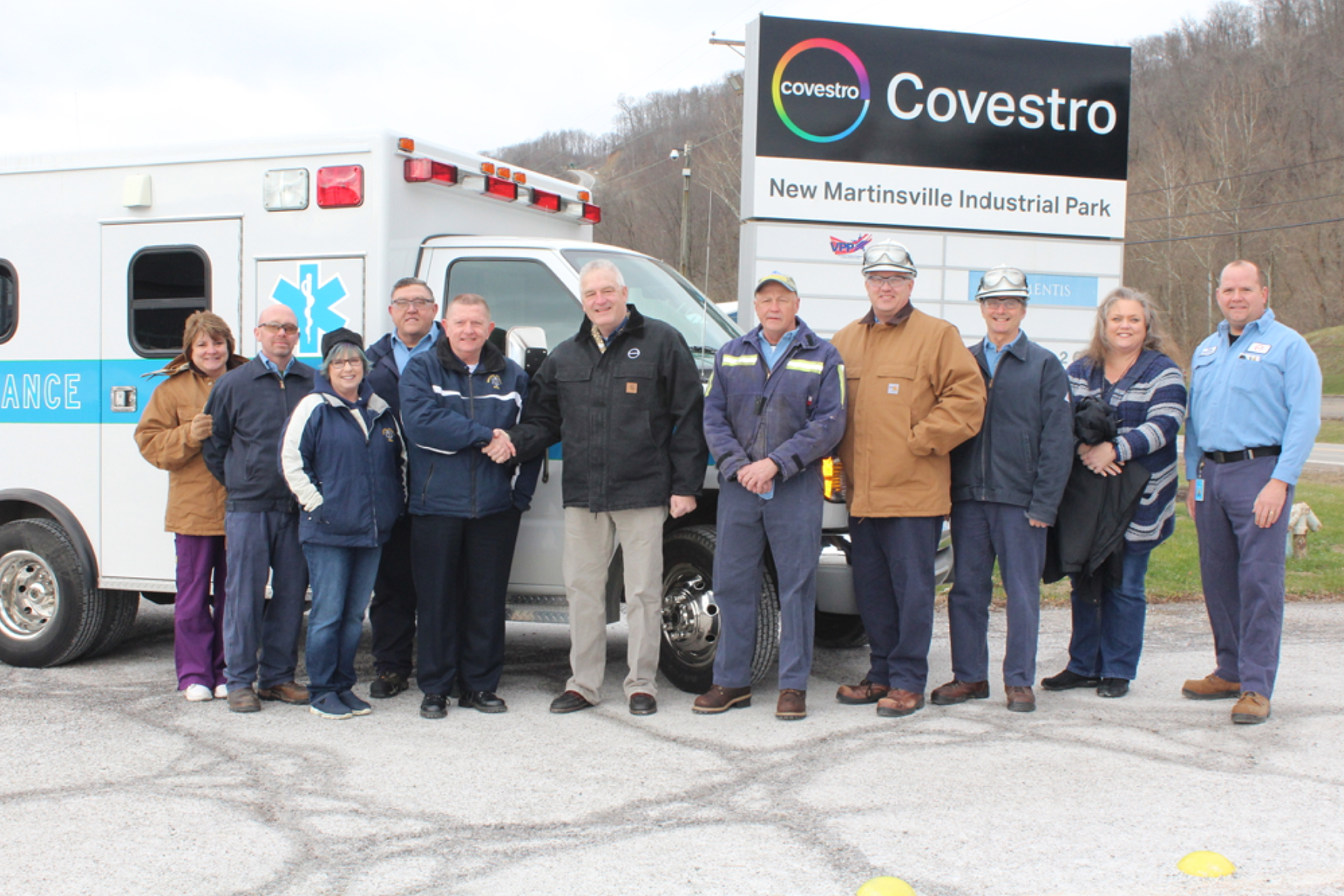 Gift to Wetzel County Ambulance Authority underscores strong ties to region, exemplifies company's i3 Give CSR initiative
Pittsburgh, January 11, 2019 — Covestro announced today that its New Martinsville, West Virginia, facility is donating an ambulance to the Wetzel County Ambulance Authority. Officials from both organizations participated in a brief ceremony at the plant site to officially recognize the donation.
The donation aligns with i3 Give, a component of the Covestro U.S.-based i3 Corporate Social Responsibility initiative. i3 Give aims to build stronger communities through philanthropy that creates sustainable and lasting impacts.
"Every day, at all hours, the Wetzel County EMS team provides essential, life-saving services to this region," said Craig Graybill, vice president and general plant manager of the New Martinsville facility. "As members of this community ourselves, it's very rewarding to be able to provide the ambulance authority with an additional resource for responding to the medical needs of our friends, families and neighbors."
Years ago, particularly in rural areas, it was common for industrial sites to operate their own ambulance services. However, as medical and communications technologies have advanced, it is now more practical and preferable to utilize an outside ambulance service. Unlike in-house services that are used infrequently, outside EMS services are staffed with experienced, well-trained paramedics who are skilled at regularly providing advanced life support treatment.
For 65 years, the Covestro New Martinsville site and its employees have been an integral part of this tight-knit community. The facility has a strong manufacturing presence in the region, producing thermoplastic urethanes and urethane intermediates. These raw materials are found in a wide range of applications including automotive instrument panels, medical devices and footwear.
About Covestro LLC and i3:
Covestro LLC is one of the leading producers of high-performance polymers in North America and is part of the global Covestro business, which is among the world's largest polymer companies with 2017 sales of EUR 14.1 billion. Business activities are focused on the manufacture of high-tech polymer materials and the development of innovative solutions for products used in many areas of daily life. The main segments served are the automotive, construction, wood processing and furniture, electrical and electronics and healthcare industries. Other sectors include sports and leisure, cosmetics and the chemical industry itself. Covestro has 30 production sites worldwide and employed approximately 16,200 people at the end of 2017.
i3 (ignite, imagine, innovate) is Covestro LLC's companywide corporate social responsibility (CSR) initiative that aims to spark curiosity, to envision what could be and to help create it. Built on the three pillars of philanthropy (i3 Give), employee volunteerism (i3 Engage) and STEM education (i3 STEM), i3 seeks to create sustainable and lasting impacts.
Find more information at www.covestro.us.
Covestro Contact:
Alice Sox, Phone: +1 412 413 5430
alice.sox@covestro.com
# # #
This news release may contain forward-looking statements based on current assumptions and forecasts made by Covestro AG. Various known and unknown risks, uncertainties and other factors could lead to material differences between the actual future results, financial situation, development or performance of the company and the estimates given here. These factors include those discussed in Covestro's public reports which are available at www.covestro.com. The company assumes no liability whatsoever to update these forward-looking statements or to conform them to future events or developments.
Editor's Note: Follow news from Covestro on Twitter:
www.twitter.com/covestro