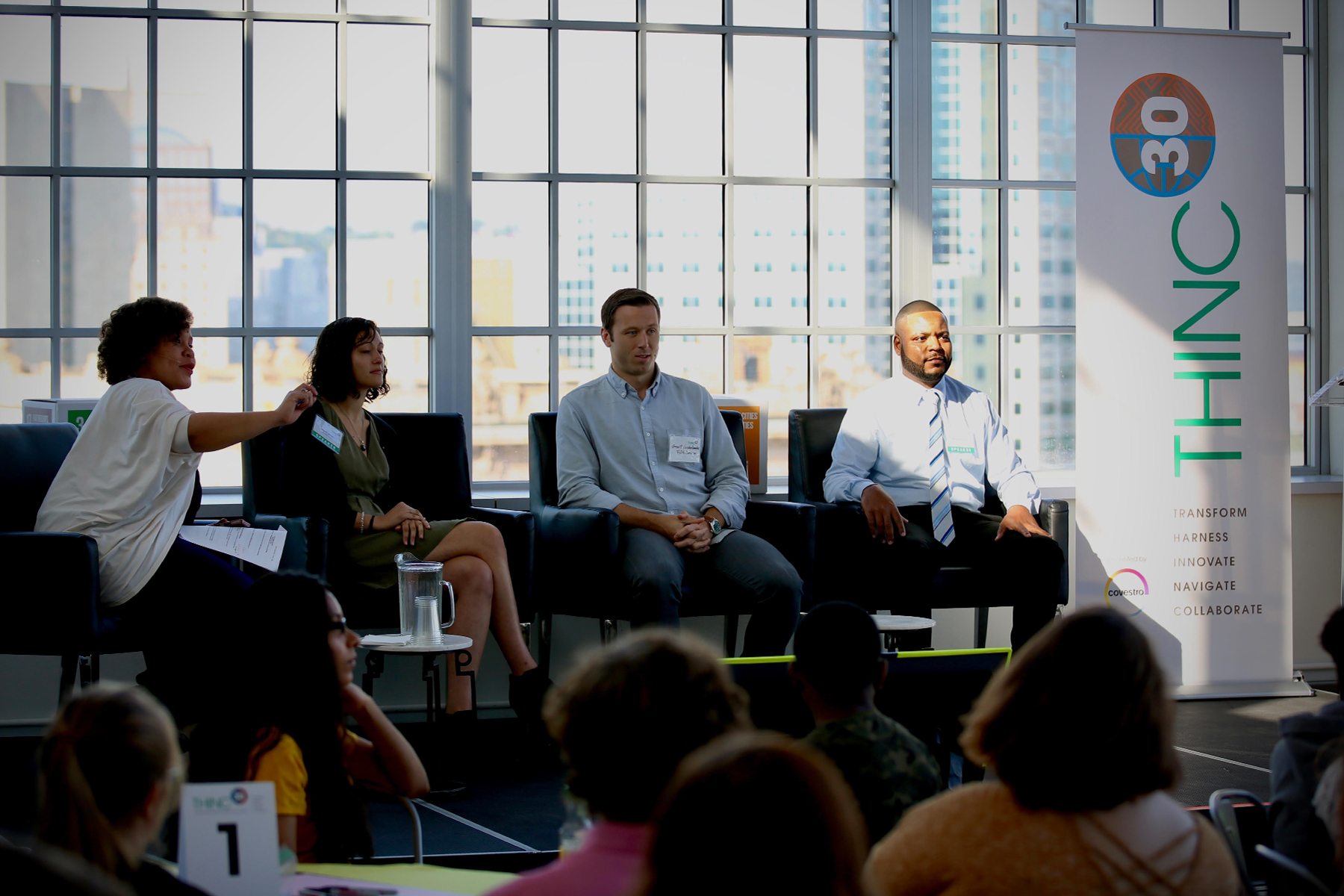 Youthquake 2030 introduces U.N. Sustainable Development Goals to Pittsburgh-area high school students
Pittsburgh, September 17, 2019 — As Swedish teen climate advocate, Greta Thunberg, prepares to speak at the U.N. Climate Action Summit next week in New York, her high school peers in Pittsburgh are attending their own U.N.-style sustainability summit.
Roughly 120 teenagers from 13 area schools gathered at Youthquake 2030: Gen Z and the UN SDGs, the second THINC30 Tank hosted by Covestro this year. Held at the Covestro BrightSpace in the Energy Innovation Center, the event was organized in collaboration with the Consortium for Public Education, which serves as a bridge between Pittsburgh's education and business communities.
Like all of Covestro's THINC30 events, the purpose of Youthquake 2030 was to introduce the students to the key concepts of sustainability – environmental, economic and social – and how they are exemplified by the 17 U.N. Sustainable Development Goals (UN SDGs), while also demonstrating how those goals can be applied in the local community.
Through a series of spotlight speakers, fireside chats and panels, the students learned about the integral role they play in bringing the goals to Pittsburgh. They met local social entrepreneurs who have turned their passion for sustainability into purposeful careers and enterprises, including Austin Webb, CEO and co-founder of Fifth Season (powered by RoBotany); William Parker, CEO and founder of VendSpin; and Hana Uman, director of special projects for 412 Food Rescue. They also heard from sustainability leaders at three of Pittsburgh's top universities, including Sandra Taylor, Falk Chair of Socially Responsible Business at Chatham University; Alexis McConville, director of corporate relations and career advancement at Duquesne University's Palumbo-Donahue School of Business; and Dr. Aurora Sharrard, director of sustainability for University of Pittsburgh.
"Young people bring their own energy and ideas to sustainability solutions," said Rebecca Lucore, head of Sustainability and Corporate Social Responsibility, Covestro LLC. "With Youthquake 2030, we want to tap that fresh thinking and show the students that, as the next generation of sustainability stewards, they can not only have an impact, but as citizens, it's their responsibility."
Using the "World's Largest Lesson," developed by Project Everyone and UNICEF, Covestro and Consortium facilitators engaged the students in hands-on sustainability problem-solving. The students rolled up their sleeves to identify local issues that align with the SDGs, brainstormed solutions and presented them to those in attendance. At the end of the day, each student made a personal pledge to continue working on at least one SDG.
In addition, throughout the school semester, the Consortium will work with the various schools using its own Student Powered Solutions program to help them continue solving their sustainability challenges. These subsequent projects will take the teams six to eight weeks to complete. Upon completion, they will formally present their solutions later this fall.
"Covestro's Youthquake event not only gave students a wonderful opportunity to think about sustainability, it also exemplifies the kind of business-school partnership that can give students the real-world exposure they need as they seek paths and purpose beyond high school." said Jackie Foor, the Consortium's Director of Organizational Advancement.
High school students from the following school districts were in attendance:
Allegheny Valley (Springdale Senior High School)
Baldwin Whitehall (Baldwin High School)
Beaver Area
Blackhawk
Butler Area
Carlynton
City Charter High School
Cornell
Deer Lakes
Greensburg Salem
Imani Christian Academy
Laurel Highlands
Woodland Hills

THINC stands for transforming, harnessing, innovating, navigating and collaborating for a purpose-driven, sustainable future by 2030. Its mission is to introduce and accelerate sustainable business development, public-private partnerships and social innovation in the Pittsburgh region by utilizing the 17 United Nations Sustainable Development Goals as a roadmap and showcasing how these goals can be achieved by leveraging the growing need for purpose among individuals, organizations and businesses.
About Covestro LLC:
Covestro LLC is one of the leading producers of high-performance polymers in North America and is part of the global Covestro business, which is among the world's largest polymer companies with 2018 sales of EUR 14.6 billion. Business activities are focused on the manufacture of high-tech polymer materials and the development of innovative solutions for products used in many areas of daily life. The main segments served are the automotive, construction, wood processing and furniture, electrical and electronics, and healthcare industries. Other sectors include sports and leisure, cosmetics and the chemical industry itself. Covestro has 30 production sites worldwide and employed approximately 16,800 people at the end of 2018.
i3 (ignite, imagine, innovate) is Covestro LLC's companywide corporate social responsibility (CSR) initiative that aims to spark curiosity, to envision what could be and to help create it. Built on the three pillars of philanthropy (i3 Give), employee volunteerism (i3 Engage) and STEM education (i3 STEM), i3 seeks to create sustainable and lasting impacts.
About the Consortium for Public Education:
The Consortium connects schools with community so that students can access the opportunities, resources and experiences they need to imagine, plan and be ready for their futures. Find more information at www.tcpfe.org.
Find more information at www.covestro.us.
Covestro Contact:
Alice Sox, Phone: +1 412-413-5430
alice.sox@covestro.com
# # #
This news release may contain forward-looking statements based on current assumptions and forecasts made by Covestro AG. Various known and unknown risks, uncertainties and other factors could lead to material differences between the actual future results, financial situation, development or performance of the company and the estimates given here. These factors include those discussed in Covestro's public reports which are available at www.covestro.com. The company assumes no liability whatsoever to update these forward-looking statements or to conform them to future events or developments.
Editor's Note: Follow news from Covestro on Twitter:
www.twitter.com/CovestroUS