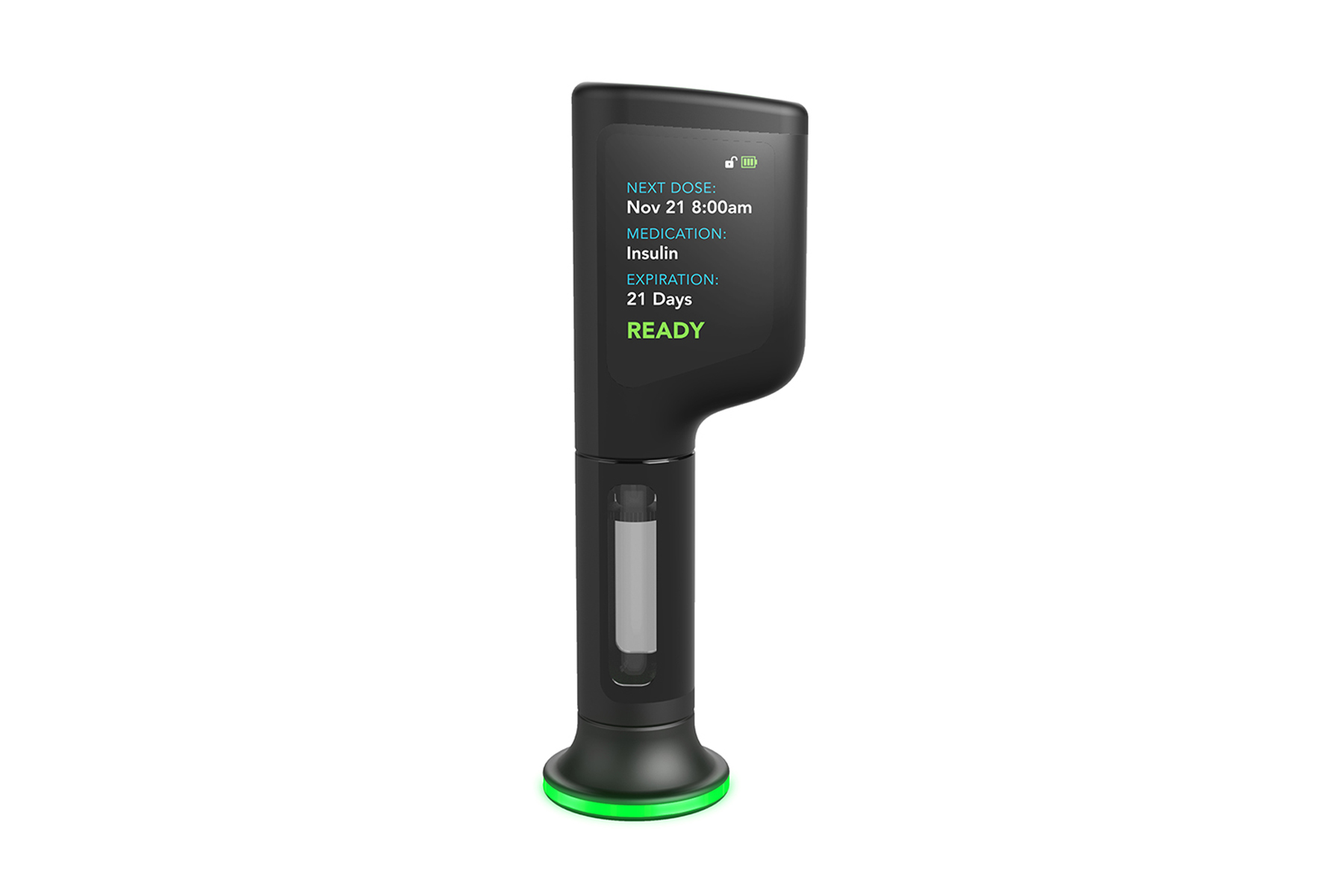 Concept demonstrates possibilities in improving reliability and comfort, dose accuracy and patient adherence
Anaheim, Calif., February 5, 2019 — What if the future of drug delivery is here today? A future that ensures life-saving medicine is delivered on-time, dispensed with accuracy, and connects medical providers and pharmacies with patients and caregivers?
A revolutionary drug delivery conceptual device was introduced today that meets all of these patient needs and more. And, it was not developed by a healthcare or pharmaceutical company, but by Covestro, the world's leading polycarbonate supplier to the healthcare market.
"We are excited to apply our research and application development expertise to push boundaries and imagine a brighter future for the millions of patients who use daily medications," said George Paleos, head of Global Healthcare business, Covestro. "We understand that the future of medical care will demand smarter, more connected and convenient drug delivery devices. As a supplier of polycarbonate resin we are ready to work with our healthcare customers to help them shape the future, beginning today."
Innovation for a brighter tomorrow
Engineers from the Application Development Group at Covestro combined their knowledge of healthcare trends and technologies across multiple industries to develop the concept drug delivery device, to benefit device manufacturers and ultimately the patients who use them. The concept was in development for more than one year.
"This concept is different from devices we see currently on the market," said Jessee McCanna, principal engineer, Covestro LLC. "It is designed not to look like a typical drug delivery device in an effort to make it more user-friendly, and increase both comfort and patient adherence," he added.
The concept incorporates a Direct Skinning/Direct Coating technology, providing exceptional tactile qualities for patients as well as streamlined, efficient manufacturing possibilities. While the technology is not new, it has rarely been used beyond automotive applications. In this design, Direct Coating is used to encapsulate the body of the device, creating a hermetic and tamper-resistant seal. Both high gloss and matte finishes are present on the outer surface, and the haptics (soft-feel) can be varied based on the polyurethane chemistry used. Compared to traditional spray coating, Direct Coating offers increased design flexibility and streamlines manufacturing, while avoiding paint overspray and the release of volatile organic compounds (VOCs).
"With this drug delivery concept, we want to demonstrate possibilities of what the future could be like for manufacturers and patients – and how Covestro polycarbonate solutions can help make it happen," said Paleos.
Medical grade Makrolon® polycarbonates
Medical technology continues to advance and as it does, materials must advance to meet new rigorous challenges. Makrolon® medical grade polycarbonates have excellent properties of durability, processability, safety and design flexibility, which meet the stringent requirements of a wide variety of medical products.
Makrolon® polycarbonate is the best choice for glass-like transparency, impact resistance and durability for drug delivery innovation. The exterior of the future drug delivery concept is injection-molded from Makrolon® polycarbonate. The polycarbonate is clear, in order to maximize design freedom and allows the incorporation of a digital monitor for connectivity as well as indicators and light guides. The concept includes thin walls for an overall smaller form factor and a lighter device, allowing it to fit in a backpack, purse or pocket.
The main benefits of medical grade Makrolon® polycarbonates from Covestro are:
Toughness and durability
They are biocompatible and comply with multiple requirements of ISO 10993-1, USP Class VI
They can be sterilized using a variety of methods
Accuracy in molding size, and ability to maintain stability under different application environments
Reinforced materials offer stiffness and dimensional stability for internal components
Low friction materials offer tight tolerances in internal components for consistent delivery and accurate dosing.

Attendees of Medical Design & Manufacturing (MD&M) West, February 5-7, in Anaheim, California, will be able to see a 3D conceptual device on display at the Covestro booth (#2221). The concept will also be available at Pharmapack, February 6-7, in Paris at the Covestro Stand C94.
About Covestro LLC:
Covestro LLC is one of the leading producers of high-performance polymers in North America and is part of the global Covestro business, which is among the world's largest polymer companies with 2017 sales of EUR 14.1 billion. Business activities are focused on the manufacture of high-tech polymer materials and the development of innovative solutions for products used in many areas of daily life. The main segments served are the automotive, construction, wood processing and furniture, electrical and electronics and healthcare industries. Other sectors include sports and leisure, cosmetics and the chemical industry itself. Covestro has 30 production sites worldwide and employed approximately 16,200 people at the end of 2017.
Find more information at www.covestro.us or https://solutions.covestro.com/en/materials/plastics.
Covestro Contact:
Lauren West, Phone: +1 412 413 4141
Lauren.West@covestro.com
Makrolon® is a registered trademark of the Covestro group.
# # #
This news release may contain forward-looking statements based on current assumptions and forecasts made by Covestro AG. Various known and unknown risks, uncertainties and other factors could lead to material differences between the actual future results, financial situation, development or performance of the company and the estimates given here. These factors include those discussed in Covestro's public reports which are available at www.covestro.com. The company assumes no liability whatsoever to update these forward-looking statements or to conform them to future events or developments.
Editor's Note: Follow news from Covestro on Twitter:
www.twitter.com/covestro