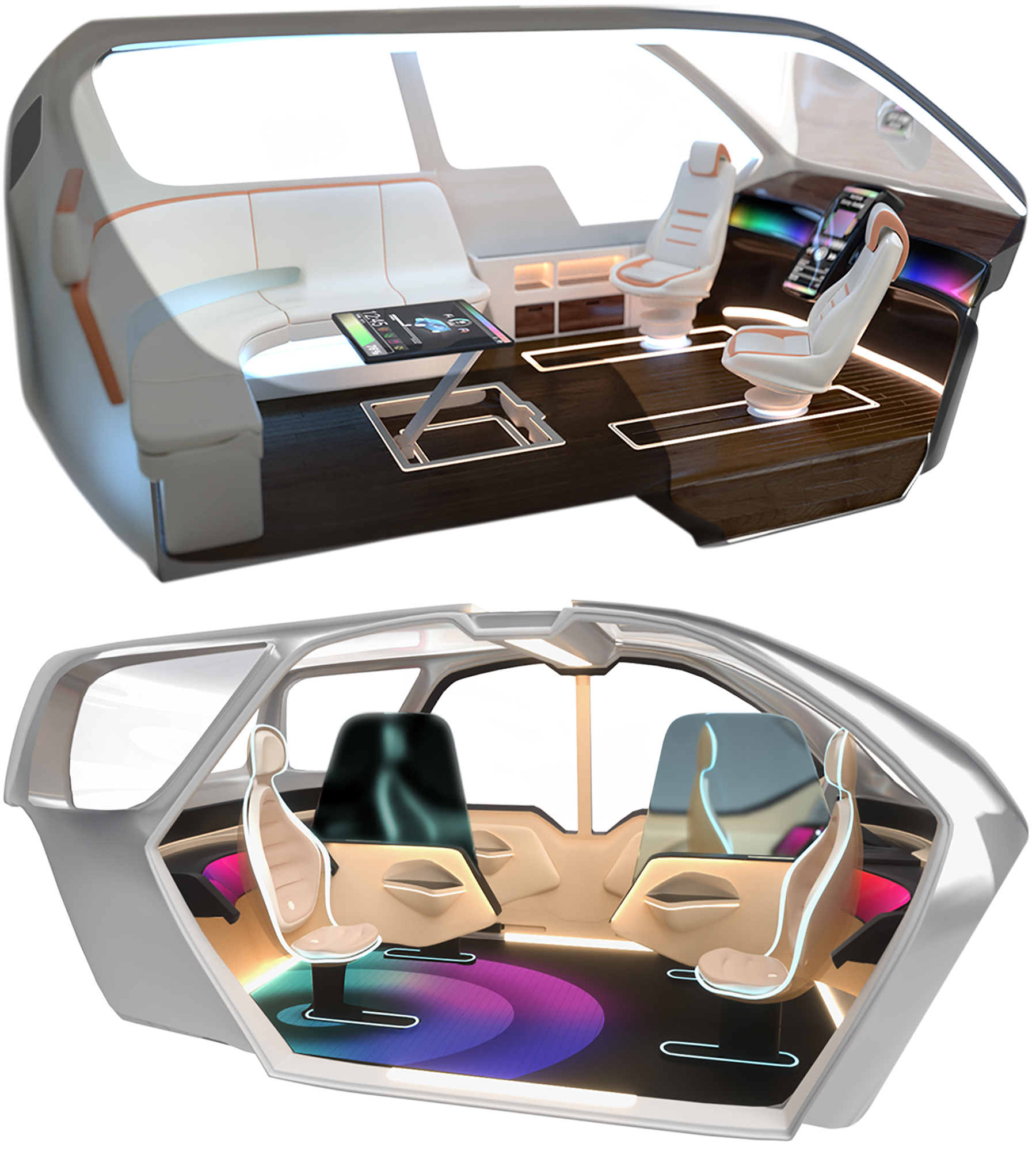 Detroit, January 14, 2019 — Innovative new technologies and changing attitudes toward personal transportation are fueling growing trends—electric vehicles, autonomous vehicles, connectivity and ridesharing. These trends are dramatically altering the way people get from point A to point B. Covestro is helping to shape the future of mobility with materials that enhance vehicles inside and out.
Covestro will highlight its innovative materials, technologies and expertise at AutoMobili-D, held January 14-17 in conjunction with the North American International Auto Show.
"Our high-tech materials have been making cars lighter, brighter and more energy-efficient for more than 50 years," explains Paul Platte, senior marketing manager, Covestro LLC. "At AutoMobili-D, we're demonstrating how we've combined our rich history in automotive applications with an eye toward the future mobility in order to help drive automotive innovation forward."
Debut of an immersive experience
Making its offical debut at the North American International Auto Show is the Covestro Future of Mobility Virtual Reality (VR) experience. Attendees are invited to sit back, relax, and enjoy a ride to the year 2030. This immersive experience takes passengers on a journey through two autonomous vehicles, highlighting the critical role that materials will play in designing future vehicle interiors.
"The vehicle of the 2030s will take riders on a completely different type of journey … one that seamlessly combines design, non-driving related experiences and smart functionality that is not available on today's vehicles," says Paige Kassalen, future of mobility market analyst, Covestro LLC. "Covestro is collaborating with industry leaders and formulating new material and technology solutions that will be instrumental in crafting this experience."
Materials technologies for wide-ranging applications
Covestro will preview technologies that enhance the user experience. These include the use of integrated electronics for vehicle security, thermal management of LED lighting, use of light and shadow for unique aesthetic effects, and use of backlighting for hidden until visible badges and vehicle status information.
Peelable coatings, recently introduced during the American Coatings Show in 2018, will be on display, as well. The booth will also feature a wide range of other automotive applications—car seats, headliners, load floors, B Pillars, door panels and lighting, to name a few—that utilize polycarbonates, polyurethanes and coating raw materials from Covestro.
Attendees at AutoMobili-D, January 14-17, in Detroit can visit the Covestro booth #AD03 in Cobo Center to learn more about Covestro's automotive solutions.
About Covestro LLC:
Covestro LLC is one of the leading producers of high-performance polymers in North America and is part of the global Covestro business, which is among the world's largest polymer companies with 2017 sales of EUR 14.1 billion. Business activities are focused on the manufacture of high-tech polymer materials and the development of innovative solutions for products used in many areas of daily life. The main segments served are the automotive, construction, wood processing and furniture, electrical and electronics and healthcare industries. Other sectors include sports and leisure, cosmetics and the chemical industry itself. Covestro has 30 production sites worldwide and employed approximately 16,200 people at the end of 2017.
Find more information at www.covestro.us/en/futureofmobility.
Covestro Contact:
Sarah Schade, Phone: +1 412 413 5843
Sarah.Schade@covestro.com
# # #
This news release may contain forward-looking statements based on current assumptions and forecasts made by Covestro AG. Various known and unknown risks, uncertainties and other factors could lead to material differences between the actual future results, financial situation, development or performance of the company and the estimates given here. These factors include those discussed in Covestro's public reports which are available at www.covestro.com. The company assumes no liability whatsoever to update these forward-looking statements or to conform them to future events or developments.
Editor's Note: Follow news from Covestro on Twitter:
www.twitter.com/covestro