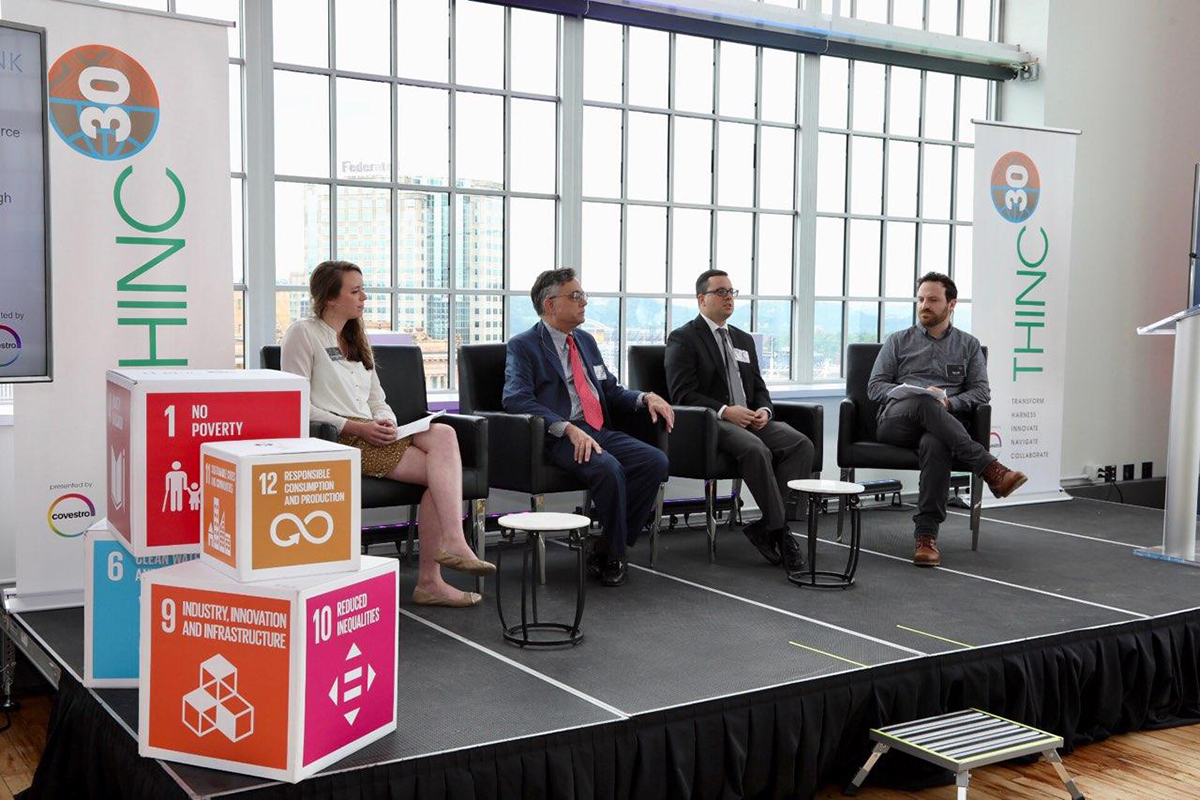 Focus is on creating healthy, inclusive neighborhoods
Pittsburgh, May 30, 2019 — Covestro kicked off its series of THINC30 Tanks for 2019 today with the first summit, titled "Ensuring Inclusive Pittsburgh Neighborhoods," The event was held in the Covestro BrightSpace at the Energy Innovation Center in Pittsburgh.
At the half-day summit, Pittsburgh's civic and business leaders gathered to address the issue of neighborhood gentrification and displacement, and develop preventative measures that promote the health of the city's 90 unique neighborhoods.
THINC30 is Covestro's purpose-driven initiative to bring the 17 global United Nations Sustainable Development Goals to Pittsburgh to advance the region's growth and prosperity in a responsible, sustainable way by addressing its most pressing issues, including neighborhood displacement. THINC30 is part of Covestro's U.S. corporate social responsibility initiative, called i3 (ignite, imagine, innovate).
Attendees collaborated to create a user-friendly guide for grassroots community leaders and others to help them regularly assess the health of local neighborhoods. They used criteria identified by the City of Pittsburgh, p4, All In Pittsburgh and the U.S. Department of Housing and Urban Development's (HUD) Healthy Communities Assessment Tool.
The resulting "Neighborhood Wellness Checklist," a civic-oriented, public service tool, will be released by Covestro later this year.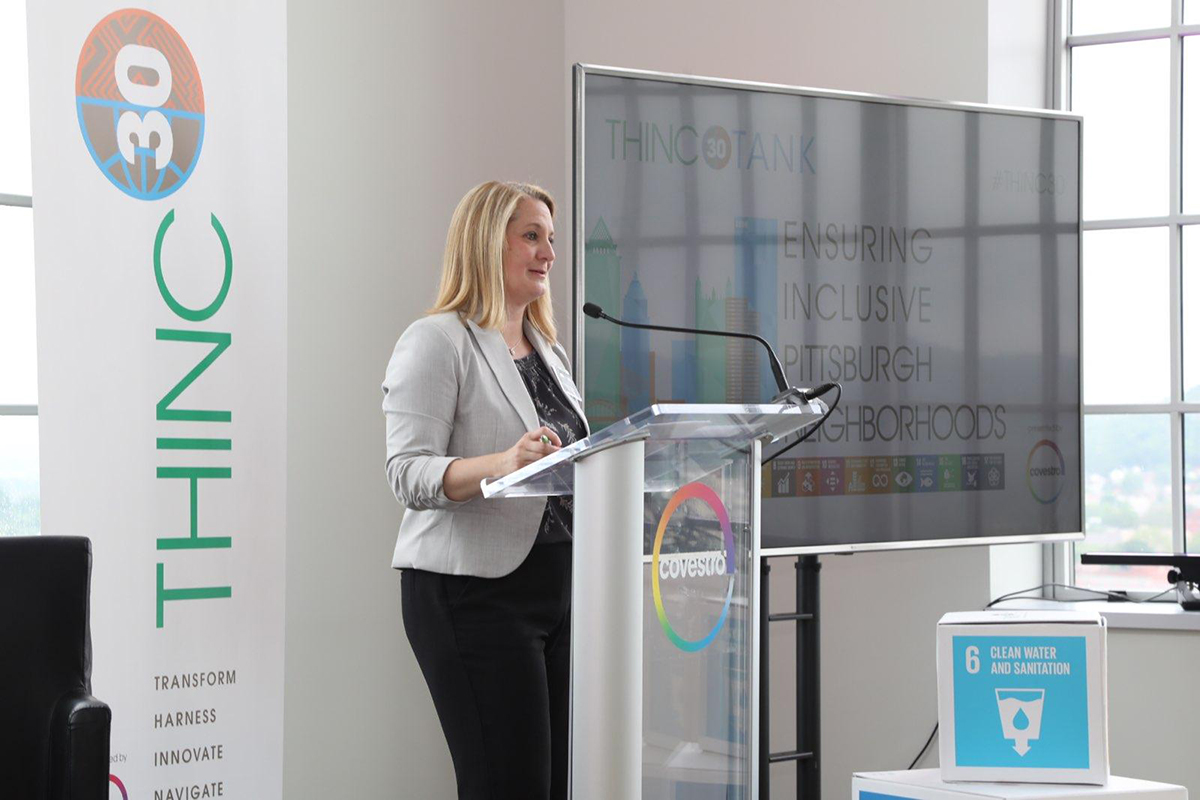 "With THINC30, Covestro is a convener that brings together the Pittsburgh region's business, academic, non-profit, and philanthropic leaders to tackle issues they themselves have identified as top priorities," said Rebecca Lucore, head of corporate social responsbility and sustainability at Covestro LLC.
"This THINC30 Tank is a direct outgrowth of our 2018 summit where Majestic Lane, the city's new Chief Equity Officer, suggested that vulnerable neighborhoods could benefit from periodic 'wellness checks' to help foster their viability and make residents less susceptible to displacement."
Majestic Lane returned to participate in today's THINC30 Tank, joining a number of local experts, including:
Grant Ervin, Chief Resilience Officer, City of Pittsburgh
Andrew McElwaine, Vice President, Sustainability and Senior Program Director, Heinz Endowments
Karen Abrams, Program Officer, Equitable Development, Heinz Endowments
Shad Henderson, Director of Equity and Community Partnerships, Neighborhood Allies
Daniel Barrett, Program Officer, Buhl Foundation
Jennifer Beer, Director of Allegheny Conference/Pittsburgh Chamber
Fred Brown, President, Forbes Funds
Jamil Bey, Executive Director, UrbanKind Institute
Linnea Warren May, Policy Analyst, RAND Corporation
Jenna Cramer, Executive Director, Green Building Alliance
Gary Rigdon, Director of Development and Finance, Sustainable Pittsburgh
Tom Lisi, Develop PGH reporter, Public Source

THINC stands for transforming, harnessing, innovating, navigating and collaborating for a purpose-driven, sustainable future by 2030. Its mission is to introduce and accelerate sustainable business development, public-private partnerships and social innovation in the Pittsburgh region by utilizing the 17 United Nations Sustainable Development Goals as a roadmap and showcasing how these goals can be achieved by leveraging the growing need for purpose among individuals, organizations and businesses.
About Covestro LLC:
Covestro LLC is one of the leading producers of high-performance polymers in North America and is part of the global Covestro business, which is among the world's largest polymer companies with 2018 sales of EUR 14.6 billion. Business activities are focused on the manufacture of high-tech polymer materials and the development of innovative solutions for products used in many areas of daily life. The main segments served are the automotive, construction, wood processing and furniture, electrical and electronics, and healthcare industries. Other sectors include sports and leisure, cosmetics and the chemical industry itself. Covestro has 30 production sites worldwide and employed approximately 16,800 people at the end of 2018.
i3 (ignite, imagine, innovate) is Covestro LLC's companywide corporate social responsibility (CSR) initiative that aims to spark curiosity, to envision what could be and to help create it. Built on the three pillars of philanthropy (i3 Give), employee volunteerism (i3 Engage) and STEM education (i3 STEM), i3 seeks to create sustainable and lasting impacts.
Find more information at www.covestro.us.
Media Contacts:
Alice Sox, Phone: 412 413 5430
alice.sox@covestro.com
# # #
This news release may contain forward-looking statements based on current assumptions and forecasts made by Covestro AG. Various known and unknown risks, uncertainties and other factors could lead to material differences between the actual future results, financial situation, development or performance of the company and the estimates given here. These factors include those discussed in Covestro's public reports which are available at www.covestro.com. The company assumes no liability whatsoever to update these forward-looking statements or to conform them to future events or developments.
Editor's Note: Follow news from Covestro on Twitter:
https://twitter.com/CovestroUS