Novi, Mich., March 26, 2019 — From catching zzz's to listening to tunes in the car without outside distractions, high-performance polyurethanes lend comfort, durability and strength to everyday products. At Foam Expo North America 2019, March 26-28 in Novi, Michigan, Covestro will show why polyurethane foam is the material of choice.
At the Covestro booth (#600), the company invites attendees to sit back, relax and enjoy a ride to the year 2030. Through the Covestro Future of Mobility Virtual Reality (VR) experience, passengers will journey through two autonomous vehicles that highlight the critical role polyurethane materials play in designing future vehicle interiors.
Learn more about powerful polyurethane solutions from Covestro:
http://covestro.us/Foam-Expo-2019
Driving automotive innovation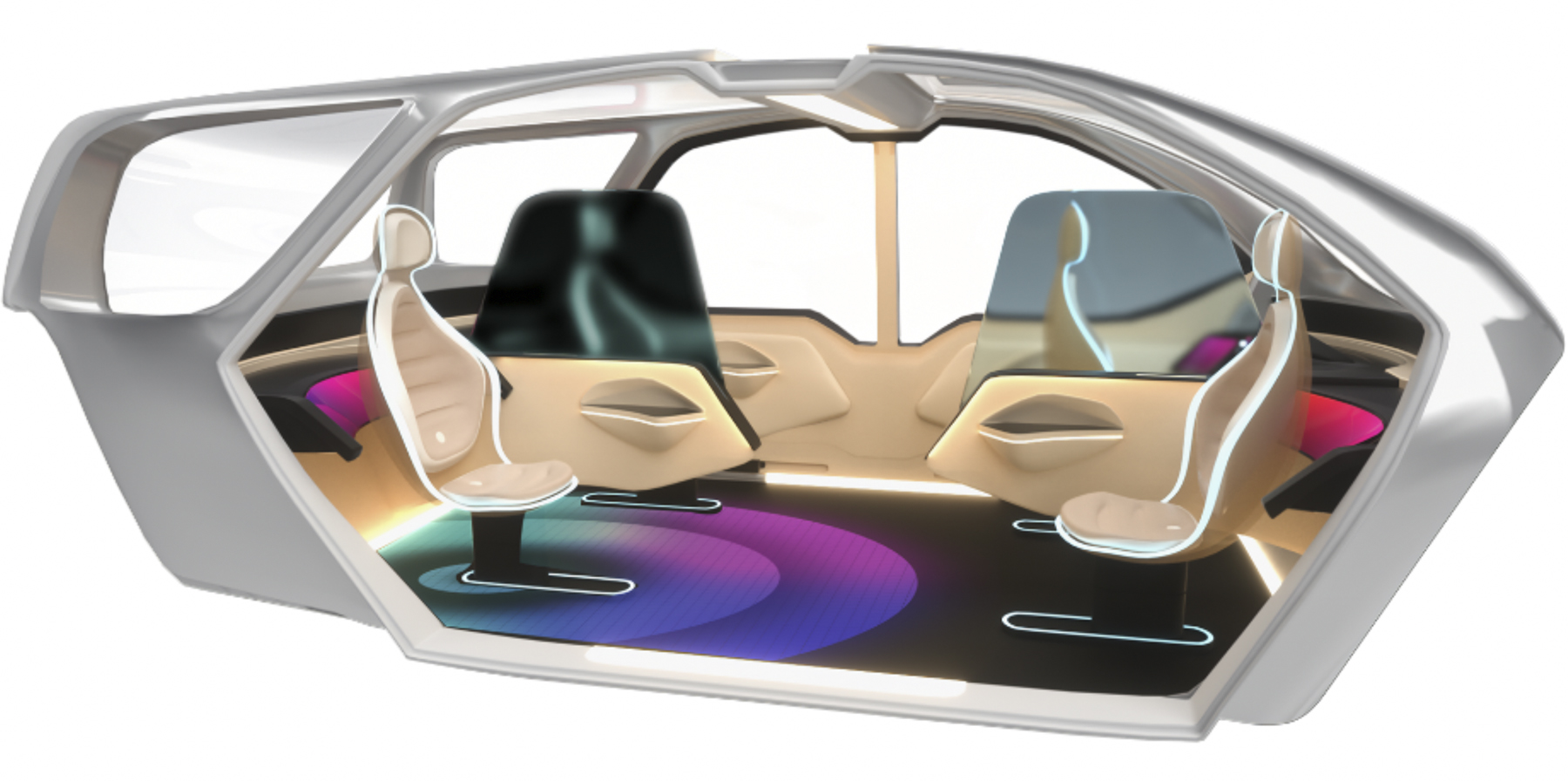 The Covestro Future of Mobility Virtual Reality (VR) experience highlights the critical role of polyurethane materials in future vehicle interiors.
Covestro collaborates with the automotive industry to address the challenges facing the vehicles of today and tomorrow, such as acoustics and lightweighting. Polyurethane solutions for these automotive trends will be on display in the booth and showcased in the company's Future of Mobility VR experience.
Silence is golden, and as electric vehicles grow in popularity, there is a greater need for the reduction of noise, vibration and harshness (NVH). From the headliner to the car floor, acoustically tuned polyurethane foam solutions from Covestro can help enable a quieter ride – dropping decibels from automotive interiors.
The company's polyurethane materials also maximize efficiency and improve overall performance to keep vehicles light. In the instrument panel, polyurethane can replace soft touch materials to provide a lighter assembly with the same or improved haptics. Load floors can benefit from stiff and strong, yet light, polyurethane composite. When used in seating, polyurethane raw materials create lighter weight seat assemblies while delivering the same performance and properties of current foams. Additionally, raw materials for semi-rigid foam can replace shoddy pad or fiberglass in hood liners for lightweight sound absorption.
Sleep in comfort and style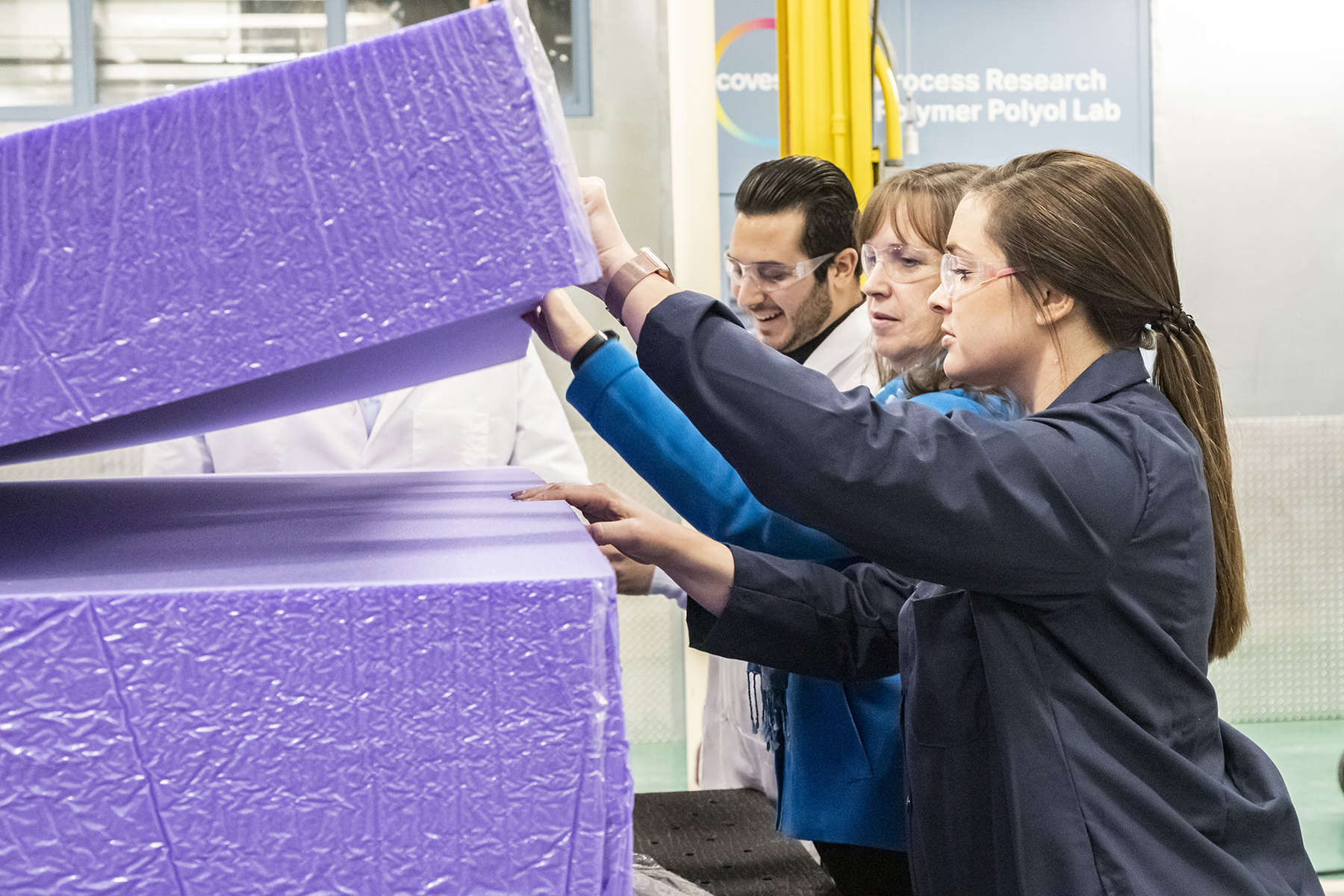 Polyurethane foam from Covestro lends comfort, durability and strength to everyday products.
The mattress industry has gone from stagnant to dynamic, with trends creating new opportunities for polyurethane foam. For instance, consumers are shifting their buying habits from traditional stores to "bed-in-a-box" brands, which often utilize foam. Recognizing the importance of this material, spring mattress manufacturers are now creating hybrid products. Adjustable bases and motion foundations, which work well with foam mattresses, are also growing in popularity.
Covestro helps to meet the evolving needs of the bedding industry with its broad portfolio of materials for polyurethane foam that offer outstanding comfort and enhance quality of life and sleep. Foam Expo attendees can see these materials in action through mattress and molded foam pillow applications at the Covestro booth.
Sustainable solutions for a brighter world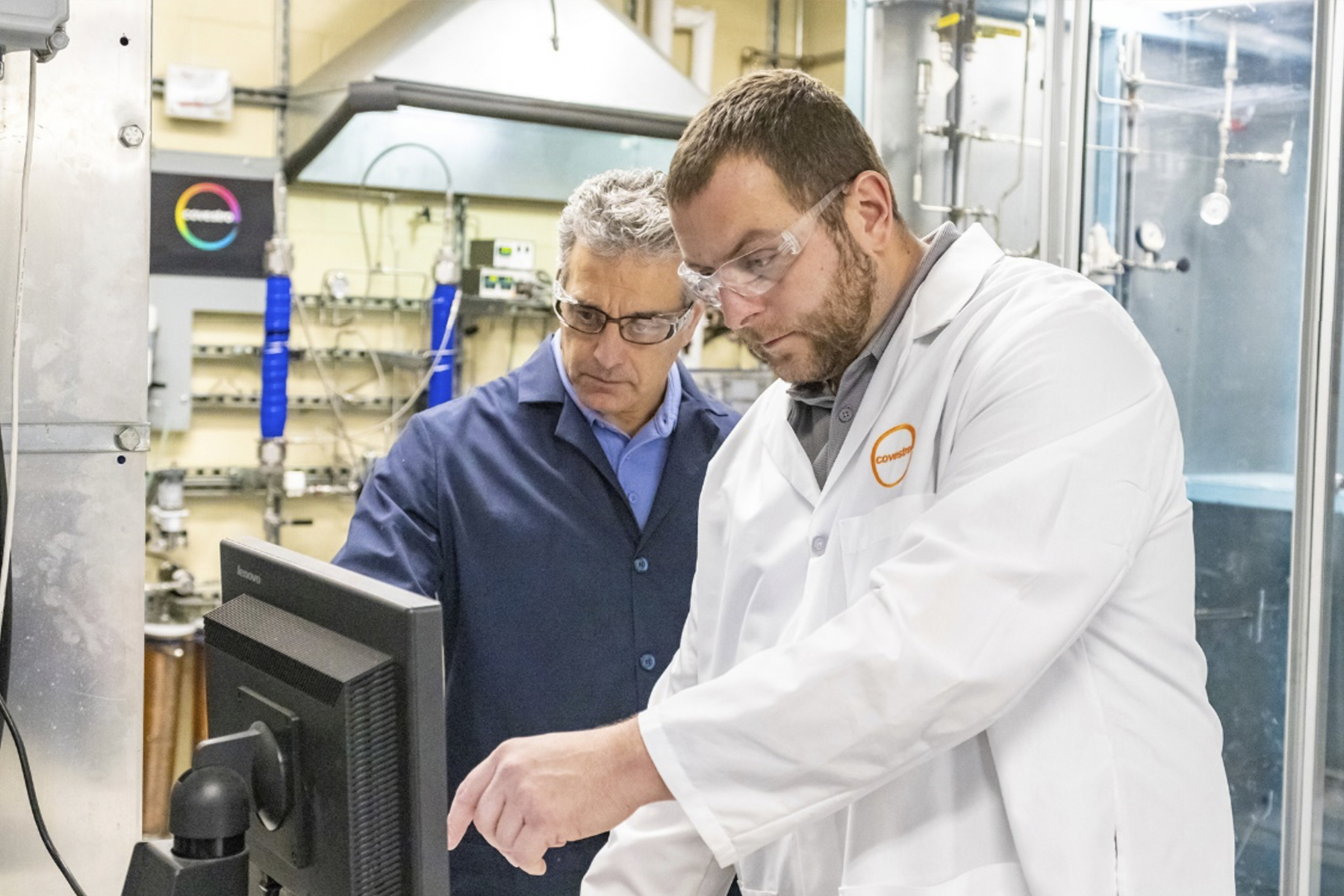 Covestro has a global network of R&D facilities and is continuously pushing boundaries in the development and production of raw materials.
Covestro is continually working to create a better future for the planet through the use of sustainably sourced polyurethane materials and efforts that contribute to the circular economy. During Foam Expo, Dr. Ted Frick, vice president of Polyurethanes research and development, Covestro LLC, will present "Beating the End-of-Life Challenge: Exploring Recycling Options for Foam Materials." On Thursday, March 28 at 1:45 p.m., Frick will address why the issue of the circular economy is so important to Covestro, the foam industry and the entire chemical enterprise. He will also discuss the company's efforts to address and implement the circular economy.
Keep up with Covestro on social media during the show by following the #CovestroFoam hashtag on Twitter.
About Covestro LLC:
Covestro LLC is one of the leading producers of high-performance polymers in North America and is part of the global Covestro business, which is among the world's largest polymer companies with 2018 sales of EUR 14.6 billion. Business activities are focused on the manufacture of high-tech polymer materials and the development of innovative solutions for products used in many areas of daily life. The main segments served are the automotive, construction, wood processing and furniture, electrical and electronics, and healthcare industries. Other sectors include sports and leisure, cosmetics and the chemical industry itself. Covestro has 30 production sites worldwide and employed approximately 16,800 people at the end of 2018.
Find more information at www.covestro.us or www.polyurethanes.covestro.com.
Covestro Contact:
Tara Majdalani, Phone: 412 413 5456
Tara.Majdalani@covestro.com
# # #
This news release may contain forward-looking statements based on current assumptions and forecasts made by Covestro AG. Various known and unknown risks, uncertainties and other factors could lead to material differences between the actual future results, financial situation, development or performance of the company and the estimates given here. These factors include those discussed in Covestro's public reports which are available at www.covestro.com. The company assumes no liability whatsoever to update these forward-looking statements or to conform them to future events or developments.
Editor's Note: Follow news from Covestro on Twitter:
https://twitter.com/CovestroUS