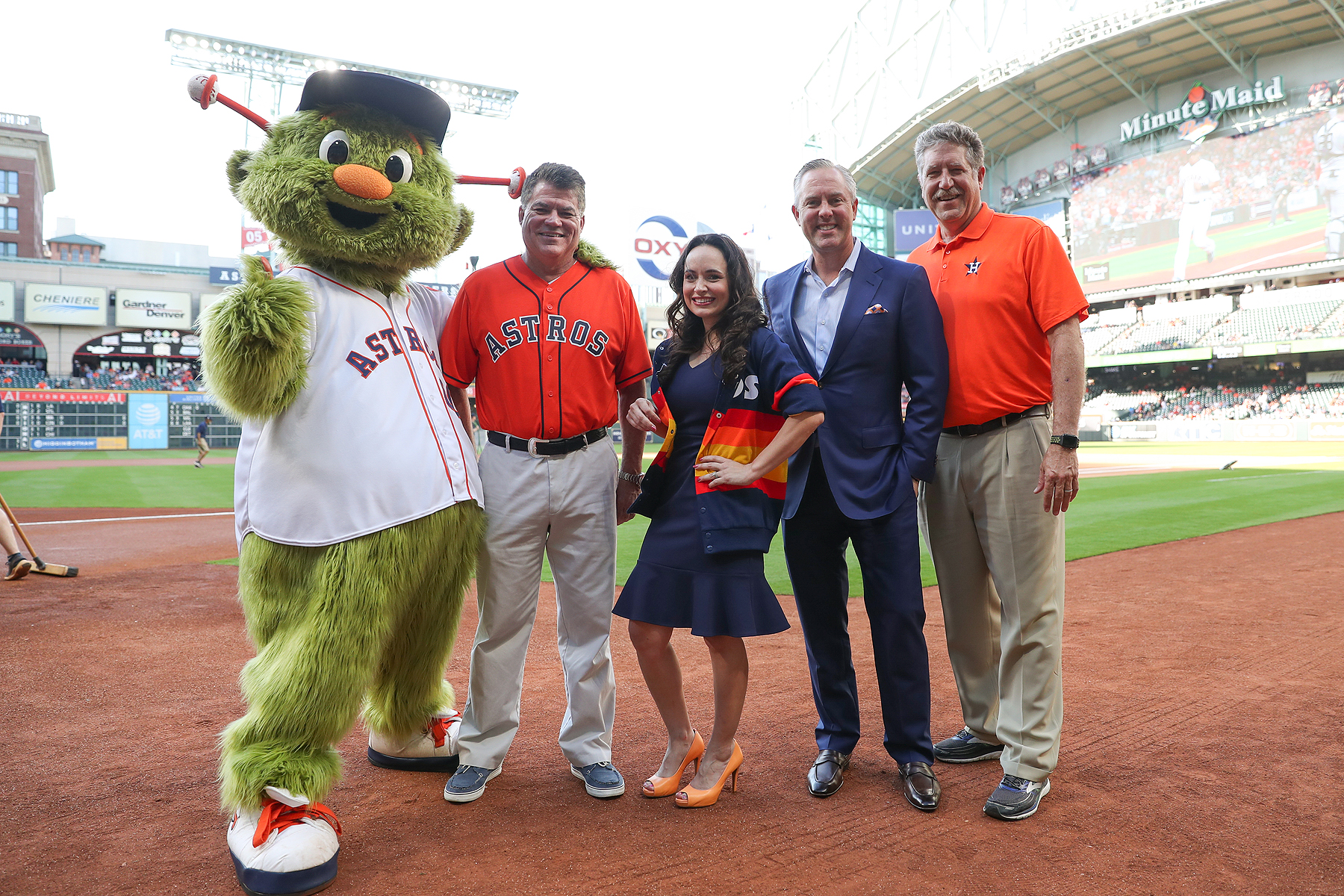 The partnership will bring science of athletics to Greater Houston students and ignite young minds to value of STEM principles
Baytown, TX, April 11, 2019 — The Houston Astros and Covestro LLC announced today a new partnership bringing together science and athletics, promoting the importance of science, technology, engineering and mathematics to school children and young adults in the greater Houston area.
"The Houston Astros proudly welcome Covestro as the presenting sponsor of Orbit's STEM School Show" said Astros President of Business Operations Reid Ryan. "Covestro's commitment to innovation and community education initiatives makes them the perfect fit for this particular partnership, which focuses on engaging and educating a younger audience about how science, math and technology is utilized around the ballpark."
This five-year deal aligns the Astros and Covestro's strong commitment in social responsibility, digitalization, STEM and diversity and inclusion. With more than 100 school shows a year, these partners will reach students across the Greater Houston Community, including Covestro's home of Baytown.
With Baytown being Covestro's largest manufacturing facility in North America, the partnership will also include added engagement with Goose Creek CISD and Barbers Hill ISD for the Orbit show as well as an annual STEM day hosted for high schools from those districts at Minute Maid Park.
"We are so excited to partner with a world-class organization that shares our passion for bringing science education to the next level," said Demetri Zervoudis, Senior Vice President and Site Manager at Covestro Baytown Industrial Park. "We are looking forward to engaging our workforce with the Astros organization through STEM programs and volunteerism to build a stronger community and ignite the minds of our youth."
Through the partnership, Covestro's Cleaner Energy, Brighter World mobile sustainable energy exhibit will be at Astros street festivals and events to give attendees an opportunity to learn more about sustainability and the company's commitment to a cleaner future.
About Covestro LLC:
Covestro LLC is one of the leading producers of high-performance polymers in North America and is part of the global Covestro business, which is among the world's largest polymer companies with 2018 sales of EUR 14.6 billion. Business activities are focused on the manufacture of high-tech polymer materials and the development of innovative solutions for products used in many areas of daily life. The main segments served are the automotive, construction, wood processing and furniture, electrical and electronics, and healthcare industries. Other sectors include sports and leisure, cosmetics and the chemical industry itself. Covestro has 30 production sites worldwide and employed approximately 16,800 people at the end of 2018.
Find more information at www.covestro.us.
About Orbit's STEM School Shows:
The Science of Baseball STEM Show, presented by Covestro, illustrates the importance of Science, Technology, Engineering and Mathematics and how students can find principles of these subjects in everyday activities. Orbit applies STEM principles such as Newton's Laws while playing catch, how smart phones, computers and radios can help fans keep up with the Houston Astros, using items that were engineered to launch t-shirts into a crowd, and determining player statistics and keeping score during a baseball game.
Media Contacts:
Jennifer Walsh, Phone: 281-520-8651
Jennifer.Walsh2@covestro.com
# # #
This news release may contain forward-looking statements based on current assumptions and forecasts made by Covestro AG. Various known and unknown risks, uncertainties and other factors could lead to material differences between the actual future results, financial situation, development or performance of the company and the estimates given here. These factors include those discussed in Covestro's public reports which are available at www.covestro.com. The company assumes no liability whatsoever to update these forward-looking statements or to conform them to future events or developments.
Editor's Note: Follow news from Covestro on Twitter:
https://twitter.com/CovestroUS or locally:
https://twitter.com/CovestroBaytown