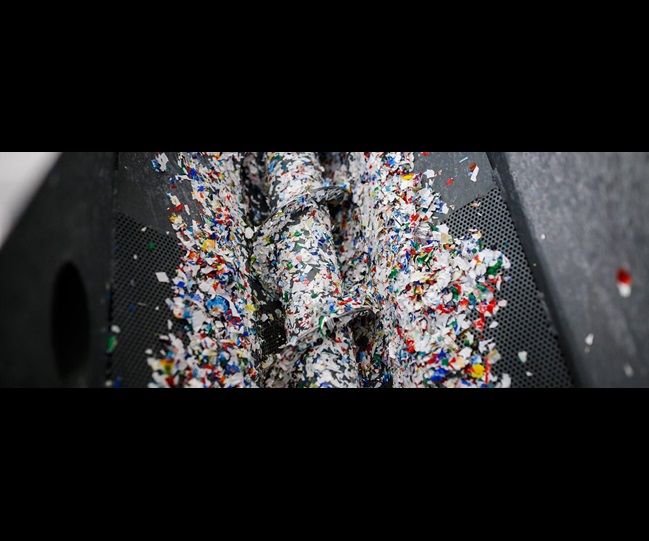 Waste as a Raw Material – Recycling instead of Disposing
Products have a second life: after their initial use, we must regard them as a valuable resource. Waste should be recycled, not dumped in landfills or otherwise disposed of in nature. In the long term, end-of-life products and unavoidable waste are likely to become the main alternative raw materials for the plastics industry. But in order to make greater use of these sustainable resources, waste management systems must be significantly improved and redesigned.
Plastics have changed the world for the better. Today, their benefits are so widespread that they are often overseen. Two examples: Plastics make vehicles safer and considerably lighter, which conserves batteries in electric vehicles. Plastics insulate buildings - one of the major sources of CO₂ - against heat and cold. As a result of their versatility, polymer materials have been produced in large quantities. Between 1950 and 2015 alone, the industry produced 8.3 billion tons of plastic worldwide, as a scientific publication by the university of Georgia shows.
But there's a dark side to the human use of this material: waste has become an environmental threat, due to a lack of proper disposal and recycling. Almost five billion tons of plastic waste ended up in landfills or in the environment between 1950 and 2015. According to BBC research, another 1.3 billion tons could pollute our environment by 2040 if fundamental action is not taken.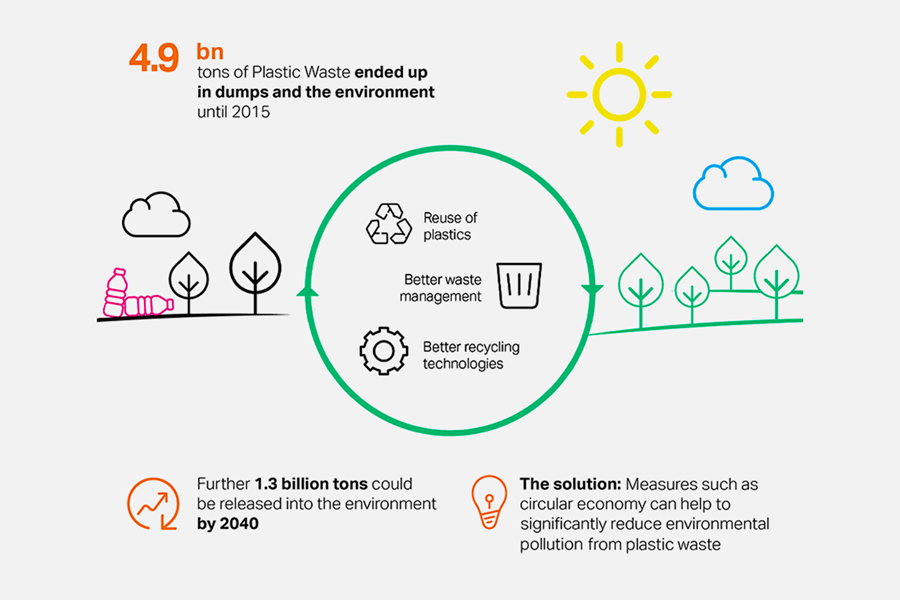 Circular Economy for a cleaner environment
Although our waste problem is generated on land, it has an enormous impact on the oceans. Each year, on average, eleven million tons of plastic waste end up in our oceans. Here too, the trend is rising.
Valuable resource
More than 40 percent of plastics are produced, used once and thrown away. However, used plastic is a valuable source of raw materials. It is therefore extremely important to systematically and effectively reuse and recycle waste. But this still happens too rarely. The OECD estimates that only 14 to 18 percent of global waste in 2014 was recycled.
The problem is a lack of infrastructure. According to the United Nations, around two billion people have no access to regular, industrial-level waste disposal or collection systems. This is where we have to start – quickly and decisively. The necessary infrastructure must be built. Products and materials must be optimized for recycling. And consumers need to be more sensitized to the importance of reusing and recycling waste.
Circular economy as a key
The solution of the future is the circular economy, which relies on state-of-the-art recycling technologies, better waste management and alternative packaging solutions. By embracing circular economy as a guiding principle, we could significantly reduce the amount of plastic waste that is released into the environment each year. As an industrial plastics manufacturer, Covestro is increasingly researching and promoting innovative recycling methods and approaches, such as chemical recycling. This helps put used materials back into the value chain.
Thinking tomorrow's solution today
Together with partners in China, Covestro has already developed an innovative recycling concept for reusing important raw materials. With this concept, used water bottles made of the high-performance plastic polycarbonate are broken down into their material components for reuse. Covestro then uses the recycled components to produce new plastic granulate for electronic products such as laptops, printers and copiers.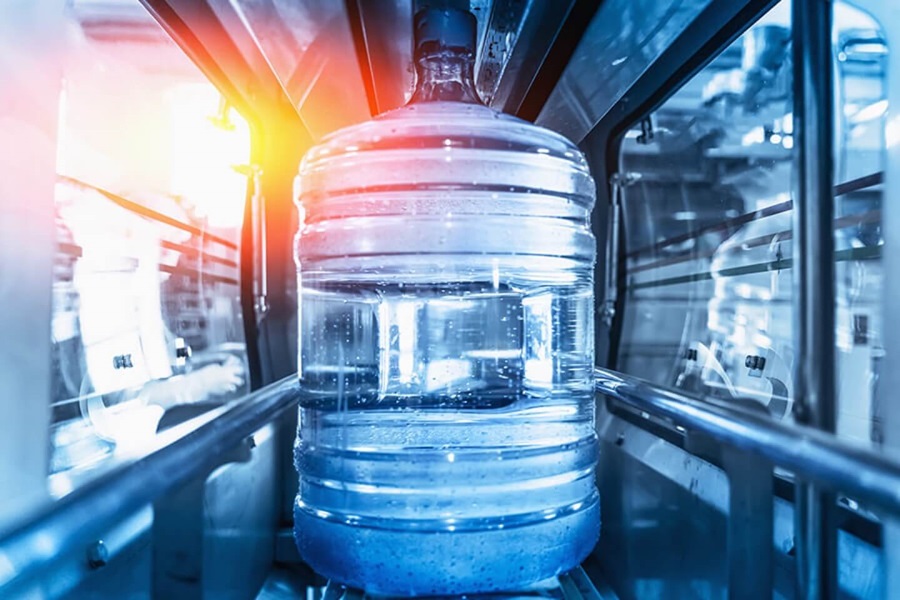 Furthermore, Covestro is a founding member of the Alliance to End Plastic Waste (AEPW), which was established in 2019. This global network of more than 60 companies systematically combats the uncontrolled disposal of plastic waste and aims, among other things, to improve waste management and reduce the volume of waste, especially in the oceans. The participating companies come from the waste disposal, chemical and plastics processing industries, among others, and strive to develop suitable and truly sustainable solutions for plastics at the end of the product life cycle.