Space and opportunities for creative collaboration
Culture of innovation
Innovation at Covestro is not limited to our R&D facilities. We want to unleash the full creative potential of our diverse global workforce, in every work area and across all levels of responsibility. For that purpose, we have initiated several platforms and event formats that give all colleagues the opportunity to come up with innovative ideas, exchange their views on them, and work together on their realization.
Curious, courageous, and colorful: this is how our company acts, and this is how we see our people around the globe. We want to innovate everywhere and with everyone in our organization. And we know that innovation flourishes best within a working culture that encourages out-of-the-box ideas, and offers the freedom and resources to develop these ideas. In this way, innovation comes directly from our people, who network, communicate, share knowledge, exchange, work in cross-functional, interdisciplinary teams, and build and develop ideas inside and outside of the company.
Strengthen innovation drivers
In order to establish and strengthen a culture of innovation at Covestro, we have developed regular community events that encourage, recognize and reward the most resourceful innovators among us. Supporting experimentation, tolerating failure, learning from mistakes, and taking calculated risks: we consider all of these things important prerequisites for innovation, and we embrace them. In the creative process, every perspective is valued because the most resourceful and unexpected solutions are achieved through teamwork, by sharing insights and connecting people. When we have created an innovation, we make every effort to protect, capture and deliver the value it delivers.
Find here an overview of the company-wide platforms and communities that help us to foster the creation and the realization of innovative ideas.
Event formats and forums for innovation at Covestro
"idea.lounge" is the name of the virtual Covestro-wide platform for the joint development of creative ideas and projects. All colleagues can share their initial ideas on a dedicated microsite on the intranet, discuss diverse aspects with others and receive help on solving the related tasks. The idea behind the idea.lounge: discovering ideas that have the potential to boost the Covestro business. As a special campaign in the context of the idea.lounge, the "Covestro Start-up Challenge" e.g. invited all Covestro employees to submit their business ideas. The winner team was given the opportunity to work on it with full funding for up to one year – like a start-up.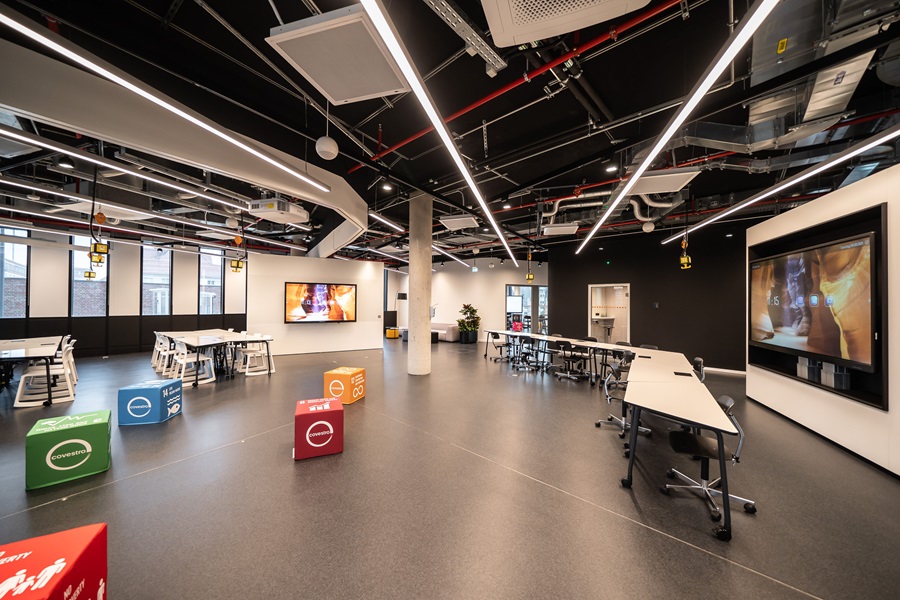 Our idea.labs in Leverkusen and Shanghai are places where people meet for direct and personal dialogue. Covestro employees as well as external contributors have the opportunity to meet here in an informal, creative atmosphere and work together on innovative ideas.
True to the motto "inspire - connect - create", the idea.lab in Leverkusen is a place for dialogue and learning from one another. Everything is possible there, from exhibitions and lecture series to team workshops, simple prototyping activities or use as a co-working space.
We believe that a healthy amount of competitiveness benefits the process of idea creation. Promoting a culture of innovation also means communicating and rewarding good ideas from all areas of our business. For this purpose, we are holding the "Innovation Celebration" festival every year in the three core regions of Covestro – America, Asia and Europe – to honor and reward especially successful projects of all business areas and functions.