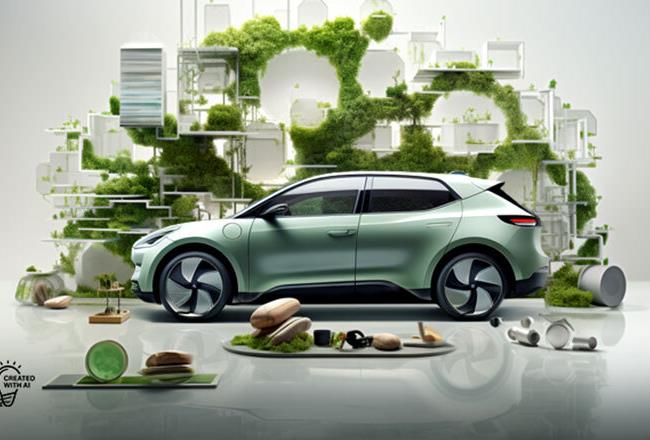 Future Mobility
Hitting the road with sustainable, innovative plastics
The mobility sector is in a state of upheaval. Especially personal transportation, which continues to grow, must become more sustainable and individualized. This calls for high-quality plastics. Covestro offers innovative products and solutions for vehicles and infrastructure.
On average, people spend between one and one and a half hours on the road each day, which is why in 2020 alone, a total of 21 trillion passenger kilometers were accumulated around the world. Cars are the most commonly used means of transportation. And the volume of traffic is expected to continue to rise. According to the experts, the number of passenger kilometers could increase by at least two and a half times by the middle of this century.
More cars – More challenges
More and more vehicles means more and more challenges. At present, the transportation sector accounts for about 23 percent of energy-related carbon emissions, making it the largest emitter of carbon after the energy sector. Most carbon dioxide is released into the atmosphere over short distances in and around cities.
In metropolitan areas, vehicle occupants experience the most frequent traffic jams, often condemned to idleness. In the USA, for example, a typical driver will have lost a total of 51 hours in 2022, according to one study. In the UK, the annual figure was 80 hours of traffic congestion, and in Germany, 40 hours. Indeed, innovative solutions are needed.
Answers to three major issues
It is obvious that many things will have to change if a growing volume of traffic is to take place on a planet that is already being pushed to its limits by climate change, resource depletion, and environmental degradation.
Three major developments will shape the future of mobility: Electromobility, autonomous driving and the demand for individualization. For all these trends, plastics are the material of choice, and Covestro offers products and solutions for all of them. At the same time, we are working more and more on sustainable mobility. Here, sustainable production at Covestro and its partners plays a role in ensuring that the material of the future has the least possible environmental impact. It should be recyclable and of high technical quality. In this way, Covestro is working on the future of high-quality materials – in keeping with our vission "We will be fully circular".
Electromobility
The car of the future has low emissions and is resource efficient
Electric drives are three times more efficient than internal combustion engines, provided the energy comes from renewable sources. According to the experts, there could be around 240 million electric vehicles in the world by as early as 2030, compared with the current total of 26 million. The network of charging stations must therefore grow accordingly. It is also important that the production of EVs and charging infrastructure, which generates latent emissions, is carried out as climate-neutral as possible and in line with the principles of Circular Economy.
Our solutions for e-mobility
Covestro's innovative materials and concepts help boost the range and safety of electric vehicles. This is especially where high-performance polycarbonate comes into play. Components made of polycarbonate are particularly lightweight and weigh up to 50 percent less than those made of glass. The advantage: The more lightweight an EV is, the better it can compensate for the weight of the usually heavy batteries.
Polycarbonate also allows for seamless surfaces. This enhances aerodynamics, which then reduces energy consumption due to lower drag. This results in the battery being preserved and the range increased. Covestro already showcased a visionary concept car for this purpose years ago at K 2016, the world's largest plastics trade fair.
Covestro also offers products based on polycarbonate and polyurethane for the batteries themselves, which reduce weight and provide good protection, for example, against short circuits and fires. A new type of composite material made of polyurethane resin and fibers for the battery pack also offers more safety in the event of collisions than conventional material.
This protective function is also important for charging stations. This is another case for polycarbonate and its many excellent properties – especially its robustness, corrosion resistance, electrical insulation, and fire resistance. And, very importantly, the plastic can be produced in a highly environmentally compatible manner in keeping with the Circular Economy. For example, the world's first wallbox made of polycarbonates, that is climate-neutral from cradle to factory gate.
The innovative materials from Covestro indeed offer a range of possibilities for the automotive industry. In order to remain a reliable partner to the industry, we are working on future-proof projects and new material properties.
All these aspects are brought together in the spectacular Sonnenwagen – a solar car developed by students at RWTH Aachen University and the University of Applied Sciences there, and in which many materials from Covestro are used. This vehicle of the future, which does not need a drop of gasoline, is already participating for the third time in the Bridgestone World Solar Challenge, the world's most rigorous solar car race across Australia.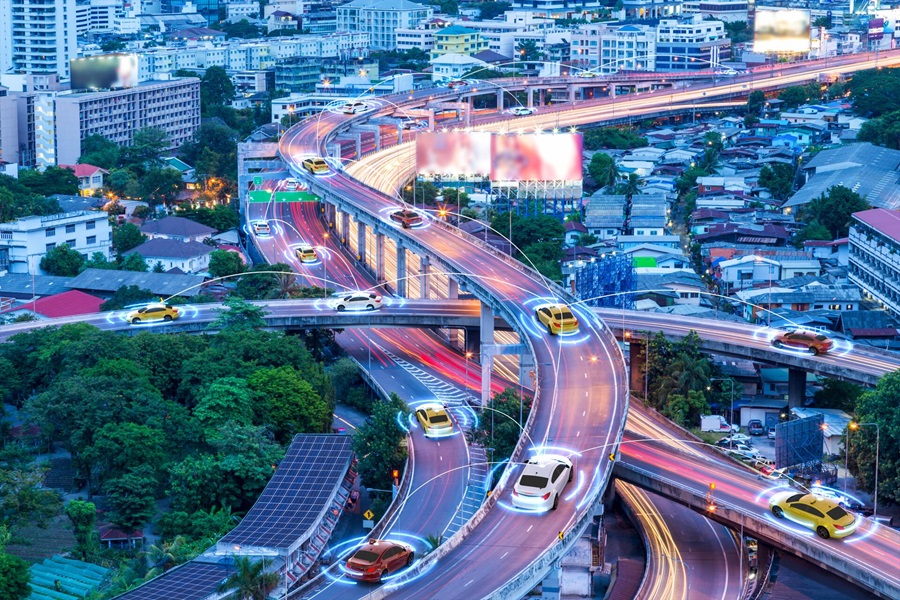 Autonomous driving
The vehicle of the future is intelligent and navigates safely and efficiently.
According to the experts, by 2030 there could be around 50 million partially autonomous vehicles on the road around the world. That is not surprising, as autonomous cars, when fully developed, are expected to provide enhanced safety with their multitude of advanced electronics, ranging from lane-keeping assistants and automatic emergency braking systems to blind-spot monitoring. On top of that, the flow of traffic can be improved through permanent interaction with the environment, smart route planning, and driving style. This reduces emissions and traffic congestion, which is a clear goal of the automotive industry.
Our solutions for autonomous driving
With Covestro's high-performance polycarbonate, a variety of electronics can be incorporated into seamless car bodies in passenger vehicle production that make autonomous driving possible – from cameras and antennas to sensors for LiDAR technology, for example. This involves harnessing laser signals to measure the distances between the automobile and objects in its environment.
Autonomous driving requires an increasing number of touchscreens and display surfaces in the car interior. Covestro offers industry suppliers specialty films made from polycarbonates for this purpose. They can, for example, serve as substrates for printed electronics. Or they can be used to create three-dimensional top surfaces to integrate displays into the other components in the cockpit.
Autonomous driving still demands a great deal of research, but Covestro's innovative materials already hold great promise for the industry. Innovative products allow for a new kind of mobility. Covestro has recognized this and continues to work on being a reliable partner to automotive manufacturers and their suppliers.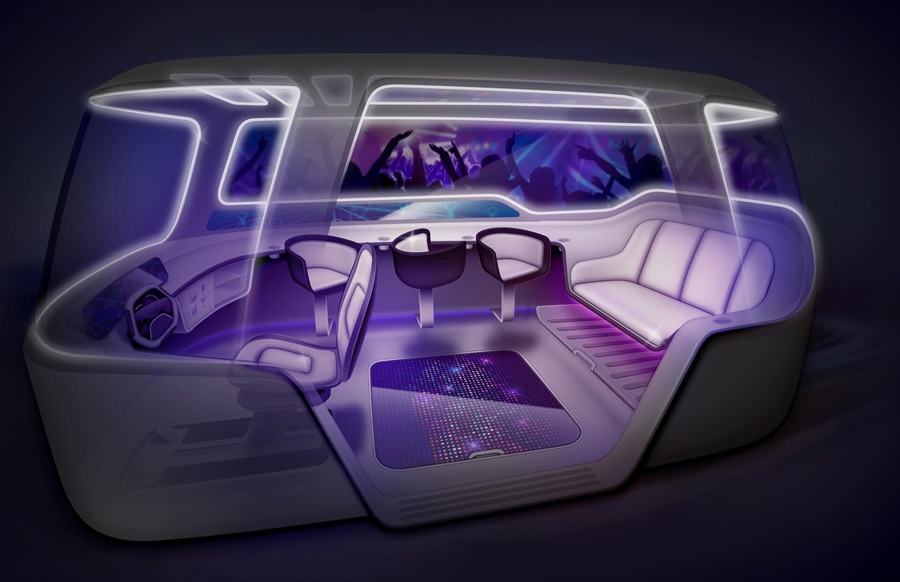 Individualized mobility
The vehicle of the future will particularly cater to people's individual needs
The world is becoming more diverse and fast-paced. In people's personal lives, too, the degree of flexibility often increases, as does the desire for autonomy. This also extends to mobility: people want to be less constrained in the way they travel and when. The answer for the industry is multimodality and mobility as a service, or the data-driven integration and on-demand provision of various modes of transportation. The desire for individuality is also reflected in vehicle designs: interiors are increasingly turning into connected, stylish living and working areas.
Our solutions for individualized mobility
Covestro sees the car of the future as a versatile mobile living and working space. At the K 2019 plastics trade show, we presented a groundbreaking interior concept that is now ready for series production in the automotive industry.
Translucent components made of high-performance plastic such as polycarbonate, for example, impart a truly unique flair. Depending on the preference, the interior can be bathed in different lighting with sophisticated effects, making driving a special and highly individualized experience.
At the same time, Covestro's innovative materials help equip the vehicle interior with features that make it a particularly flexible place. Together with a partner, for example, we have developed a roll-up sunroof shade for the headliner. The fabric is composed of a thin electronic layer and a film made of thermoplastic polyurethane. Unrolled, the film protects against the sun's rays, while the integrated circuits provide lighting and heating at night or in cold weather.