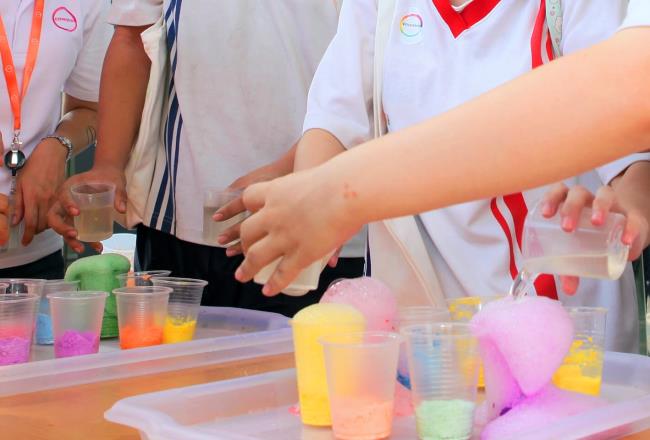 Magic Pharmacy Formulate potion with magical power
Rainbow Fountain
Wow! Lots of bubbles keep coming out of the cup like a fountain! Baking soda and white vinegar are common household cleaning helpers in our daily life. You can see the gorgeous rainbow fountain appear in front of you by combining both and adding vivid colors!
You will need:

Twelve clear plastic cups
Six poster paints
White vinegar
Baking soda
Measuring spoon ( one teaspoon)
Measuring cup (100 ml)
Tray or large iron biscuit box
A pair of goggles
Step-by-step instructions:

Put on your googles before doing experiment.
Add one teaspoon of baking soda and 50 ml of water to each of the six plastic cups. Next, add the six different poster paints to the cups (one paint per cup) and stir everything well.
Arrange the cups in the order of blue, green, yellow, orange, pink and purple colors.
Place the plastic cups on a tray.
Use another six plastic cups and fill each of them with 30 ml of white vinegar.
Pour the white vinegar into the cups filled with the colorful baking soda.
You will see the colorful baking soda coming out of the cup like a natural fountain! Pour another 30 ml of vinegar into each baking soda cup. You will see the fountain continuously gushing out (at a slightly lesser rate than the first time).
How it works:
By blending acid (such as acetic acid) with baking soda, a chemical reaction will occur and produce carbon dioxide, causing liquid in the cup to generate bubbles that keep gushing out from the cup just like a fountain.