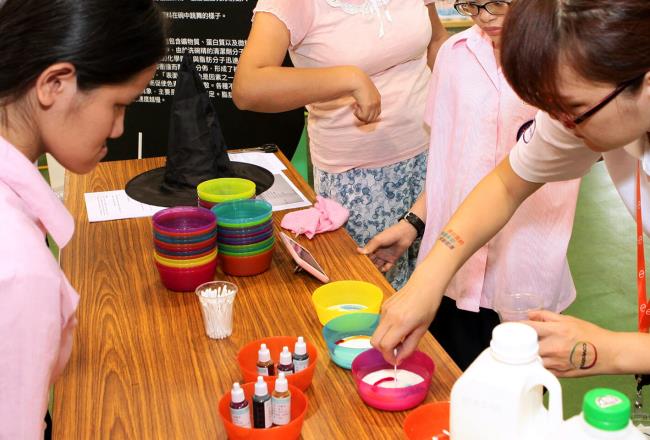 Deformation Hide and seek
Colorful dancing milk
Wow! Add a drop of magical liquid and some colorful paints to milk and you'll see the milk become colorful and begin turning over on the plate, just like the dancing water!
We will need:
Poster paints
Whole milk, low-fat milk, low-fat yogurt drink, yogurt
Dish washing liquid
Plate
Cotton swabs
Step-by-step instructions:
Pour the whole milk into a plate until it reaches about 1cm in height.
Drop each poster paint in various spots near the center of the plate (ensure they don't overlap with each other)
Dip the cotton swab into the dish washing liquid.
Place the cotton swab with the dish washing liquid into the plate. You will see various colors turning over as though they are dancing in the milk!
Try to twist the cotton swab and you will discover the ever-changing colors in the milk to be like a charming and amazing kaleidoscope.
How it works:
Milk not only has a large amount of water but also minerals, proteins, and small particles of fats. When the dish washing liquid is added to the milk, the detergent molecules of the dish washing liquid form weak chemical bonds with the proteins of the milk and are quickly mixed with the fat molecules. This causes the molecules of the food colors to collide and distribute in a disorderly fashion, creating a stirred color-changing effect.
Surface tension is another factor that contributes to the effect; the dish washing liquid reduces the surface tension and causes the colors to move in all directions. Different drinks show different phenomena mainly depending on the amount of fats and sugar they contain. Since low-fat yogurt drink and yogurt have a higher content of fats, their chemical reactions are slower than that of milk.
Something extra:
Prepare three new plates and pour low-fat milk, low-fat yogurt drink, and yogurt into separate plates (until they reach about 1 cm in height).
Repeat Steps 2~5 to observe how colorful paints dance on the plate.