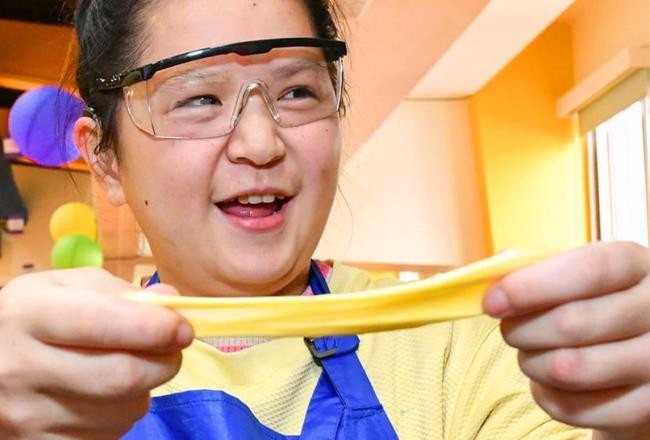 Care of Magical Creatures Create your own pet
Magic Slime Experiment with borax
Mix glue, borax and colorful pigments together and you can create an extendable and easily shapeable jelly-like magical slug!
You will need:

500cc beaker
Alkali-resistant color solution
A transparent plastic cup
A big bowl
A stirring rod
A plastic measuring spoon (1/4 teaspoon)
A dropper and a thin stirring rod.
Glue
Borax
Step-by-step instructions:

Pour 300ml warm water into the beaker.
Add one tablespoon of borax into the beaker and stir well.
Pour 50cc of clear glue into the bowl.
Pour the borax water into the bowl and stir it.
Add two drops of food coloring into the bowl.
Add 150ml warm water into the bowl.
Use your hands to stir the food coloring into the bowl and wait for 10 sec.
The slime will start to form during hand-stirring.
When the mixture is not so sticky the slime is almost done.
Squeeze the water out from the slime.
Now you can form the slime in any shape you want!
How it works:
The main component of the glue is a type of polymer molecule called "polyvinyl alcohol" (PVA). PVA interacts with borax which enables the cross-linking reaction to occur, hardening the structure between the PVA molecules and making it not easily movable. This is how the magical slug is formed. The more you add water, the more easily the glue can slide around, which makes it looks just like nasal mucus. The more you add borax, the stronger the reaction between the glue and borax, and the greater the amount of flexible polymers formed.