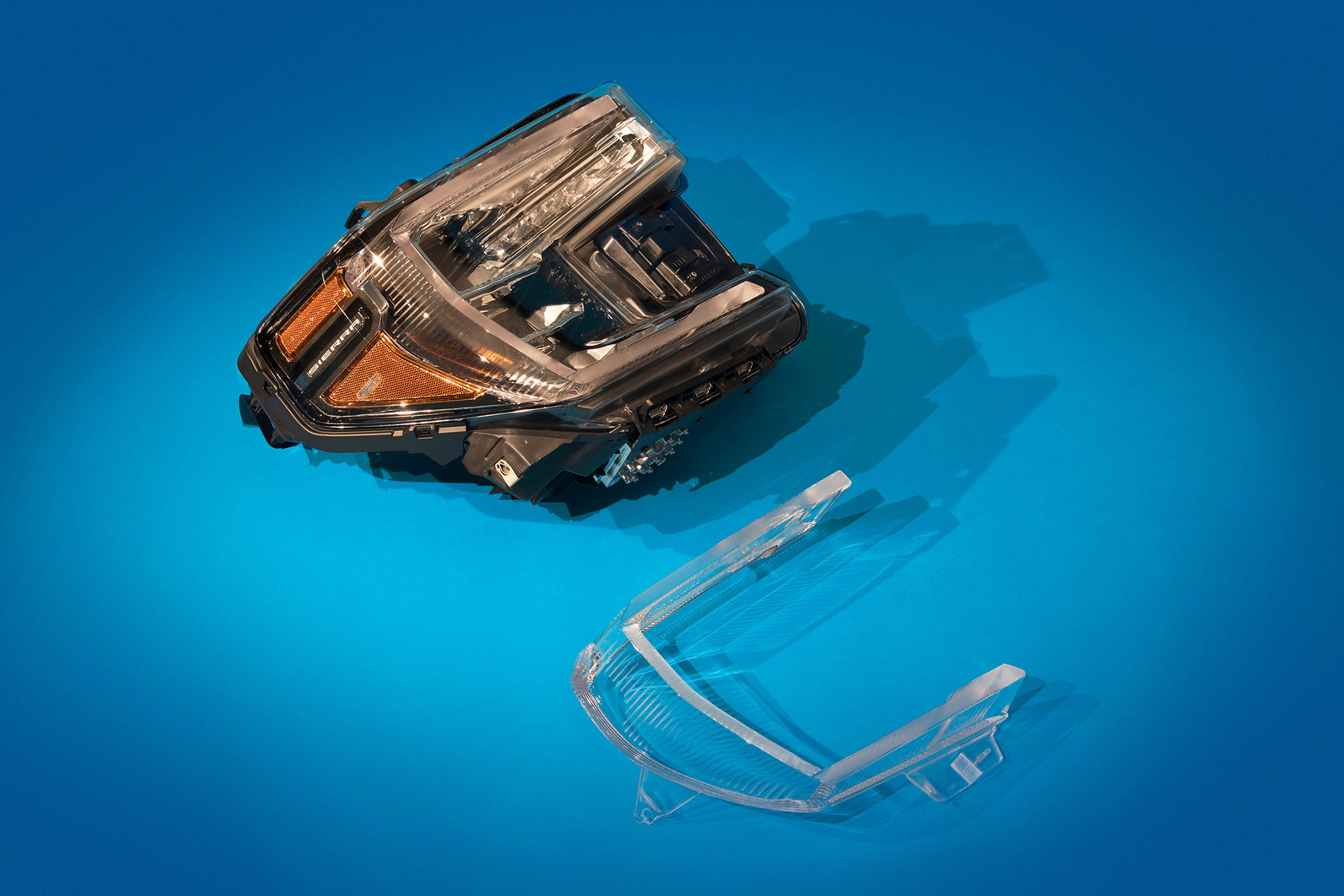 Pittsburgh, June 11, 2019 — Plastics are the building blocks of applications across many industries, from automotive and lighting to healthcare and beyond. At ANTEC® 2019, the world's leading plastics technical conference, these materials and the innovative products they help create were recognized during the 6th Annual SPE Plastics for Life™ Global Parts Competition.
This year, a thick polycarbonate light bar for a headlamp used in General Motors Company's 2019 Sierra 1500 LD Truck drove away with the Grand Prize. The light bar, developed by Valeo Lighting Systems, utilizes high-transparency Makrolon® LED2245 polycarbonate from Covestro to achieve a unique sculptured ice appearance. This application was previously recognized at the 2018 SPE Automotive Division Innovation Awards Gala as a finalist in the Materials category.
The truck's headlamp features a larger and brighter daytime running lamp for improved visibility in dusk and inclement weather. Its advanced light bar design incorporates nonstandard multi-shot thick molding, tooling and processing for unique styling and function. For example, the light bar was developed using a proprietary molding process for a low-stress part with high clarity and minimal shrink and warpage. With the light bar's large, complex shape, the tooling needed a modified surface and special ejection design to properly eject the thick light bar.
To meet the required color and optical clarity, Makrolon® LED2245 polycarbonate was manufactured using a different process than standard polycarbonate. As a result, this grade offers very high optical clarity in extremely thick cross-sections and provides crystal color development to reduce the yellowness that often occurs in traditional, unlit thick polycarbonate parts.
"Automotive lighting plays a dual role, contributing to a vehicle's safety and its distinctive styling," said Michael George, polycarbonates market manager, lighting, Covestro. "This award-winning light bar illustrates how using Covestro materials can create new opportunities to enhance both of these important aspects."
About Covestro LLC:
Covestro LLC is one of the leading producers of high-performance polymers in North America and is part of the global Covestro business, which is among the world's largest polymer companies with 2018 sales of EUR 14.6 billion. Business activities are focused on the manufacture of high-tech polymer materials and the development of innovative solutions for products used in many areas of daily life. The main segments served are the automotive, construction, wood processing and furniture, electrical and electronics, and healthcare industries. Other sectors include sports and leisure, cosmetics and the chemical industry itself. Covestro has 30 production sites worldwide and employed approximately 16,800 people at the end of 2018.
Find more information at www.covestro.us or www.plastics.covestro.com.
Covestro Contact:
Lauren West, Phone: +1 412 413 4141
Lauren.West@covestro.com
Makrolon® is a registered trademark of Covestro Group.
# # #
This news release may contain forward-looking statements based on current assumptions and forecasts made by Covestro AG. Various known and unknown risks, uncertainties and other factors could lead to material differences between the actual future results, financial situation, development or performance of the company and the estimates given here. These factors include those discussed in Covestro's public reports which are available at www.covestro.com. The company assumes no liability whatsoever to update these forward-looking statements or to conform them to future events or developments.
Editor's Note: Follow news from Covestro on Twitter:
www.twitter.com/CovestroUS