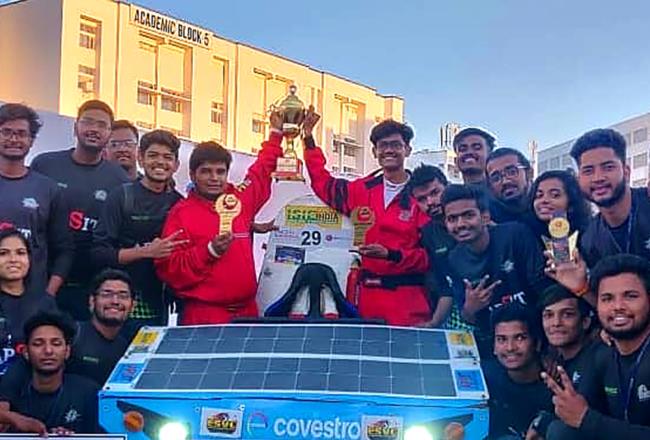 Pushing Boundaries by encouraging young minds for sustainable innovation
Solar Car by APSIT
Covestro India supported the initiative to encourage young minds towards sustainable innovations. Recently, a team of 35 students, including 3 female students from APSIT Modified Auto Club came together to develop a Solar Powered Electric Vehicle. Through such initiatives, we want to make India, a hub for innovative ideas, learning and growing place for young engineers and set an epitome of "innovation" across the world. Moreover, this is a small attempt to build a community and inspire STEM innovations.
Covestro supported this initiative with our solutions. The outer body of the car is made from raw material polycarbonate from Covestro which provides the stability and strength and weighs less than half weight if the car was made of aluminum. This ensures that the car is lightweight and enhances the performance of the car in terms of pick up speed and mileage. The car also features PIR (polyisocyanurate – high performance foam) which is innovated by Covestro and has an excellent fire resistant property. This insulating material provides optimum safety to the driver, protecting it from the heat generated by the battery and its components. The materials prevent spread of fire in case of any mishap.
Covestro India is committed to design such innovative, sustainable solutions that will make this world a brighter place. Sponsoring the team for fabricating this eco-friendly car reflects our philosophy of Sustainability. The team participated the Electric Solar Vehicle Championship 2019 and bagged 3 recognitions as below:
Runner Up in Adventure class overall performance
Winner - Endurance Test
Winner – Cross Pad
The team will further participate in the Indo-Asian Solar challenge.