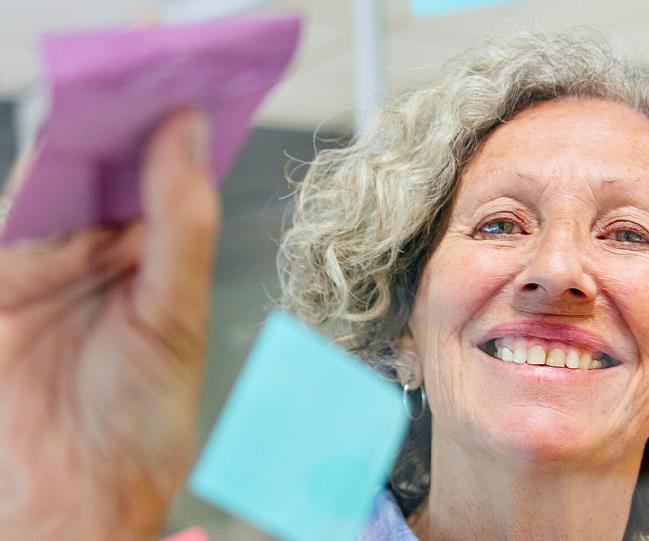 What's important to us – The values and benefits of Covestro U.S.

Innovation is everyone and everywhere

Innovation thrives with fresh ideas and differing viewpoints. At Covestro, this is our guiding principle in everything we do. We must ensure all employees are heard and feel safe to be their authentic selves in a workplace that is open, engaging, supportive, fair and respectful.
The foundation of innovation and growth
We value differences, and we're dedicated to an inclusive work environment where everyone is treated with dignity and respect. We're convinced that the power of a diverse and inclusive workforce drives innovation, sustainability and employee engagement, improves decision making and contributes to Covestro's success.
The unique knowledge, ideas, cultures and experiences of our employees make Covestro – and the world – a brighter place. Our success individually and as a company relies on finding, developing and celebrating these differences. Through our recruitment efforts, we actively seek people who might look, act and think differently but share common values. We strive to listen to the loud and soft voices equally and support those with similar goals, interests and cultures.
We're building our culture on a foundation of leadership, policies and actions. Our policy on discrimination, harassment and retaliation, for example, encompasses zero tolerance for inappropriate or unprofessional work behavior.
We encourage our employees to build relationships across business units, functional areas and job levels. We expect our leaders to have open doors and open minds and also provide opportunities for employees to share, connect and appreciate our differences.
Covestro and its employees are passionate about giving back to the communities where we live and work. To that end, Covestro offers 16 hours of paid time for employees to volunteer and engage in community service. We also partner with United Way to strength our communities. Through our U.S. corporate social responsibility program – i3 (ignite, imagine, innovate) – we support organizations and initiatives that share our purpose to make the world a brighter place. This includes bringing hands-on science learning to the next generation by volunteering in classrooms and participating in events to ignite young minds to become innovators of tomorrow.
2020 Diversity, Equity & Inclusion Annual Report
US DEI Annual Report
Diversity is our strength. Equity is our focus. Inclusion is our commitment. Innovation inspired by sustainability is our direction. Essential to our success in creating a DEI culture is combining the strategy's primary focus areas of colleagues, company and community with actionable leadership at every level and location. Explore employee stories, learnings and initiatives in our 2020 US DEI Annual Report
Bright initiatives
Different ways of thinking, perspectives and ideas - this diversity is what drives us at Covestro. It enables us to create innovative, inspiring solutions. Our initiatives with focus on equity, inclusion and sustainability aim to support a colorful and versatile working environment.
We are committed to being an employer of choice for U.S. military veterans. At Covestro, you can build upon the experience and skills that you gained in the military and create a meaningful career with us. Covestro established CHAMP (Covestro Helping Armed Forces Military Personnel) as a resource for employees who are veterans with an aim to raise awareness and understanding of those who served, to provide community and to connect.
"I loved my time in the Navy. I sought every opportunity to learn as much as I could and move to the next challenge. As I work in my current role, I continuously seek to learn more about procedures, processes, and warehouse practices."

---
Kristi, Warehousing Operations
Our ERGs function as subcommittees of the North American Diversity, Equity & Inclusion Council, and they're the heart of our DEI efforts. They support the growth and development of specific employee groups within Covestro through education, partnerships and support.
Recognition through benefits
Being treated fairly and transparently is the feeling we want our employees to have. At Covestro, this means financial security, a healthy work-life balance and appealing social benefits.
Covestro Proud
We're especially proud of the seal for Best Places to work for Disability Inclusion that we've received, because we believe in the value of increasing access to opportunity and remain committed to hiring people with disabilities.

It's the people that count
It is important to us to continue to develop innovative processes and solutions with top talent and experts - collaboratively and sustainably. Do you see yourself working in such an environment? Then we look forward to getting to know you.