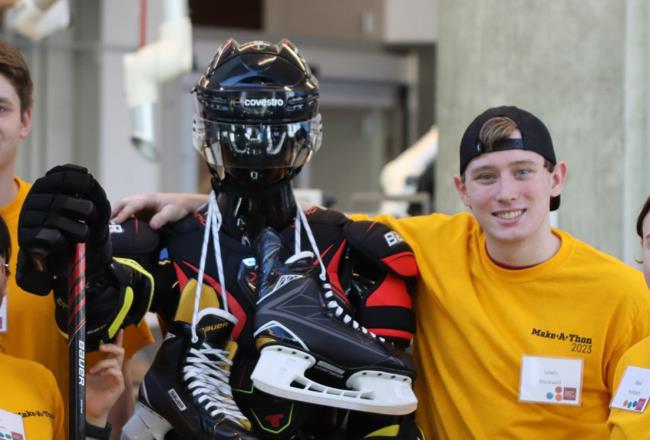 INNOVATION
Rethink the Rink
Taking a shot at hockey safety in the 2023 Make-A-Thon
Season six of the annual Make-a-Thon focused on "shot blockers" that protect players' lower extremities from high-speed puck impact
Imagine using your feet, ankles or shins to prevent a 90 mph hockey puck from scoring against your team. While this is a common and effective way to for hockey players to block shots, it often results in injury as the puck strikes players' unprotected lower extremities.
This problem is exactly what the 2023 Rethink The Rink Make-a-Thon – an annual event hosted by Covestro with help from the Pittsburgh Penguins, Carnegie Mellon University (CMU) and Bauer Hockey – aimed to solve.
Carnegie Mellon students – separated into four teams – spent five days brainstorming and ideating around this hockey safety challenge and ultimately brought to life four unique prototypes that could help protect hockey players' feet and ankles with ultra-light, effective, comfortable and stylish solutions.
What's next for Rethink the Rink?
Our world-class partnership is still going strong in its sixth year on the ice. This concept — which began as a "what if," six years ago, has yielded at least one marketable product and potential revenue stream: an innovative dashboard design to be produced by Athletica Sport Systems.
This year, the research and development team at Bauer Hockey – a leading hockey equipment producer – is combing through the innovative shot blocker ideas to determine if any have the potential to be commercialized.
Stay in the know! For updates on our hockey safety journey, follow the #RethinkTheRink hashtag on Twitter!