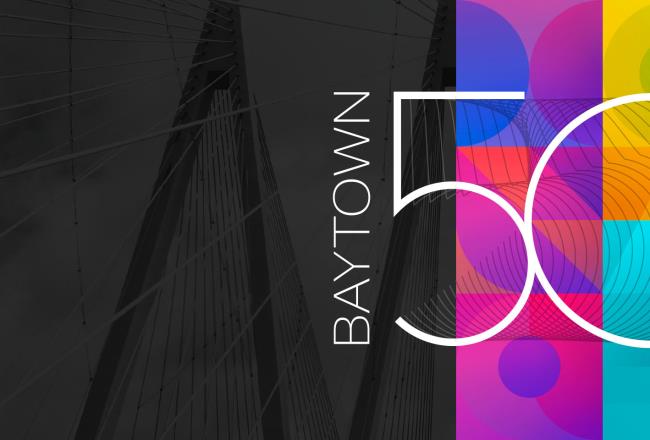 Baytown Turns 50
Celebrating 50 years in Baytown, Texas!
Covestro first made its home in Baytown, Texas, in 1971. Since then, the site has grown become our largest manufacturing facility in North America.
Cheers to 50 years!
Covestro is marking its golden anniversary of 50 years in Baytown, Texas – the community it has called home since it first established operations there in 1971. Since settling in Baytown 50 years ago, Covestro's manufacturing operations have continued to grow and evolve, making it the company's largest manufacturing site in North America – and the third largest globally.
Home to more than 1,000 employees, Covestro Baytown is a leading employer in the community, with a strong commitment to safety, innovation and sustainability. On site, the company produces key raw materials for innovative products across diverse industries – from automotive and construction to furniture and electronics.
Baytown through the decades
From acquiring the 1,700-acre site in 1970, to quality improvement projects throughout the 1980s, to expanding throughout the 1990s, to officially becoming "Covestro" in 2015, the Baytown site has grown and evolved over the years. Take a walk down memory lane and explore Covestro Baytown through the decades:
Covestro cares
With a rich history of giving back to the community, Covestro Baytown employees are passionate about the place where they live and work. Employees are known throughout the area for corporate giving, volunteerism and STEM education outreach.
Keep up with Covestro Baytown
Did you know that Covestro Baytown has its own Twitter account? For all things Baytown, follow @CovestroBaytown on Twitter.