September 8, 2022
Covestro Joins Forces with Riverlife to Host Clean-Up Day for Employees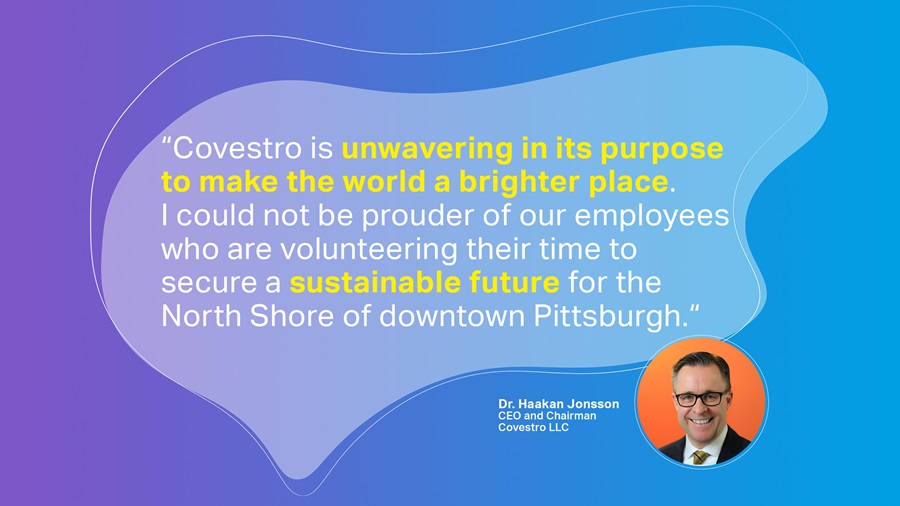 Volunteer Event Underscores Company-Wide Commitment to Sustainability and Support of World Cleanup Day
Pittsburgh, PA - September 8, 2022 - Covestro, a world-leading manufacturer of high-quality polymer materials and their components, today announced its partnership with Riverlife, a nonprofit advancing economic development across Pittsburgh's three rivers, to host a clean-up day for area employees. This volunteer event on Friday, September 9, from 10 a.m. to 1 p.m. ET will provide employees with an opportunity to beautify the North Shore of downtown Pittsburgh as part of Covestro's support of World Cleanup Day later this month.
The event will commence on 12 Federal Street with Covestro Chairman and President, Dr. Haakan Jonsson, who will welcome employees and briefly reflect upon the company's ongoing sustainability efforts. After that, Covestro employees will work in teams to mulch and beautify an overgrown garden, pick up litter and clean up graffiti along the Pittsburgh riverfront. Two partner organizations, the Western Pennsylvania Conservancy will provide materials, and Friends of the Riverfront, will co-lead stewardship efforts and provide all materials and tools for volunteers and also offer support.
Covestro approaches sustainability as a key driver of its mission to promote innovation and growth with profitable products and technologies that benefit society and reduce the impact on the environment. The company is committed to embedding sustainability within all facets of its operations and production processes, including but not limited to safety, supplier management and social responsibility.
"Covestro is unwavering in its purpose to make the world a brighter place," said Dr. Haakan Jonsson. "I could not be prouder of our employees who are volunteering their time with Riverlife to secure a sustainable future for the North Shore of downtown Pittsburgh. This event is another proof point in realizing our mission and purpose as a company, not only for World Cleanup Day, but all the year through."
Enacted in 1999, Riverlife is a Pittsburgh-based nonprofit organization fusing regenerative design with ecological sustainability to redevelop the area's downtown riverfronts.
"We're committed to creating a world-class Pittsburgh riverfront experience that everyone can enjoy," said Riverlife President and CEO Matthew Galluzzo. "We're grateful to Covestro for its active employee engagement around this cause, and we look forward to partnering with the company to celebrate World Cleanup Day."
To learn more about Covestro's sustainability commitments, please visit: https://covestro.com/en/sustainability.
About Covestro LLC:
Covestro LLC is part of the global Covestro business, which is among the world's leading manufacturers of high-quality polymer materials and their components. With its innovative products, processes and methods, the company helps enhance sustainability and the quality of life in many areas. Covestro supplies customers around the world in key industries such as mobility, building and living, as well as the electrical and electronics sector. In addition, polymers from Covestro are also used in sectors such as sports and leisure, cosmetics and health, as well as in the chemical industry itself.
The company is committed to becoming fully circular and aims to become climate neutral by 2035 (scope 1 and 2). Covestro generated sales of around EUR 15.9 billion in fiscal 2021. At the end of 2021, the company had 50 production sites worldwide and employed approximately 17,900 people (calculated as full-time equivalents).
Find more information at www.covestro.us
About Riverlife:
Since 1999, Riverlife has worked to create, activate, and celebrate Pittsburgh's riverfronts. A nonprofit leader in building a community vision for Pittsburgh's riverfronts, Riverlife has overseen a $132 million investment in the city's waterfront transformation, catalyzing $4.2 billion in related economic development, arts and culture spending, and ecological sustainability on or adjacent to the city's riverbanks. We center our work on the belief that the riverfronts belong to everyone, and world-class riverfront experiences can be created for all using community-driven, equitable development and high-quality, regenerative design.
Find more information at www.riverlifepgh.org
Editor's Note: Follow news from Covestro on Twitter: https://twitter.com/CovestroUS
Covestro Contact:
Bob Walker
Bob.Walker@covestro.com
Tel.: +1 412 916 0524
# # #
Forward-Looking Statements
This news release may contain forward-looking statements based on current assumptions and forecasts made by Covestro AG. Various known and unknown risks, uncertainties and other factors could lead to material differences between the actual future results, financial situation, development or performance of the company and the estimates given here. These factors include those discussed in Covestro's public reports which are available at www.covestro.com. The company assumes no liability whatsoever to update these forward-looking statements or to conform them to future events or developments.