April 7, 2022
Covestro Works With SmartGuard Rx Inc. To Provide Relief for Snoring
Makrolon® 2858 Polycarbonate Provides The Strength Needed To Deliver Restful Sleep For Those Who Involuntarily Snore At Night.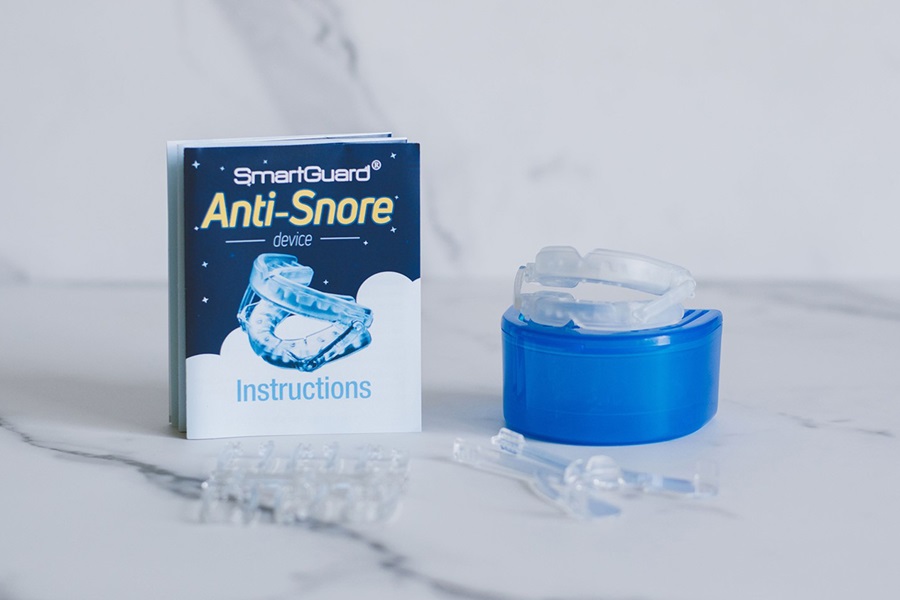 Covestro, a leading polymer company, today announced its work with SmartGuard Rx Inc., an innovative consumer dental company. For the latest formulation of its SmartGuard® Anti-Snore product, designed to alleviate snoring, SmartGuard® chose Covestro's Makrolon® 2858 polycarbonate resin for its combination of strength and biocompatibility.
Covestro has more than 50 years of experience manufacturing polycarbonate for the medical devices industry. This product demonstrates the company's leadership and breadth of portfolio in this market. Covestro's range of biocompatible, medical grade products are used across a wide range of applications from IV access components to surgical instruments to drug delivery solutions.
SmartGuard Rx Inc. was co-founded by dentist Dr. David Spainhower and Brian Larsen in 2010 to market their patented mouthguard that reduces nighttime teeth grinding. They recently developed an Anti-Snore Device and needed a material that was strong enough to withstand the massive pressures teeth-grinding can produce (as much as 10 times the force of chewing) without failing. Makrolon® 2858 fit the bill in every category.
"From an early age I suffered from the effects of clenching and grinding, including TMJ pain," said Dr. Spainhower. "The experience motivated me to design a night guard, as well as an Anti-Snore Device, that is not only highly effective for a wide range of patients, but also affordable to anyone seeking relief. Covestro had both the care and expertise to work with me to find the polycarbonate blend to meet all my unique and exacting needs."
"Our materials are enhancing the quality of life for so many who suffer from involuntary teeth-grinding, and snoring." said Mark Nichols, Healthcare Key Account Manager, Covestro LLC. "There is truly nothing more rewarding than seeing our materials positively impact people's lives. With Covestro's Makrolon® 2858 polycarbonate, we were able to create a strong material to meet the demand of the SmartGuard® design."
To learn more about how your company can use Covestro's material expertise to enhance your medical device manufacturing, visit our Solution Center.
About Covestro LLC:
Covestro LLC is part of the global Covestro business, which is among the world's leading manufacturers of high-quality polymer materials and their components. With its innovative products, processes and methods, the company helps enhance sustainability and the quality of life in many areas. Covestro supplies customers around the world in key industries such as mobility, building and living, as well as the electrical and electronics sector. In addition, polymers from Covestro are also used in sectors such as sports and leisure, cosmetics and health, as well as in the chemical industry itself.
The company is committed to becoming fully circular and aims to become climate neutral by 2035 (scope 1 and 2). Covestro generated sales of around EUR 15.9 billion in fiscal 2021. At the end of 2021, the company had 50 production sites worldwide and employed approximately 17,900 people (calculated as full-time equivalents).
Find more information at www.covestro.us
Editor's Note: Follow news from Covestro on Twitter: https://twitter.com/CovestroUS
Covestro Contact:
Russell Glorioso, Covestro LLC
russell.glorioso@covestro.com
Tel.: +1 412-525-9330
# # #
Forward-Looking Statements
This news release may contain forward-looking statements based on current assumptions and forecasts made by Covestro AG. Various known and unknown risks, uncertainties and other factors could lead to material differences between the actual future results, financial situation, development or performance of the company and the estimates given here. These factors include those discussed in Covestro's public reports which are available at www.covestro.com. The company assumes no liability whatsoever to update these forward-looking statements or to conform them to future events or developments.
Makrolon® is a registered trademark of Covestro Group. SmartGuard® is a registered trademark of Smartguard Rx, Inc.