April 5, 2022
Covestro debuts innovative and sustainable drug delivery device
Materials from Covestro's line of medical-grade polycarbonates come together to push the industry forward.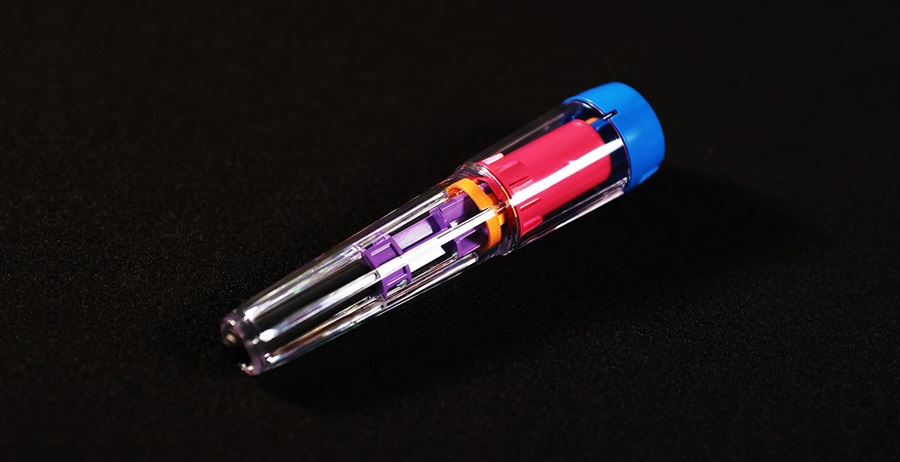 Covestro, a leading polymer company, is pleased to introduce a new proof-of-concept drug delivery device, manufactured from its portfolio of medical-grade polycarbonate resins. The device uses discrete polycarbonates in each piece, simplifying sorting and recycling after disposal of bio-contaminated pieces. The device demonstrates how various polycarbonates and blends may be used including: Covestro's Medical low friction Makrolon® polycarbonate, Medical glass-filled Makrolon® polycarbonate, high flow Medical Makrolon® polycarbonate, and Medical Bayblend® PC+ABS. Each plays a specific and significant role in creating a high-functioning and sustainable solution that can reduce medical waste and enhance patient comfort. For an emphasis on sustainability, our recently announced low carbon footprint Makrolon® RE polycarbonate for healthcare can also be used.
Covestro has more than 50 years of experience manufacturing polycarbonate for the medical device industry. This new demonstration device shows the breadth of the company's healthcare-grade portfolio. Covestro's range of biocompatible, medical grade products are already used across a wide range of applications from IV access to surgical instruments to drug delivery solutions.
When tasked with aiming to improve sustainability in the medical world, Covestro relied on the specialized qualities of products from several different parts of its medical-grade polycarbonate portfolio. Medical low friction Makrolon® polycarbonate improves consistency by allowing for smooth action inside the device, meaning parts last longer and doses are easier to administer with less force. Medical glass-filled Makrolon® polycarbonate offers superior rigidity and dimensional stability under spring load. High flow Makrolon® polycarbonate and Bayblend® PC+ABS allow for thin-walled designs that reduce overall device weight and plastics use while maintaining strength and shape (available in transparent, opaque, and colored versions). Finally, every part is custom molded to work together without fasteners, meaning disassembly, sorting, and recycling are simplifid.
"The healthcare industry is always looking for sustainable solutions and to reduce medical waste," said Lauren Zetts, Americas marketing manager, Healthcare – Polycarbonates, Covestro LLC. "This unit has concepts that innovate on multiple fronts, and we hope it inspires counterparts in the medical device manufacturing community to take the innovation even further."
To learn more about how your company can use Covestro's materials expertise to enhance your medical devices, please visit our Solution Center.
About Covestro LLC:
Covestro LLC is part of the global Covestro business, which is among the world's leading manufacturers of high-quality polymer materials and their components. With its innovative products, processes and methods, the company helps enhance sustainability and the quality of life in many areas. Covestro supplies customers around the world in key industries such as mobility, building and living, as well as the electrical and electronics sector. In addition, polymers from Covestro are also used in sectors such as sports and leisure, cosmetics and health, as well as in the chemical industry itself.
The company is committed to becoming fully circular and aims to become climate neutral by 2035 (scope 1 and 2). Covestro generated sales of around EUR 15.9 billion in fiscal 2021. At the end of 2021, the company had 50 production sites worldwide and employed approximately 17,900 people (calculated as full-time equivalents).
Find more information at www.covestro.us
Editor's Note: Follow news from Covestro on Twitter: https://twitter.com/CovestroUS
Covestro Contact:
Russell Glorioso
russell.glorioso@covestro.com
Tel.: +1 412-525-9330
# # #
Forward-Looking Statements
This news release may contain forward-looking statements based on current assumptions and forecasts made by Covestro AG. Various known and unknown risks, uncertainties and other factors could lead to material differences between the actual future results, financial situation, development or performance of the company and the estimates given here. These factors include those discussed in Covestro's public reports which are available at www.covestro.com. The company assumes no liability whatsoever to update these forward-looking statements or to conform them to future events or developments.
Makrolon® and Bayblend® are registered trademarks of Covestro Group.