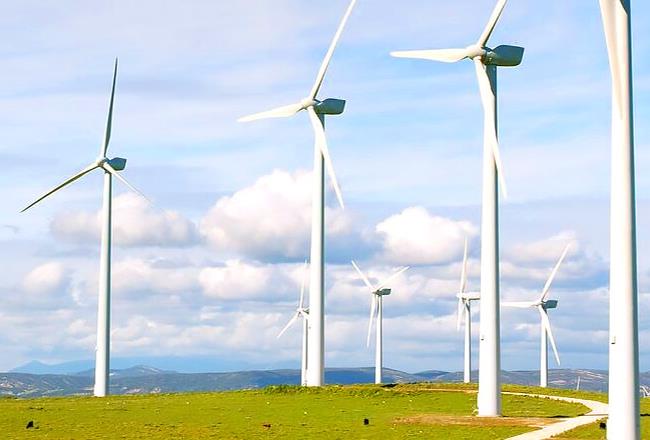 Leading manufacturer of high-tech polymers
Products for key industries
Covestro Italy is part of the global Covestro business, a leading producer of polymers and high-performance plastics.
Our products range from raw materials for polyurethanes to high-performance polycarbonates and precursors for paints, coatings, adhesives and sealants.
By imagining future opportunities and challenges, and then developing the materials, systems and technologies needed to prepare for them, Covestro has earned a solid reputation for leadership and innovation in the world of advanced materials. We're a trusted source for information, ideas and, of course, high-quality materials in the automotive, electrical and electronics, construction, medical, and sports and leisure industries.
Redesigning the company in the name of sustainability
In July 2021, Covestro restructured its production organization. Thus, the first milestone of the "Sustainable Future" strategy presented in February 2021 was reached, which has as its main mission, of becoming a sustainable company by implementing the principles of the circular economy.
For companies, sustainability is not a fad or a passing trend but a development direction necessary to respond to an increasingly stringent regulatory framework and to an increasingly attentive consumer. Being "green" must go beyond the vocation of the individual company or the good will of the entrepreneur. Since climate change, with its increasingly devastating impact and the excessive consumption of resources, impose a turnaround with absolute urgency, it is also the task of the institutions to push for a development of the circular economy globally. Market competition itself is rewarding companies that implement environmentally friendly strategies and products.
However, sustainability must also become economic sustainability. It is about putting in place a long process of change that revolutionizes the business model and redesigns production and business processes.
A path that changes the rules of the game in the creation of income as well as in the distribution of value and well-being shared among all stakeholders.
Reorganization
Real sustainability is able to make companies evolve and outlines their strategies and missions. For this Covestro has remodeled the three previous areas of action: polyurethanes (PUR), polycarbonates (PCS) and the section that brought together coatings with adhesives and specialties (CAS) and created seven new commercial units. Products and services are no longer grouped by chemical materials but by segments that meet the different needs of markets and customers. The new business units are divided into two macro-areas which identify solutions and specialties on the one hand and high-tech, high-performance materials on the other. To support commercial and development policies, the integration of cross-cutting macroprocesses has been established at every point of the value chain, which will ensure a long-lasting vision and growth in the future. Innovation, product engineering, technological process must be combined with digitalization and big data, acquisition strategies and human resources. But it is the centrality of sustainability and the complete circularity of products and processes that inspires the entire corporate renewal. A need for a paradigm shift that aims to use business as a positive force for change and create long-term value.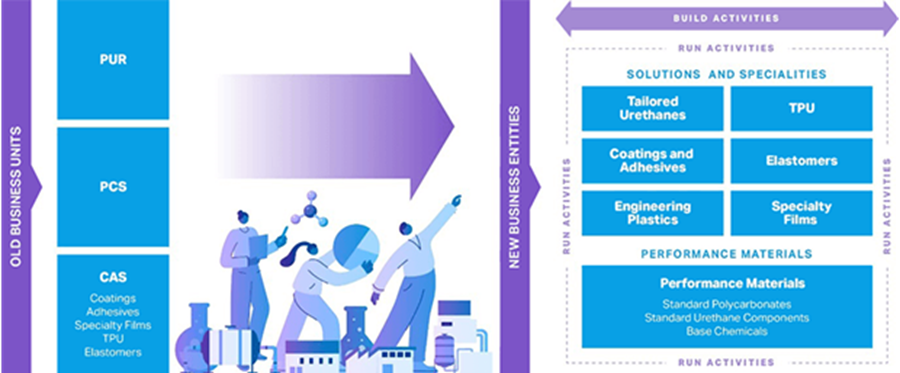 Performing Materials
It was decided to group in a specific commercial unit the polymers that have a proven history and that represent a standard quality at competitive market prices. These are polycarbonates, urethane components and basic chemicals that are still in high demand on the market. The peculiarity of this section is to respond to classic needs with reliable, tested and high-quality products.
Solutions and Specialties
The focus of this area is centered on complex products that have a high rate of innovation.
The Solutions and Specialties area includes the six commercial units:
customized urethanes
thermoplastic polyurethanes
coatings and adhesives
elastomers
technopolymers
special films.
This section maintains all the peculiarities of application technology carried out in partnership with client companies for customization and highly innovative solutions that respond to new market needs.

Corporate sustainability: a necessary strategy
Pursuing sustainability and full circularity requires a deep review of business models. Every company that intends to apply the principles of corporate social responsibility must also look at the economic sustainability of the project which guarantees its existence and development over time. It is the principle theorized by John Elkington with his three P's: Profit, Planet, People.
The new approach goes beyond the mere concept of "profit" because profit (Profit) is not the realization of short-term income but looks to the search for a more shared well-being that sets in motion a review of products and processes and creates a production optimization. We look at the reduction of business impacts on the entire life of the product, from creation to recycling / reuse, according to the principles of the circular economy (Planet). Finally, the improvement of the company's performance, not only economic, leads to the achievement of a shared well-being among all the stakeholders (People).
Embracing sustainability is therefore a complex path. It is not enough to flick a switch, or do a mere image operation, the famous greenwashing. It is a process that requires investments, the stake of consolidated paths and time. For many years, companies have lived in a context of great competition and sudden market changes that have often led them to think almost exclusively of today. It is time to think in terms of the future. Sustainability is the key factor. Because it is clear that it will become an essential element to continue being on the market, a fundamental aspect for the competitiveness of a company. Sustainability becomes a component on which to build a path of development and improvement: those who have played in advance will have greater chances.
The reorganization of Covestro is therefore a highly strategic step to consolidate and develop the presence on the market and strengthen market leadership.
Covestro joins the UN sustainability objectives
Covestro signed the EU pact for Green Recovery
For the principles of the circular economy see here.
WE WILL BE #FullyCircular – Sustainability at the heart of Covestro's activities.
What Covestro thinks
"How can we combine innovation and sustainability?". This is the most important question that defines the approach and goals of Covestro now and in the future.
"Our company has always prospered, both ethically and economically, due to our constant strive to reduce the impact of our activities on the natural environment. The key concept here is innovation, in technology and all aspects of different business activities. By constantly pushing the boundaries of what we can achieve, we will be able to reconcile growth and sustainability. We have identified five stages that will enable us to achieve this ambitious goal. Let's consider first of all the market growth in the next five years.
In the first three years we optimise the impact of the existing assets on a global scale and work to maximise the efficiency of the plants, even if it entails some restructuring procedures, in order to align the benchmark costs in the top-range chemical sector. We consolidate the Research & Development sector so that we can build up and maintain a competitive and profitable market position over time. All this, incorporating sustainability as a common thread and an indispensable element of every process and strategy.
Why though…? Because Covestro has always favoured sustainability as an ethical and cultural point of reference in business, adopting an approach based on the reconciliation of the People Planet Profit. This approach must relate to every business initiative, from the product life cycle to the high standards of collaboration with our partners".
Sustainability is central to our business.
Covestro is committed to reducing the environmental impact of our products and operations - as well as the impact of downstream customers - through life-cycle analysis, innovation, outreach and excellence in corporate management. Economy, ecology and social responsibility are corporate policy objectives of equal rank.