April 29, 2022
Covestro employees receive national 'Women in Manufacturing' leadership award
Emily Connor and Madison Miller honored by The Manufacturing Institute for industry leadership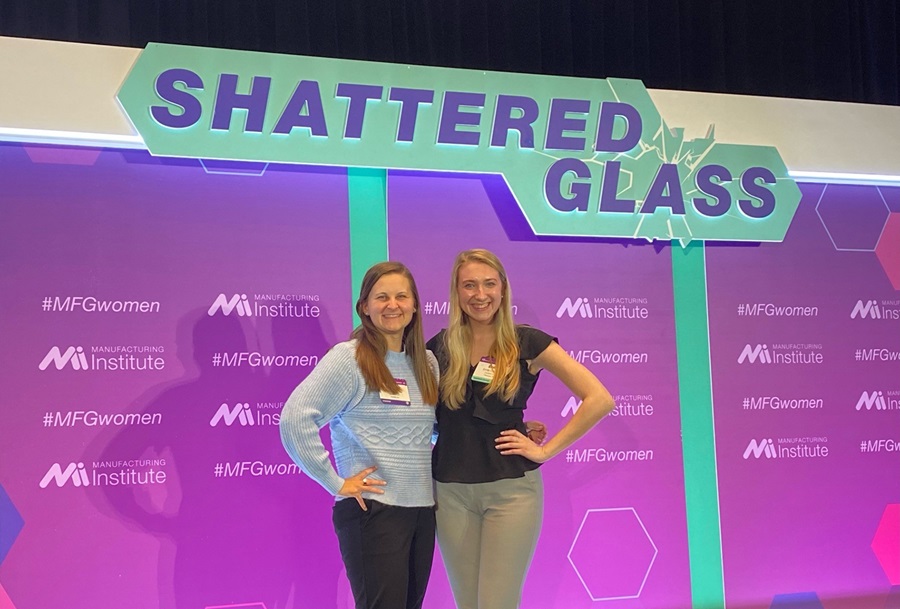 In recognition of their leadership and contributions to the manufacturing industry, Covestro LLC employees Emily Connor and Madison Miller were selected as recipients of the "Women in Manufacturing STEP Ahead Awards," presented by The Manufacturing Institute. The STEP Ahead Awards honor women and their achievements at all levels of the manufacturing industry – from the factory floor to the c-suite.
The Covestro awardees were among 130 women nationally to receive the honor, which is part of the larger STEP (Science, Technology, Engineering and Production) Ahead initiative. Launched in 2012, the initiative examines and promotes the role of women in the manufacturing industry through recognition, research and leadership to help attract and retain strong female talent.
"Emily and Madison have both made significant contributions to the success of our business, all while serving as role models for Covestro employees. Their commitment and passion for science also extends to our communities, educating and inspiring the next generation of manufacturing talent," said Haakan Jonsson. chairman and president, Covestro LLC. "We're incredibly proud that their efforts are recognized at the national level, alongside other deserving leaders. The STEP Ahead Awards are truly a testament to the critical role that women play in shaping the future of our industry."
Connor is a digital engineer in Covestro's Group Innovation in Pittsburgh, PA, developing global digital solutions to solve complex business problems in both research and development and manufacturing. She also works with Covestro customers to create digital solutions to help streamline processes and improve efficiencies. With a strong work ethic and positive attitude, Connor has quickly become a leader and mentor to her peers. Her leadership also extends into the community, where she generously donates her time as an active volunteer and passionate STEM (science, technology engineering and mathematics) mentor.
Click here to read Connor's full profile on the STEP Ahead website.
As the Improve plant manager and process safety leader for Covestro's manufacturing facility in Augusta, GA, Miller manages a team of production and plant performance engineers that contribute to the continual improvement of daily operation at the site. Her skills and experience helped her lead a team dedicated to hazardous waste reduction, contributing to significant cost savings in both labor and transportation. Miller is also passionate about science and diversity, equity and inclusion, which is embodied in her leadership roles both inside and outside the Covestro organization. She is an active mentor and advocate for STEM education. Her dedication to diversity, equity and inclusion has enabled her to make a significant impact to Covestro and her community.
Click here to read Miller's full profile on the STEP Ahead website.
"The STEP Ahead Awards are central to the industry's efforts to recognize and empower women," said Manufacturing Institute President Carolyn Lee. "Our Honorees and Emerging Leaders serve as role models and have their own multiplier effect on the number of women in the workforce, paying it forward to help others find their way into a successful, rewarding career in modern manufacturing. We're so proud of all these women, and we can't wait to see what STEP and its Honorees and Emerging Leaders will accomplish in the next 10 years."
About Covestro LLC:
Covestro LLC is part of the global Covestro business, which is among the world's leading manufacturers of high-quality polymer materials and their components. With its innovative products, processes and methods, the company helps enhance sustainability and the quality of life in many areas. Covestro supplies customers around the world in key industries such as mobility, building and living, as well as the electrical and electronics sector. In addition, polymers from Covestro are also used in sectors such as sports and leisure, cosmetics and health, as well as in the chemical industry itself.
The company is committed to becoming fully circular and aims to become climate neutral by 2035 (scope 1 and 2). Covestro generated sales of around EUR 15.9 billion in fiscal 2021. At the end of 2021, the company had 50 production sites worldwide and employed approximately 17,900 people (calculated as full-time equivalents).
Find more information at www.covestro.us
Editor's Note: Follow news from Covestro on Twitter: https://twitter.com/CovestroUS
Covestro Contact:
Bob Walker, Covestro LLC
bob.walker@covestro.com
Tel.: +1 412 413 2369
# # #
Forward-Looking Statements
This news release may contain forward-looking statements based on current assumptions and forecasts made by Covestro AG. Various known and unknown risks, uncertainties and other factors could lead to material differences between the actual future results, financial situation, development or performance of the company and the estimates given here. These factors include those discussed in Covestro's public reports which are available at www.covestro.com. The company assumes no liability whatsoever to update these forward-looking statements or to conform them to future events or developments.