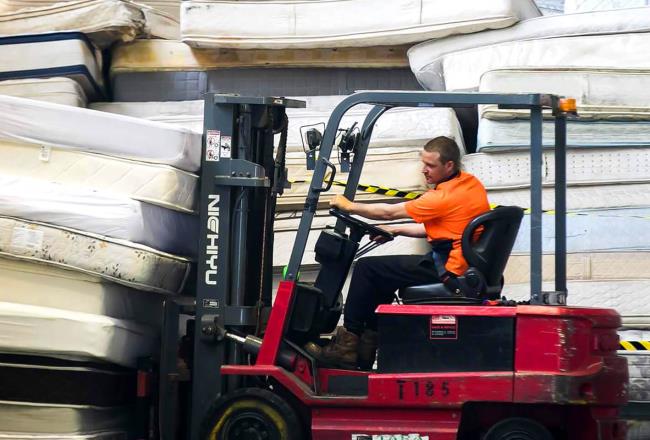 Covestro helps to keep old mattresses out of Australian landfill
Have you ever thought about what happens to your old mattress after you don't need it anymore? The startling reality is, that approximately 1.25 million mattresses currently find their way into Australian landfill each year. That equates to approximately 33,000 tonnes of steel, wood and foam that can be otherwise repurposed.
Fortunately, thanks to national social enterprise, Soft Landing, and members of the bedding industry a product stewardship initiative is now in place which seeks to achieve zero mattresses in Australian landfill over the next five years.
As a plastics manufacturer, Covestro is one of many companies whose products go into making Australian mattresses. That's why, when we found out about the Soft Landing Product Stewardship initiative a few years ago, we decided to support them as a founding supply-chain partner. It's just one of the ways that we can play a role in ensuring best practice in product stewardship and environmental sustainability.
What is product stewardship?

Product stewardship is a way of managing the impacts of products and materials. It acknowledges that the companies involved in producing, selling, using and disposing of products have a shared responsibility to make sure that those products and materials are managed in a way that reduces their impact on the health and safety of humans and the environment.
Soft Landing in the spotlight
Soft Landing is a national social enterprise operating across NSW, ACT, VIC and WA. It diverts waste mattresses from landfill and recovers the components to recycle. Soft Landing also offers employment opportunities to people who experience barriers entering the open labour market.
Janelle Wallace, General Manager of Soft Landing Product Stewardship scheme, has said that having supply chain partners like Covestro engaged in product stewardship is essential: "Covestro has a strong sustainability focus and they are serious about reducing their environmental impact. We get to draw from their global experience in these matters as we work together on designing for the environment, by considering whole of life cycle for a mattress, from raw ingredients to end of life recovery and re-use."
As part of Covestro's commitment to the United Nation's Sustainable Development Goals (SDGs), we are proud to be part of the Soft Landing initiative.
With our support, materials such as steel, foam and timber are already able to be recycled, and exciting new research is now underway at the University of New South Wales which investigates reusing textiles and other materials.
By reusing the materials found in end-of-life products such as mattresses, manufacturers can reduce their reliance on virgin materials and help close the loop in terms of sustainable production practices.
The results
Covestro is pleased to be a part of the mattress recycling scheme that achieves significant social and environmental outcomes. Over the 2017-18 financial year, Soft Landing diverted over 270,000 mattresses from landfill, equating to near 8,000 tonnes of recycled materials. They provided sustainable employment for 100 staff experiencing disadvantage. This in turn improves economic, social, physical and mental well-being, therefore resulting in safer and productive communities.