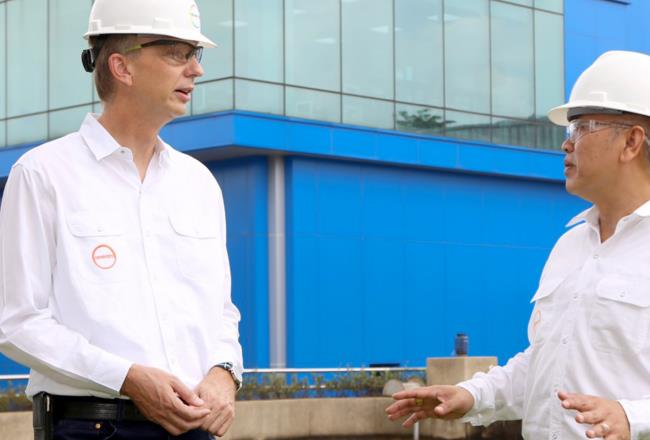 History of production and openness to investment
Idyllic setting for chemistry
Covestro's Polycarbornate site at Map Ta Phut Industrial Estate, Rayong Province, produces high quality polycarbonates and polycarbonate blends and specialty films to supply a rapid growing demand in the region. Over the years the capacity of the polycarbonate facility was expanded to now 290,000 metric tons a year, making it one of the largest of its kind in the world. At the same time, the Bisphenol A plant was upgraded to 280,000 metric tons per year.
The innovative products from the Map Ta Phut production site are used in a wide variety of industrial sectors such as; automotive, electrical and electronics, construction, sports and leisure, and mechanical materials, medical devices etc.
The site's operation is certified by ISO 9001, ISO 14001, OHSAS 18001 and ISO 50001.
Competence Center
With its innovative background and extensive knowhow, the Color Competency and Development Center & Technical Laboratory at the site provides customers access to cutting-edge technologies associated with polycarbonates. The center is also valuable for customers to access Covestro's color archive and molding equipment so that, in most cases, customers can leave the facility with molded samples in the desired custom color.
Specialty Films
Also located at the site is the Specialty Films plant. This caters to the region's growing demand for tailor-made functional film solutions in many sectors such as hand held electronics devices, display, automotive, and security card applications. The cards can now be laser-engraved with the holder's data and photo in higher contrast than is possible with standard laser-reactive overlay films, which leads to greater forgery protection, because personal data is contained in both the overlay and the core.
Our commitment to help push Thai industries to become globally competitive is hinged on new innovations.