Nearly 1250 Prizes, Including 60 Jury Awards
Brighter Minds for a Brighter World 💕, Registration is Now Open for the National Environmental Story Competition!
Registration website: www.contest.covestro.tw
Registration period: From Today to April 5, 2022
Eligibility: All children aged 12 years old and under in Taiwan are eligible to participate
Advisor: Ministry of Education, Organizer: Covestro Taiwan,
Co-organizer: wpd Taiwan, Co-sponsor: More than ten local and foreign organizations, including the German Institute Taipei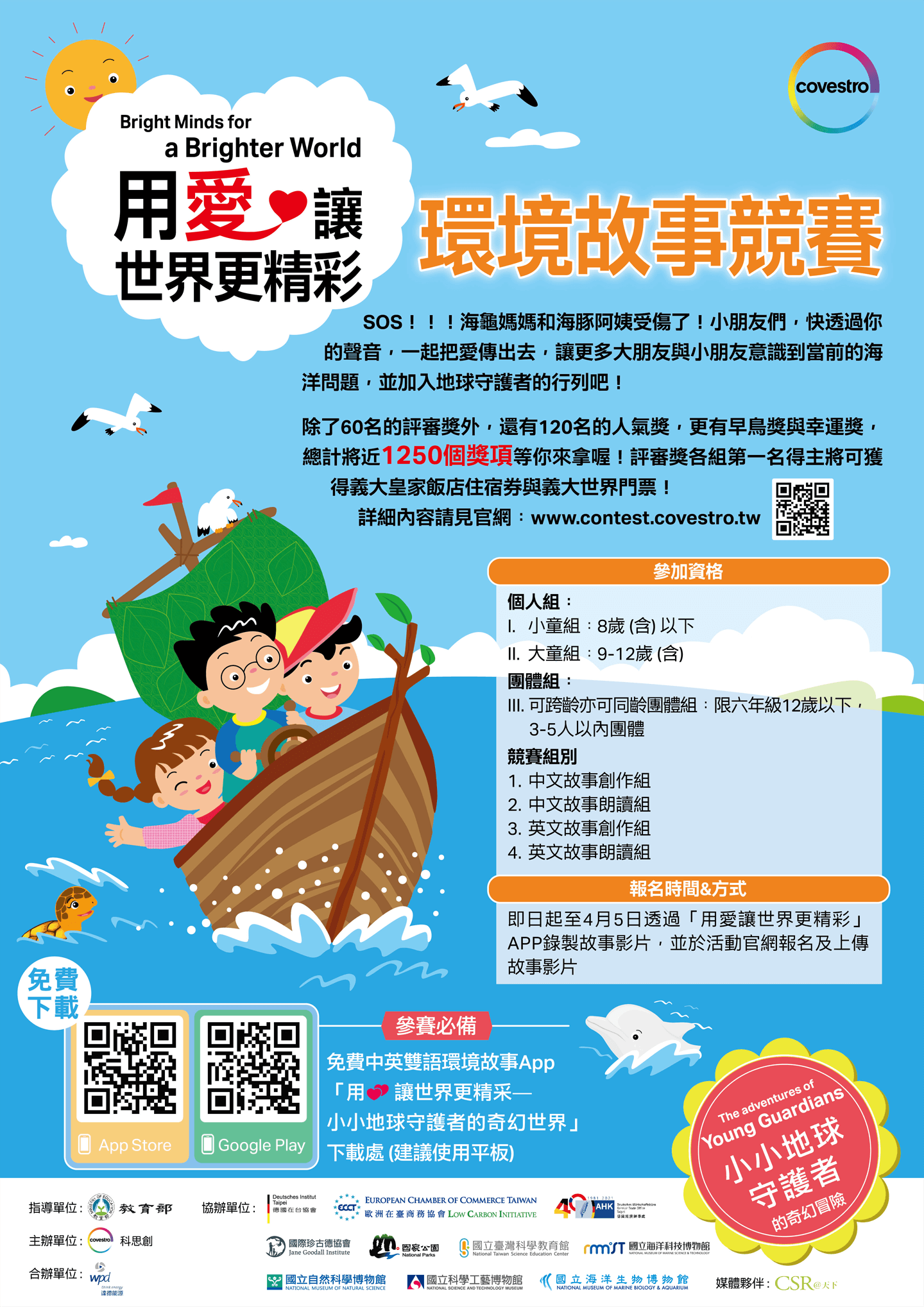 Covestro Taiwan and the Ministry of Education (MOE), wpd Taiwan, and more than ten other organizations including the German Institute Taipei, the German Trade Office Taipei, and the European Chamber of Commerce Taiwan have jointly organized the Environmental Story Competition for all children aged 12 and under in Taiwan. The competition invites children to use their voice to let more people learn about what is happening to the oceans of our planet, and how to protect our seas together through the concepts of waste sorting and the 3Rs - reduce, reuse, recycle, becoming guardians of the Earth. Participation in the competition will be through Covestro's free bilingual story app. The competition is divided into three age groups (younger or older individual competitors, or teams), four categories (Chinese speech or recital, English speech or recital). This gives a total of 12 competitions and nearly 1,250 prizes. The awards ceremony will be held at the German Institute Taipei in mid-September.
MoE expressed: "Taiwan's unique geographical environment has produced abundant marine resources, which requires our love and care. In 2007, the Marine Education Policy whitepaper was announced for the continuous promotion of the five-year Marine Education Implementation Plan. Through marine education and marine activities, learning in different categories about ocean can help to inspire children on a broader scale. In addition, the MOE also encourages teachers and students to walk out from the classroom by doing beach cleanups, field trips and marine ecology activities and to be involved in nature more. The MOE also thanked Covestro for organizing this "bright minds for a brighter world – the adventure of young guardians" storytelling and speaking contest, so that more children can be exposed to marine education, guiding children to learn to protect marine resources, and contribute to the Earth."
"Brighter Minds for a Brighter World" is a free Chinese and English bilingual environmental story app, the copyright of which is owned by Covestro Taiwan, Ltd. The guiding and dubbing record function of the fun interactive stories inspire children's curiosity about the marine pollution issues faced by society today, and further help them understand the severity of the problem. It will encourage children to become little guardians of the Earth through waste management and knowledge of the 3Rs. Let us make our oceans cleaner and live happier lives!
Covestro Taiwan Managing Director, Michael Lee, said, "In consideration of the different resources in different cities, the top five jury awards will go to the champions of the north, central, south, east, and offshore island regions respectively, and the other awards will be given according to total score rankings. We hope that this competition will encourage children from different backgrounds to improve their abilities in storytelling and expression through creating an environmental story, and help them understand that environmental protection is everyone's responsibility! We hope that more and more little guardians of the Earth will join us. Let's help the vast ocean return to its original, beautiful and charming self."
The participants of the environmental story competition are children of 12 years old and under in Taiwan. The competition will be divided by group, region, and age. For the group division, there will be individual and team competitors. The individuals are divided into younger children (age eight and under) and older children (ages nine through 12). For the team, each team may consist of three to five children from any age group. For the region, they are divided into north, central, south, east, or offshore islands. The story competition categories are divided into Chinese story writing, Chinese story recital, English story writing, and English story recital. A participant can only register once in each category, e.g.: a first grader can register once in each of four categories as an individual younger child (age eight or under), and then join a team with other children to register once in each category again. At most eight registrations are allowed (four for the individual, four for the team). The registration period is from today to April 5 2022. To register an account, click "Registration" on the official webpage during this period, fill out the registration form online, and upload the recorded creative story video to complete the registration and submission. The video must not contain any indecent words; failure to abide by this rule will result disqualification. The first 500 video submissions to pass the review will receive an early-bird prize of two tickets to a museum (randomly drawn and mailed). For the rest of the submissions that pass the review, 500 will be drawn randomly to receive a reusable shopping bag made from 2.8 recycled bottles! In addition to the 60 jury award winners, 120 popularity awards will be given to the most popular videos.
wpd Taiwan Chairman Yuni Wang said: "As a renewable energy developer, to protect and preserve the environment is always of great concern to us. Transitioning to cleaner energy, building a better world and preserving the environment for the next generation are our long-term commitments, and are also the reasons for our promotion of wind energy and environmental education via wpdeec in Taichung. wpd is very happy to collaborate with Covestro on this storytelling competition. As we hope to sculpt young minds with wpd's environmental education center, we believe that same efforts can be done by Covestro—pushing forward the acknowledgement of the importance of recycling and marine protection. We look forward to the great results this event will bring."
Covestro Taiwan and co-organizer wpd Taiwan, as well as co-sponsors - the German Institute Taipei, the European Chamber of Commerce Taiwan's Low Carbon Initiative, the German Trade Office in Taipei, the Jane Goodall Institute, Taiwan's national parks, the Taiwan Science Education Center, the National Museum of Marine Science and Technology, the National Taiwan Science Education Center, the National Science and Technology Museum, the National Museum of Marine Biology and Aquarium, and our media partner CSR@CommonWealth - have jointly prepared nearly 1,250 prizes for the children participating in the competition! For those children who receive jury awards, in addition to a certificate listing all the national parks, the five museums, and our various partners to be preserved as the participant's learning archive, their prize includes an overnight stay for two at the E-Da Royal Hotel and two tickets to E-Da World! We welcome little guardians of the Earth across the island to sign up and participate. Let's protect this beautiful planet and its oceans together!
ECCT CEO, Freddie Höglund, stated that the rising accumulation of marine plastic waste has become a global crisis. The European Chamber of Commerce Taiwan (ECCT) aims to raise awareness about waste prevention and management and the concept of the 3Rs and support kids in Taiwan to share their life stories of protecting the ocean. Our endorsement of this event is part of our overall efforts to spread the message of conservation and sustainability not only in the younger generation but also to a wider audience about how everyone can contribute to building a circular economy.
Click the record button to start recording your story video, and state your commitment to the Earth. Children can read the story, or choose to create their own. After the recording, the file will be automatically saved in the mobile phone or tablet gallery. Then you can go to the official website for registration. Embrace our planet, starting from you and me. Let us tell our stories with "💕".
About Covestro:
With 2020 sales of EUR 10.7 billion, Covestro is among the world's leading polymer companies. Business activities are focused on the manufacture of high-tech polymer materials and the development of innovative, sustainable solutions for products used in many areas of daily life. In doing so, Covestro is fully committed to the circular economy. The main industries served are the automotive and transportation industries, construction, furniture and wood processing, as well as electrical, electronics, and household appliances industries. Other sectors include sports and leisure, cosmetics, health and the chemical industry itself. At the end of 2020, Covestro has 33 production sites worldwide and employs approximately 16,500 people (calculated as full-time equivalents).
Find more information at www.covestro.com
Follow Covestro on Twitter: https://twitter.com/covestro
Forward-looking statements
This news release may contain forward-looking statements based on current assumptions and forecasts made by Covestro AG. Various known and unknown risks, uncertainties and other factors could lead to material differences between the actual future results, financial situation, development or performance of the company and the estimates given here. These factors include those discussed in Covestro's public reports which are available at www.covestro.com. The company assumes no liability whatsoever to update these forward-looking statements or to conform them to future events or developments.