The future of data – and renewable energy
What does the city of the future look like? That is what several experts are discussing in our series #MyFutureCity. In this essay, Yale professor Angel Hsu explains how sharing data can help our towns become more sustainable, energy become cleaner and renewable and prevent diseases – and why China is a prime example.
In 2015, the Chinese journalist Chai Jing was pregnant with her first child. After she gave birth, she soon found out the child was born with a benign tumor. She was shocked, and looking outside the window at China's poor air quality, she wanted to keep her daughter inside to protect her health. She also wanted to understand the root cause of the poor air quality that was now imprisoning her daughter indoors.
Jing looked at data on air pollution, made a documentary film about her findings and called it "Under the Dome." The documentary was released in Chinese cinemas on a Friday. By the following Sunday, more than 150 million people had seen it. "It was so successful because Chai Jing managed to give air pollution a human face," says Angel Hsu, a professor of Environmental Studies at Yale-NUS College in Singapore.
"Only if we use and share all the available data, can we know what the situation with regard to the environment really is. That's a prerequisite for improving it."
Why is data so important?
She adds: "She gave it her own face, and that was the reason her documentary went viral. This documentary was the wake-up call that Chinese society needed. And it was only possible because Jing used data and analyzed it." This is why Hsu advocates for more transparency with regard to data: "We need to provide open access to environmental data for everybody who is interested in it."
According to Hsu, "this sharing of data could play a crucial role in protecting the environment and making our world more sustainable." She explains her thesis further: "Only if we use and share all the available data, can we know what the situation with regard to the environment really is. That's a prerequisite for improving it."
What kind of data would need to be shared? "First and foremost, we need to know what the air quality is and what the concentration of pollutants such as ozone, particle matter pollution is." Similar measurements could also be taken on the quality of the water, the soil and other parameters. "Data that's connected to our environment should be of concern to every citizen."
What kind of data would be needed?
"Many governments already monitor such things," Hsu explains. "Others don't – for a variety of reasons, including the cost of environmental monitoring, which can be quite expensive." Therefore, the official data could be tricky to get and would need to be taken with a grain of salt.
That is why, as Hsu explains, we cannot necessarily solely rely on official pollution data. As a result, more citizens have become interested in participating in data collection efforts or 'citizen science' campaigns that enlist individuals to help collect needed environmental data. "Even people without any kind of scientific background can participate, particularly with low-cost sensors and smart devices becoming more affordable."
"Citizen participation can be very important in helping to fill critical gaps in obtaining a complete picture of the extent of environmental challenges and how they affect us."
How can it be analyzed?
All collected data, whether from governments, scientists or ordinary citizens in the urban areas, needs to be translated into actionable knowledge and information. "The figures have to be translated into a conclusion that is easily understandable for everyone," says Hsu. In this regard, some solutions have already been found and the corresponding innovations made.
Many countries have developed color-coded indexes to communicate health alerts based on air pollution levels. "This index follows a set color-coding that goes from green to orange to a very dark red," says Hsu. "Some governments have taken extra steps to make these indexes more understandable to citizens. The city of Shanghai, for instance, has developed a cartoon character whose hair corresponds to the severity of air pollution."
There are also some apps that show the Air Quality Index in real time "so that people can act accordingly to the current grade of air pollution and wear a mask," says Hsu. "These can aid in informing people, helping them to understand what is going on."
What greater measures need to be taken?
As people understand how polluted their surroundings are, how much smog there is and how important tackling the climate change really is, they are increasingly demanding action and alternative energy solutions. This has pressured some governments to react with wide-ranging measures, such as introducing cleaner, renewable and more sustainable energy. "A prime example is China," explains Hsu.
The country produces two-thirds of its electricity from coal plants, which generates 40 percent of global energy production. Recognizing coal as a primary culprit of its air pollution problems, China's government has sought to tackle coal as both an air quality and climate solution. China has since shut down many of its coal-fired power plants and has invested heavily into alternative power supplies and renewable energy. Within seven months, China managed to produce 35 gigawatts (GW) of solar energy – which is 50 percent of the USA's total solar energy. China is also now the world leader in hydropower and turns out one-third of the total global wind energy.
China does have some exceptional conditions for renewable wind power: The huge land mass and the long coastline seem to be predestined for wind turbines, offering about 2,380 GW of exploitable capacity on land and 200 GW at sea. And the government has used this advantage by continually building new installations and new wind turbines to produce more renewable energy.
"Air pollution, smog and the need for cleaner energy are global challenges and do not stop at a national border – so we need to understand that we all have to work together in the future."
What else does it entail?
For instance, the Gansu wind farm, a group of large wind farms, is currently in the final stages of being erected in the western Gansu province of China. Costing $17.5 billion, the wind farm will produce 20,000 megawatts (MW) of renewable energy by 2020. By then, the entire plant will consist of hundreds of thousands of wind turbines.
"China's commitment to renewable energy will mean that they will continue to invest in developing more alternative energy sources, including wind, solar and hydro," says Hsu. "Such ambitious plans will require significant material investments, but the overall pay off will mean China can transition away from polluting modes of energy production to ones that are more sustainable for its people."
China's shift toward alternative and renewable energy has already resulted in the smog decreasing, air quality improving by almost 30 percent and people's life expectancy increasing by 2.5 years. Additionally, many green jobs have been created, explains Hsu, "so this change to cleaner energy has even helped the economy."
Which obstacles still need to be overcome?
As good as all of this might sound, other developing countries and emerging economies will be facing similar challenges in their development if they continue to rely on fossil fuels for their energy systems. "China might be a prime example of what can be reached by monitoring the air and turning towards cleaner energy, but others from all parts of the world need to follow."
She adds: "We need to get the US and Europe working together with countries like China and other emerging economies because air pollution, smog and the need for cleaner energy are global challenges and do not stop at a national border – so we need to understand that we all have to work together in the future."
Only international collaboration and a partnership between public and private sectors for data collection can help. "This is why we need to get everybody, everywhere interested. When that happens and everyone is on board, we will have made a huge step towards a more sustainable and healthier world."
Brighter Talks - About the host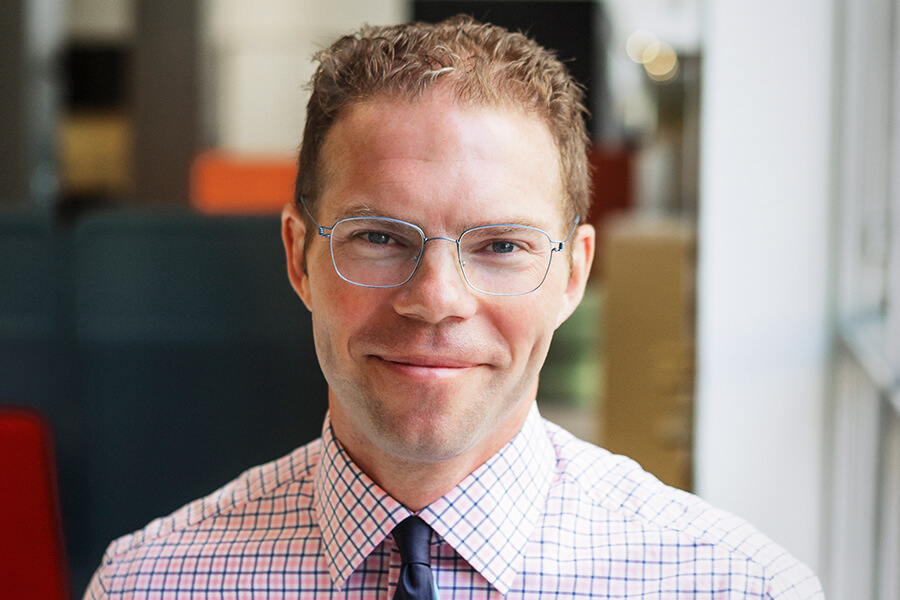 Being an urbanist and futurist, Greg Lindsay focusses on "the city of tomorrow" and talks frequently about globalization, innovation and urbanization. The journalist and speaker is the director of applied research at NewCities, a global nonprofit committed to shaping a better urban future.