The Future of Construction: Building Our Cities, Piece by Piece
It's difficult to imagine that our cities will become even more crowded than they already are today – particularly when sandwiching in between strangers crammed on a New York subway or elbowing through a swarming Mumbai market. Still, an additional 2.5 billion more people will be living in our cities by 2050, and in order to comfortably accommodate this swelling population, our cities will need to offer more places to live, work, and play.
The challenge is to design and construct these future buildings in a way that's both efficient and sustainable. Construction tends to be slow. And most buildings are environmentally unfriendly both during construction and operation – which ultimately makes them expensive.
What would it take to construct our cities in a way that's both more efficient and more sustainable than today? At Covestro, we believe new construction models and innovative materials can build a brighter future for the cities we call home.
Slowly, this approach to building has begun to take hold, and today, city planners across the world are turning to prefabrication to solve cities' affordable housing crisis, prevent unmanaged urban sprawl, and improve the living conditions of the urban poor.
In New York, more than a dozen prefabricated buildings have been constructed over the last few years, and the city's most recent prefabrication project will offer apartments to low-income New Yorkers.
In developing megacities, prefabrication may offer the most impact: There is a market to serve 200 million slums in emerging countries, according to a report by McKinsey & Co.
India, for example, has a shortage of 18 million housing units, and as a result of the government's push to make affordable housing a priority, a growing number of developers and private equity firms are entering the affordable housing market. Prefabrication technology could be a game changer in this movement, offering a solution to sustainably replace informal settlements with low-cost housing and improve the lives of millions of urban dwellers.
There are still many challenges to be addressed before an industrialized approach to housing becomes widely accepted, but the pieces of success, like many prefabricated elements, are coming together in a very promising way, at a time when our cities need new housing most.
Why not?
Innovation grows new building materials
If you think of today's cityscapes, various materials come to mind: the glass and steel of an office park, the dignified brick of apartment buildings, the blacktop pavement, and the concrete jungle of 20th century urban renewal. But with cities' construction increasingly moving from field to factory, developers are beginning to experiment with an innovative, age-old material: wood.
Although wood hasn't been used to build much other than single-family homes since the horse-and-buggy era, the time-honored material is now experiencing a comeback. Seeking greener and more affordable projects, builders are choosing timber for apartments, offices, and university buildings, rather than the concrete and steel that have ruled the construction industry for decades.
Unlike the production of concrete and steel, which generates massive amounts of CO₂, the creation of lumber is a relatively low-pollution process. In addition, wood is a carbon sink. According to researchers at the University of Canterbury, construction of a mid-rise building made of steel or concrete results in emissions of roughly 1,600 metric tons of CO₂. By contrast, a similarly sized building constructed from engineered wood products has zero carbon footprint – and can even sequester up to 600 metric tons of CO₂.
Never log more than you can grow
The lumber used to construct today's tall-wood structures bears little resemblance to the lumber you'd find lying around your grandfather's workshop. Architects and builders now work with "mass timber," a form of construction that uses large, prefabricated wood panels.
These panels, called "cross-laminated timber," are made by using a bio-based resin to glue layers of solid-sawn lumber together in alternating grain orientations. This process enhances the stability of the product, allowing buildings to reach impressive heights.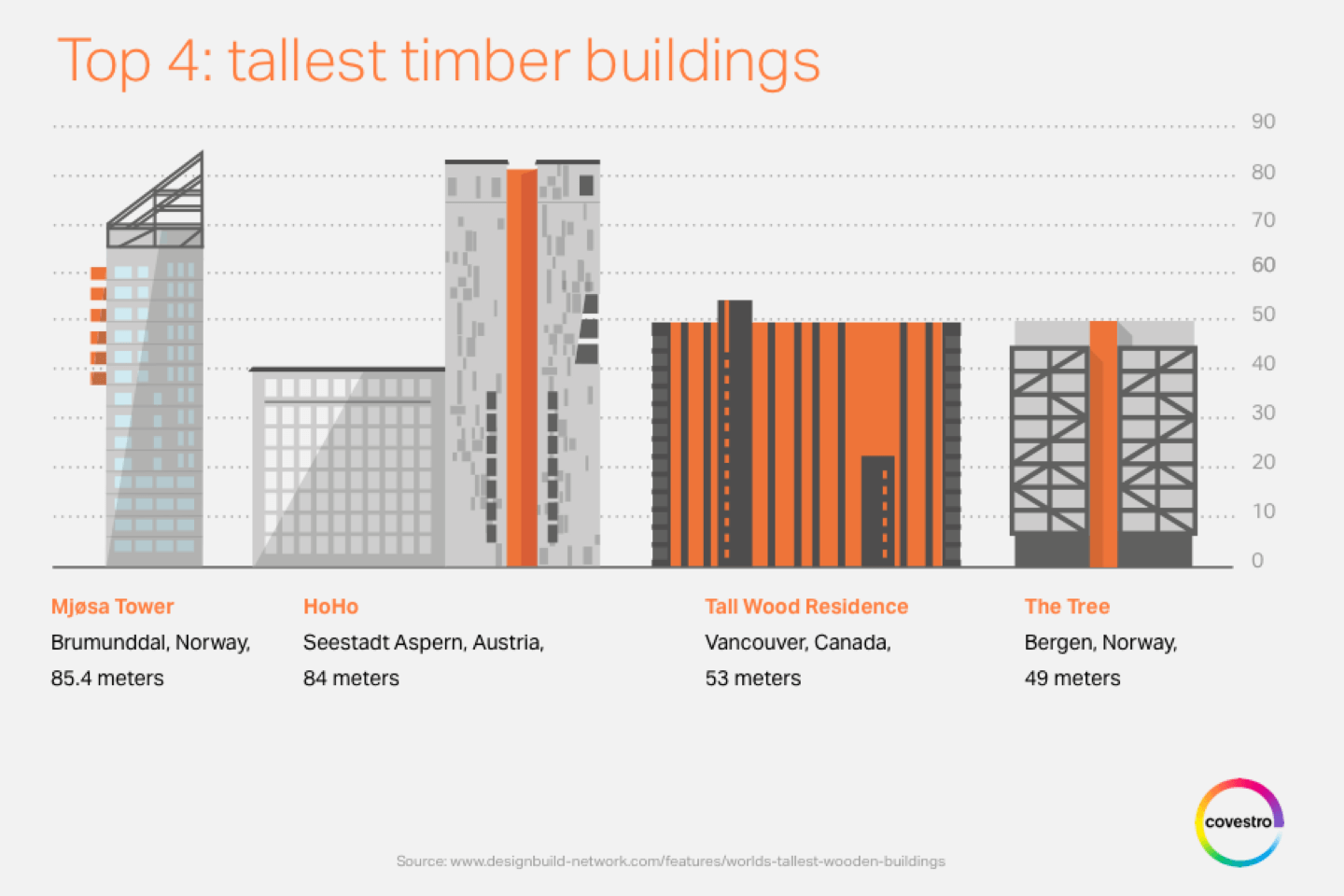 In North America, cross-laminated timber has been used mostly for low structures, like two-story apartment buildings or offices and schools, but Toronto's Brock Commons student residence house demonstrates how mass wood can be used for the masses. Thanks to prefabrication, the 18-story building was constructed in less than 70 days, and today, it houses over 400 students.
Mass timber is also spreading across Europe, Asia, and Australia, and if this growing chorus of architects and builders has their way, we might just begin to see more trees inside our concrete jungles.
Why not?
#MyFutureCity
Discover how our technologies and materials are helping build improved, safe, and more sustainable cities for us all.