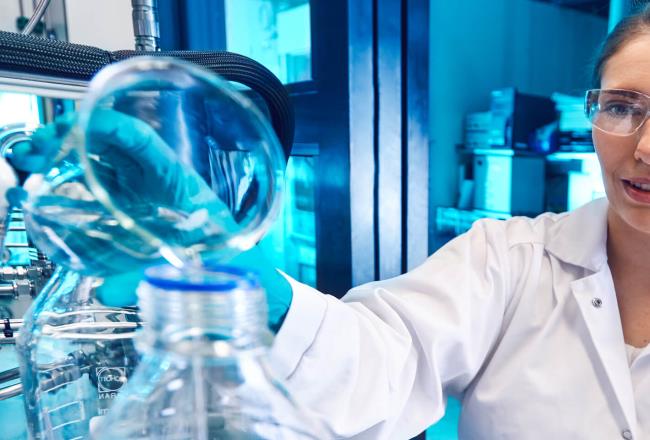 CO₂ recovery and reuse
CO₂ recovery and reuse: new ways of sustainability
Recover CO₂ and reuse it as raw material
Climate change is related to carbon dioxide emissions due to human activities. Actions are needed to reduce both emissions and to recover CO₂. The reduction of emissions is a consolidated process of Eco-sustainable practices for the production and manufacturing of consumer goods. On the other hand, the recovery of CO₂ and its reuse as a raw material is still in the experimental phase or in the first steps. They will make concrete the principles of the circular economy if they find the way of the economy of scale.
An example is the Covestro plant in Dormagen, near Cologne in Germany, which produces polyols for polyurethane composed of 20% recovered CO₂. At the heart of this idea is the vision that carbon dioxide can not only be captured but also transformed into a myriad of products: carbon for raw materials, polymers, cement, drugs, fuels.
CO₂: from problem to solution
More than 100 years have passed since the first formulations and productions of PVC and just over fifty since the boom of polypropylene (PP). The spread of plastics affects all fields of human activity: from transport to agriculture, from clothing to medicine, from construction to cosmetics. Doing without plastic is impossible because it is essential to sectors vital to life and health. It is therefore necessary to make a change of perspective. Most of the substances and materials used today come from petroleum which is not unlimited. It is essential to find new sources, new polymer syntheses:
Alternative recovered raw materials
Raw materials from renewable sources
Recovery of the CO₂ captured from the emission sites.
Research is showing that it is technologically possible for the chemical industry to recover CO₂ and use it as a carbon source for the production of polymers with high standards of quality and reliability.
As some industrial processes are difficult to decarbonise, CO₂ capture and reuse can help enable a faster energy transition across the entire manufacturing sector. Result? Less greenhouse gases in the atmosphere, less use of fossil raw materials.
Recovery CO₂ as an alternative to oil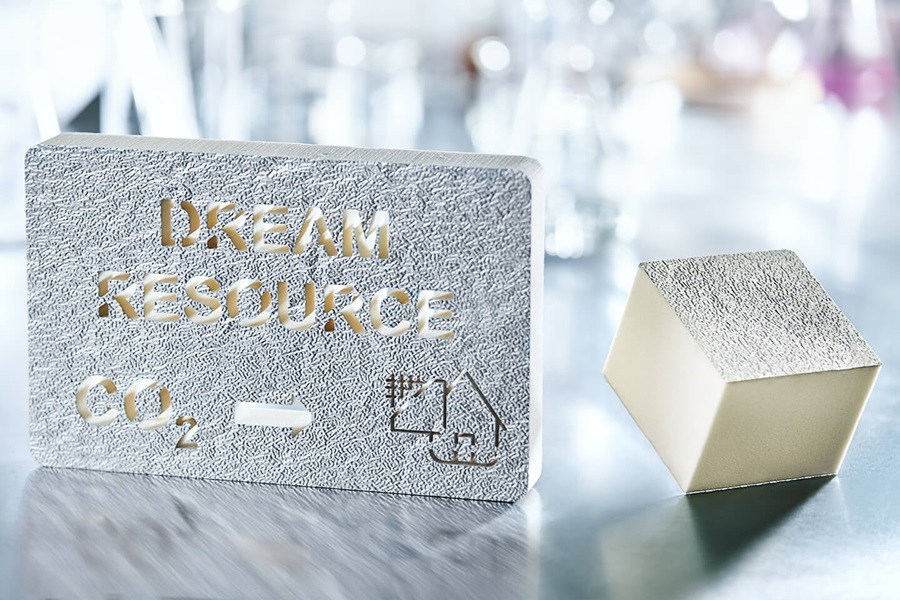 From petroleum and its derivatives come a series of indispensable materials and polymeric compounds. Polyester, polystyrene and polycarbonate use benzene and toluene as the starting raw material. From these 3 polymers are obtained products such as flexible foam for upholstered furniture, mattresses and car seats and rigid foams, used as insulation for buildings, refrigeration appliances and pipes. Propylene and ethylene, also derived from petroleum, are basic components of polyols essential for the production of polyurethane, a plastic product with countless applications.
Chemical research is working to produce polyols derived from renewable raw materials such as starch, cellulose or lignin obtained from food and wood waste. But more interesting is the Covestro project which since 2016 has managed to produce at its Dormagen site, an innovative polyol that contains up to 20% carbon dioxide.
Polyols with recovered CO₂
Dormagen is one of the largest sites in the world, where polyols have long been produced in a conventional way. Technical competence and advanced know-how have allowed Covestro to create a new polyol production plant with CO₂ recovery. The use of carbon dioxide as a raw material became possible once the catalyst and the right technology were found. CO₂, which is the final product of combustion, reacts very slowly and must be "encouraged" to enter into a chemical bond. For decades, experts have been looking for catalysts and technology. The solution is the result of a collaboration with the RWTH University of Aachen and the CAT Catalytic Center of the University of Aachen.
The production infrastructure cost about 15 million euros and has an annual capacity of 5,000 tons of CO₂ that comes from the recovery of exhaust gases from a nearby industry. The new asset is made up of numerous components that have been custom made or modified for the new process. The core is a 25 ton chemical reactor and CO₂-based polyol processing and storage equipment. The resulting polymer has a CO₂ content of up to 20% and can be used in plastic compounds with enormous application potential.
Sleeping, walking, dressing sustainably with recovered CO₂
Consumer's attention is growing for the sustainability of clothing and footwear and sustainable products are gaining more and more success. The new CO₂-based raw material was initially designed to be used in the production of soft polyurethane foam, to be used in mattresses or upholstered furniture. The Belgian company Recticel has already put into production the polyurethane padding for high-end products with a quality material equal to that produced entirely from crude oil. Covestro has entered into several partnerships to use CO₂-based polyol foams in footwear and textiles.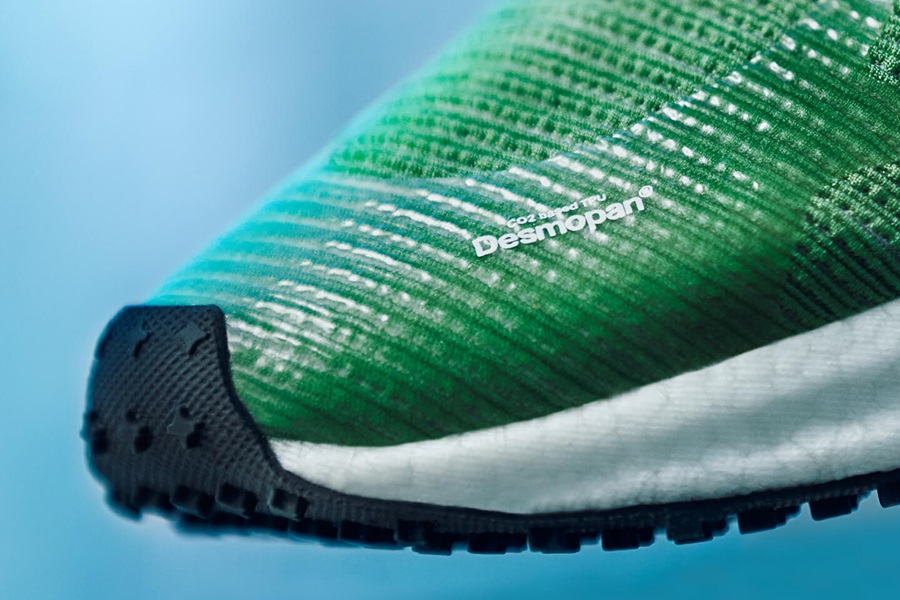 The new polyurethane foams are elastic but also very resistant and reliable. They have been used in the internal padding to give comfort and softness to running, trekking and ski shoes and for the upper and lining in casual shoes. In the sneakers, in addition to the internal padding, Covestro has created a thin film in thermoplastic polyurethane (TPU) also based on CO₂. This translucent coating is particularly resistant to scratches and abrasion.
Eco-friendly TPU can be melted and made into fine threads which are elastic but very strong. Melt spinning is a sustainable process because it does not require the use of solvents such as dry spinning. These new fabrics can be used for clothing but are very interesting for the medical field in the production of socks, compression tubes and bands. The project is funded by the European Institute of Innovation and Technology (EIT) with the aim of achieving industrial production.
From CO₂ raw material to live, move and have fun in a sustainable way
With polyols with carbon derived from CO₂, Covestro has studied an underlay for synthetic sports fields. The world's first example of this construction is that of the hockey facility in Krefeld, Germany, which is home to international matches and championships. The new sustainable material has been used by Polytan, a world-class sports flooring manufacturer that has used ecological polyols as binders for the rubber granulates that are the basis of the synthetic pitch and serve to restore the feeling of softness and cushioning of a grass surface.
In addition to foams, with CO₂-based polyols it is possible to produce high quality elastomers that are stable in size but elastic, perfect for use in fields where reliability and durability are required. A consortium led by Covestro has succeeded in using these elastomers for the production of automotive components such as pipes, gaskets and shock absorbers. The aim is to make the automotive sector truly sustainable not only in terms of fuel but also the entire structure of the vehicle.
Covestro has further developed CO₂ recovery technology in rigid polyurethane foam components. The first prototypes of insulating panels for buildings were produced. The construction sector accounts for about 40% of global energy consumption and about a third of all greenhouse gas emissions. Creating the insulation of buildings with reused CO₂-based panels opens up new scenarios in terms of sustainability and energy saving.
Recover and reuse CO₂ as a new production cycle model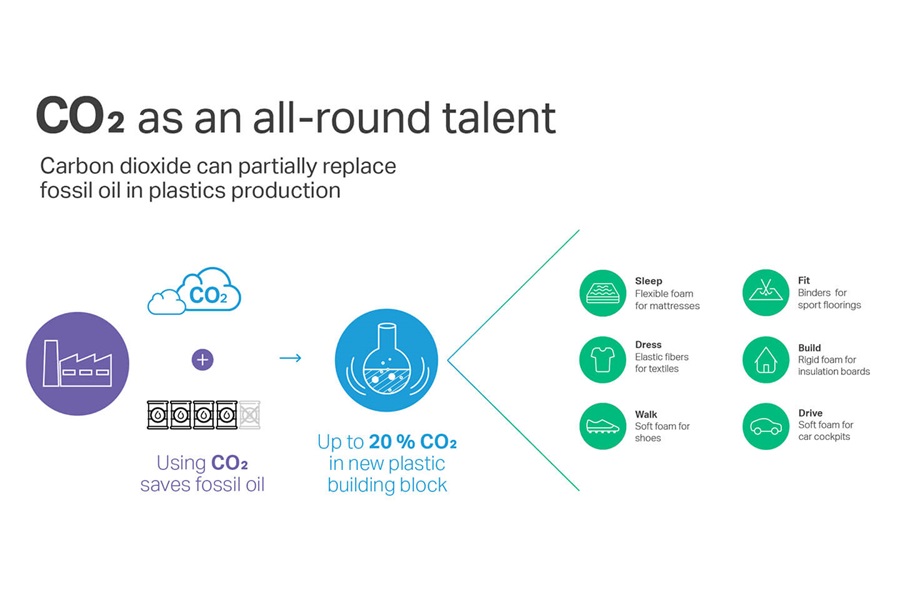 Mitigating carbon dioxide emissions is one of the focal points for evolving our economic model based only on fossil fuels towards sustainable development that focuses on the environment, resources and people.
Richard Buckminster Fuller, the multifaceted engineer and entrepreneur, inventor of geodesic domes wrote:
"Pollutants are nothing more than resources that we are not collecting. We allow them to disperse because we ignore their value."
The paradigm shift is already underway. Covestro's research and projects show that the chemical industry can be decisive in reversing the course of the planet's consumption. The recovery of CO₂ has the dual purpose of removing harmful greenhouse gases from the environment and saving precious fossil raw materials. in line with the United Nations Sustainable Development Goals (DGS).